The Alice Faye Collection
On the Avenue (1937) Lillian Russell (1940)
That Night in Rio (1941) The Gang's All Here (1943)
Barely remembered today, this apple-cheeked, full-figured contralto was one of the top-grossing movie stars of the late 1930s and early '40s, and several of the songs she introduced in her big-budget musicals were nominated for Academy Awards. (One of them, the enduring Mack Gordon-Harry Warren standard "You'll Never Know," earned the Oscar for Best Song in '43.) Four of her lavishly mounted films for 20th Century Fox are included in this long overdue collection. Faye actually has third billing in On the Avenue ('37), but she introduces one of the niftiest tunes from Irving Berlin's hit-packed score: "This Year's Kisses." Lillian Russell ('40), one of several period pictures in which Faye played a historical figure, is a Gay '90s extravaganza crammed with favorite songs and graced with a marvelous supporting turn by top-rated character actor Edward Arnold, playing Diamond Jim Brady. That Night in Rio ('41), features Faye in the role of a baroness and is shot in the old Technicolor process -- which shows off the star's blonde hair, blue eyes, and rosy cheeks. A musical remake of Folies Bergère, That Night in Rio also features Don Ameche in the dual role of Faye's stuffed-shirted husband and an affable nightclub entertainer who comes to impersonate him. Although it's not specifically a Faye starring vehicle, The Gang's All Here ('43) is arguably the high point of this set. A garishly colored Busby Berkeley musical, it's the ultimate manifestation of wartime escapism, loaded with nonsensical plot points and campy production numbers (including the Carmen Miranda classic "Lady in the Tutti Frutti Hat"). After a long feud with Fox head Daryl Zanuck, Faye retired from the screen in 1945, leaving the younger, brassier Betty Grable to become Fox's preeminent musical star. Still, in her prime Faye was as vivid a performer as the movie musical ever saw, and this four-disc set should deservedly win her new fans.
Excerpt of Ed Huse review located at Barnes and Noble HERE.
---
Titles
---
On the Avenue
Stars Dick Powell, Madeleine Carroll, Alice Faye, The Ritz Brothers, George Barbier
Directors: Roy Del Ruth
Theatrical Release Date: February 12, 1937
Synopsis A new Broadway show starring Gary Blake shamelessly lampoons the rich Carraway family. To get her own back, daughter Mimi sets out to ensnare Blake, but the courtship is soon for real, to the annoyance of his co-star, hoofing chanteuese Mona Merrick.
Lillian Russell
Stars Alice Faye, Don Ameche, Henry Fonda, Edward Arnold, Warren William
Directors: Irving Cummings
Theatrical Release Date: May 24, 1940
Synopsis Life story of the musical star from her discovery in 1890 by bandleader Tony Pastor till her retirement in 1912 when she married newspaperman Alexander Moore.

That Night in Rio
Stars Alice Faye, Don Ameche, Carmen Miranda, S.Z. Sakall, J. Carrol Naish
Directors: Irving Cummings
Theatrical Release Date: April 11, 1941
Synopsis An entertainer (Ameche) in Rio impersonates a wealthy arisocrat (also Ameche). When the aristocrat's wife (Faye) asks him to carry the impersonation further, complications ensue.
The Gang's All Here
Stars Alice Faye, Carmen Miranda, Phil Baker, Benny Goodman, Benny Goodman Orchestra
Directors: Busby Berkeley
Theatrical Release Date: December 24, 1943
Synopsis Playboy Andy Mason, on leave from the army, romances showgirl Eadie Allen overnight to such effect that she's starry-eyed when he leaves next morning for active duty in the Pacific. Only trouble is, he gave her the assumed name of Casey. Andy's eventual return with a medal is celebrated by his rich father with a benefit show featuring Eadie's show troupe, at which she's sure to learn his true identity...and meet Vivian, his 'family-arrangement' fiancée. Mostly song and dance.
Posters
Theatrical Releases: 1937 - 1943
DVD Review: 20th Century Fox (4-disc) - Region 1 - NTSC
DVD Box Cover

CLICK to order from:

Distribution
20th Century Fox - Region 1 - NTSC
Time:
Films are between 60-75 minutes each. Extras add more.
Audio
English (original mono) English (2.0 stereo)
Subtitles
English, French, Spanish, None
Features

Release Information:
Studio: 20th Century Fox

Aspect Ratio:
All Original Aspect Ratios - 1.33

Edition Details:

• Alice Faye - A Life Off Screen (13:54)

• Alice Faye - A Life On Screen (18:56)
• Commentary on The Gangs All Here by Drew Casper and on On the Avenue by Miles Krueger
• Deleted Scene from On the Avenue

• Deleted Scene From That Night in Rio

• Deleted Scene from The Gang's All Here
• Restoration Comparison

• The Phil Harris - Alice Faye Show - (2 radio broadcasts)
• Stills Gallery
• Lillian Russell Biography - "A Woman Like No Other' (20:22)
• Busby Berkeley : A Journey With A Star (19:30)
• Alice Faye's Last Film: We Still Are (24:11)

• Trailers for all except On the Avenue


DVD Release Date: February 20th, 2007
4 Slim Keep Cases inside a cardboard box
Chapters: 28 X 4
Comments:

NOTE: There has been talk that the color is 'off' (very unbalanced) in The Gang's All Here. It is a shame, but appears to be a very correct complaint. We can hope a film of this magnitude will be re-issued properly but as for now - be forewarned.

The 4 main features of this boxset are housed in individual slim keep cases (see image above) and they are also sold separately except On the Avenue which can only be obtained in Fox's Alice Faye Collection at this time.

All 4 DVDs are dual-layered and have optional mono and stereo audio tracks and French, Spanish or English subtitles. Each DVD is coded for region 1 in the NTSC standard. There are a lot of extras including two commentaries - one on On the Avenue and another on The Gang's All Here. Each disc contains a 4-page liner notes insert with photos and text about that film.

Image quality is about what you might expect from Fox - fairly strong progressive transfers in the correct 1.33 aspect ratio. On the Avenue is the oldest film and hence looks a little more worn than the rest, but it is still very watchable. At the beginning of Lillian Russell we are given this warning:

It does have more fluctuation than the other three. Image quality can vary from relatively soft to quite sharp and I did notice a bit of similar variance in the audio. I wouldn't say it was devastating to any degree but appreciate Fox putting up the warning. Colors in That Night in Rio look acceptable to me - not excessively overblown as tendencies for older films in color tend to portray. The Gang's All Here requires it be redone - it is very unbalanced - more than just a factor of the early process. I listened to the mono audio and only briefly sampled the stereo options - it sounded fairly even in my limited testing.

I'm not a fan or the color yellow for the optional subtitles but they do seem to be faithful renderings.

Supplements are currently not listed correctly on Amazon at this time. The extras are really stacked and they were certainly interesting to get through. Firstly there are two very good commentaries - Drew Casper shares his knowledge of Alice Faye and The Gangs All Here on that commentary and similarly Miles Krueger does a thorough and professional job with On the Avenue. Both are excellent. We are given 5 solid featurettes - Alice Faye - A Life Off Screen (13:54), Alice Faye - A Life On Screen (18:56), Lillian Russell Biography - "A Woman Like No Other" (20:22), Busby Berkeley: A Journey With A Star (19:30) and what I found the most interesting Alice Faye's Last Film: We Still Are (24:11). There are two radio broadcasts of The Phil Harris - Alice Faye Show and deleted scenes for three of the films - On the Avenue, From That Night in Rio and The Gang's All Here. There are trailers for all except On the Avenue as well as restoration comparisons, still galleries and the aforementioned liner notes.

I'll be honest - I didn't enter in viewing these films with any keen interest having very little knowledge about Alice Faye. The films were accomplished, enjoyable musicals and it is very true what they say about Alice Faye and her charisma. I progressively got into each film further and further and the extra featurettes and commentaries - detailing her life and films - became increasing fascinating.

Fox has really put together a special package here - obviously a lot of care went into this DVD collection production. Good transfers and audio and extensive supplements make this Fox's best DVD Boxset in a long while. A strong recommendation! I can't see anyone not enjoying this to some degree.
---


DVD Menus
Special Features
:
| | |
| --- | --- |
| | |
| | |
| | |
| | |
| | |
| | |
Keep Case Cover
Screen Captures
On the Avenue (1937)

Stars Dick Powell, Madeleine Carroll, Alice Faye, The Ritz Brothers, George Barbier

Directors: Roy Del Ruth
---
Keep Case Cover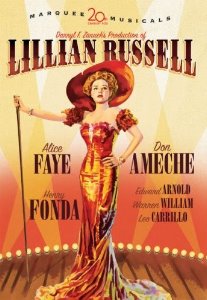 Also available individually here:

Screen Captures
Lillian Russell (1940)

Stars Alice Faye, Don Ameche, Henry Fonda, Edward Arnold, Warren William

Directors: Irving Cummings
Keep Case Cover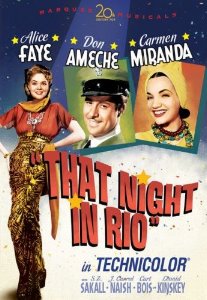 Also available individually here:

Screen Captures
That Night in Rio (1941)

Stars Alice Faye, Don Ameche, Carmen Miranda, S.Z. Sakall, J. Carrol Naish

Directors: Irving Cummings
The Gang's All Here (1943)

Stars Alice Faye, Carmen Miranda, Phil Baker, Benny Goodman, Benny Goodman Orchestra

Directors: Busby Berkeley