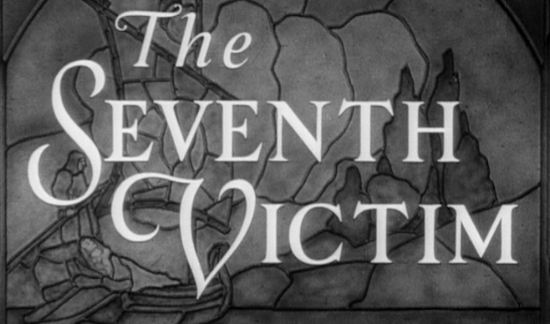 (aka ' The 7th Victim')
Directed by Mark Robson
USA 1943
The Seventh Victim (1943). Producer Val Lewton has misleadingly been called a master of horror when in fact he mainly made cheap, noirish art movies that were marketed as horror items. The first three, justly celebrated (and sometimes genuinely scary), were directed by the great Jacques Tourneur—Cat People (1942), I Walked with a Zombie (1943) The Leopard Man (1943)—but the greatest and most densely plotted of them, directed by Mark Robson, came right after these. Packing an inordinate number of vivid characters into 71 minutes, this doom-ridden tale about a cult of devil worshipers in Greenwich Village—-including a lonely girl looking for her lost sister, a resurrection of the shrink from Cat People, a couple of lesbian characters, a detective, a lawyer, and a poet—-has a moment that anticipates the shower murder in Psycho, and an overall feeling for desolate city streets at night that was virtually Lewton's signature.
From Jonathan Rosenbaum's article 'Ten Overlooked Noirs' on DVDBeaver HERE
Posters
Theatrical Release: May 8th, 1943
Reviews More Reviews DVD Reviews
DVD Review: Warner (Val Lewton Box) - Region 1 - NTSC
DVD Box Cover

Comes in the Val Lewton Horror Collection (Cat People / The Curse of the Cat People / I Walked with a Zombie / The Body Snatcher / Isle of the Dead / Bedlam / The Leopard Man / The Ghost Ship / The Seventh Victim / Shadows in the Dark) :

Purchase links:
Distribution

Warner

Region 1 - NTSC

Runtime
1:10:48
Video

1.33:1 Original Aspect Ratio
Average Bitrate: 5.73 mb/s
NTSC 720x480 29.97 f/s

NOTE: The Vertical axis represents the bits transferred per second. The Horizontal is the time in minutes.

Bitrate

Audio
English (Dolby Digital 2.0) .
Subtitles
English, French, Spanish, None
Features
Release Information:
Studio: Warner

Aspect Ratio:
Fullscreen - 1.33:1

Edition Details:
• Commentary by Steve Haberman

• Featurette: Shadows in the Dark: The Val Lewton Legacy (53:20)
• Theatrical trailer

DVD Release Date: Oct. 4, 2005
Keep Case

Chapters 22
| | |
| --- | --- |
| Comments | The transfer looks quite acceptable with some minor speckles throughout. For the most part detail is strong with some occasional lapses into haziness. I can state with assurance that it is superior to the French edition HERE . The film is pure Noir magic and is one of my favorite in the entire Lewton package - there are some amazingly well-crafted scenes. At present, the only way to obtain this NTSC edition is on the Lewton Boxset - but it is just another valid reason to purchase as far as I am concerned. A must-own Noir film in a must-own DVD package. |
---




DVD Menus

---
Screen Captures
Subtitle Sample
Mail cheques, money orders, cash to: or CLICK PayPal logo to donate!
Thank You!
Jacques Tourneur's - The Leopard Man - DVD Review Jacques Tourneur The Leopard Man DVD Review Val Lewton Jacques Tourneur The Leopard Man DVD Review Jacques Tourneur The Leopard Man DVD Review Val Lewton Jacques Tourneur The Leopard Man DVD Review Jacques Tourneur The Leopard Man DVD Review Val Lewton Jacques Tourneur The Leopard Man DVD Review Jacques Tourneur The Leopard Man DVD Review Val Lewton Jacques Tourneur The Leopard Man DVD Review Jacques Tourneur The Leopard Man DVD Review Val Lewton Jacques Tourneur The Leopard Man DVD Review Jacques Tourneur The Leopard Man DVD Review Val Lewton Jacques Tourneur's - The Leopard Man - DVD Review Jacques Tourneur The Leopard Man DVD Review Val Lewton Jacques Tourneur The Leopard Man DVD Review Jacques Tourneur The Leopard Man DVD Review Val Lewton Jacques Tourneur The Leopard Man DVD Review Jacques Tourneur The Leopard Man DVD Review Val Lewton Jacques Tourneur The Leopard Man DVD Review Jacques Tourneur The Leopard Man DVD Review Val Lewton Jacques Tourneur The Leopard Man DVD Review Jacques Tourneur The Leopard Man DVD Review Val Lewton Jacques Tourneur The Leopard Man DVD Review Jacques Tourneur The Leopard Man DVD Review Val Lewton Jacques Tourneur's - The Leopard Man - DVD Review Jacques Tourneur The Leopard Man DVD Review Val Lewton Jacques Tourneur The Leopard Man DVD Review Jacques Tourneur The Leopard Man DVD Review Val Lewton Jacques Tourneur The Leopard Man DVD Review Jacques Tourneur The Leopard Man DVD Review Val Lewton Jacques Tourneur The Leopard Man DVD Review Jacques Tourneur The Leopard Man DVD Review Val Lewton Jacques Tourneur The Leopard Man DVD Review Jacques Tourneur The Leopard Man DVD Review Val Lewton Jacques Tourneur The Leopard Man DVD Review Jacques Tourneur The Leopard Man DVD Review Val Lewton Jacques Tourneur's - The Leopard Man - DVD Review Jacques Tourneur The Leopard Man DVD Review Val Lewton Jacques Tourneur The Leopard Man DVD Review Jacques Tourneur The Leopard Man DVD Review Val Lewton Jacques Tourneur The Leopard Man DVD Review Jacques Tourneur The Leopard Man DVD Review Val Lewton Jacques Tourneur The Leopard Man DVD Review Jacques Tourneur The Leopard Man DVD Review Val Lewton Jacques Tourneur The Leopard Man DVD Review Jacques Tourneur The Leopard Man DVD Review Val Lewton Jacques Tourneur The Leopard Man DVD Review Jacques Tourneur The Leopard Man DVD Review Val Lewton Jacques Tourneur's - The Leopard Man - DVD Review Jacques Tourneur The Leopard Man DVD Review Val Lewton Jacques Tourneur The Leopard Man DVD Review Jacques Tourneur The Leopard Man DVD Review Val Lewton Jacques Tourneur The Leopard Man DVD Review Jacques Tourneur The Leopard Man DVD Review Val Lewton Jacques Tourneur The Leopard Man DVD Review Jacques Tourneur The Leopard Man DVD Review Val Lewton Jacques Tourneur The Leopard Man DVD Review Jacques Tourneur The Leopard Man DVD Review Val Lewton Jacques Tourneur The Leopard Man DVD Review Jacques Tourneur The Leopard Man DVD Review Val Lewton Jacques Tourneur's - The Leopard Man - DVD Review Jacques Tourneur The Leopard Man DVD Review Val Lewton Jacques Tourneur The Leopard Man DVD Review Jacques Tourneur The Leopard Man DVD Review Val Lewton Jacques Tourneur The Leopard Man DVD Review Jacques Tourneur The Leopard Man DVD Review Val Lewton Jacques Tourneur The Leopard Man DVD Review Jacques Tourneur The Leopard Man DVD Review Val Lewton Jacques Tourneur The Leopard Man DVD Review Jacques Tourneur The Leopard Man DVD Review Val Lewton Jacques Tourneur The Leopard Man DVD Review Jacques Tourneur The Leopard Man DVD Review Val Lewton Jacques Tourneur's - The Leopard Man - DVD Review Jacques Tourneur The Leopard Man DVD Review Val Lewton Jacques Tourneur The Leopard Man DVD Review Jacques Tourneur The Leopard Man DVD Review Val Lewton Jacques Tourneur The Leopard Man DVD Review Jacques Tourneur The Leopard Man DVD Review Val Lewton Jacques Tourneur The Leopard Man DVD Review Jacques Tourneur The Leopard Man DVD Review Val Lewton Jacques Tourneur The Leopard Man DVD Review Jacques Tourneur The Leopard Man DVD Review Val Lewton Jacques Tourneur The Leopard Man DVD Review Jacques Tourneur The Leopard Man DVD Review Val Lewton Jacques Tourneur's - The Leopard Man - DVD Review Jacques Tourneur The Leopard Man DVD Review Val Lewton Jacques Tourneur The Leopard Man DVD Review Jacques Tourneur The Leopard Man DVD Review Val Lewton Jacques Tourneur The Leopard Man DVD Review Jacques Tourneur The Leopard Man DVD Review Val Lewton Jacques Tourneur The Leopard Man DVD Review Jacques Tourneur The Leopard Man DVD Review Val Lewton Jacques Tourneur The Leopard Man DVD Review Jacques Tourneur The Leopard Man DVD Review Val Lewton Jacques Tourneur The Leopard Man DVD Review Jacques Tourneur The Leopard Man DVD Review Val Lewton Jacques Tourneur's - The Leopard Man - DVD Review Jacques Tourneur The Leopard Man DVD Review Val Lewton Jacques Tourneur The Leopard Man DVD Review Jacques Tourneur The Leopard Man DVD Review Val Lewton Jacques Tourneur The Leopard Man DVD Review Jacques Tourneur The Leopard Man DVD Review Val Lewton Jacques Tourneur The Leopard Man DVD Review Jacques Tourneur The Leopard Man DVD Review Val Lewton Jacques Tourneur The Leopard Man DVD Review Jacques Tourneur The Leopard Man DVD Review Val Lewton Jacques Tourneur The Leopard Man DVD Review Jacques Tourneur The Leopard Man DVD Review Val Lewton Jacques Tourneur's - The Leopard Man - DVD Review Jacques Tourneur The Leopard Man DVD Review Val Lewton Jacques Tourneur The Leopard Man DVD Review Jacques Tourneur The Leopard Man DVD Review Val Lewton Jacques Tourneur The Leopard Man DVD Review Jacques Tourneur The Leopard Man DVD Review Val Lewton Jacques Tourneur The Leopard Man DVD Review Jacques Tourneur The Leopard Man DVD Review Val Lewton Jacques Tourneur The Leopard Man DVD Review Jacques Tourneur The Leopard Man DVD Review Val Lewton Jacques Tourneur The Leopard Man DVD Review Jacques Tourneur The Leopard Man DVD Review Val Lewton Jacques Tourneur's - The Leopard Man - DVD Review Jacques Tourneur The Leopard Man DVD Review Val Lewton Jacques Tourneur The Leopard Man DVD Review Jacques Tourneur The Leopard Man DVD Review Val Lewton Jacques Tourneur The Leopard Man DVD Review Jacques Tourneur The Leopard Man DVD Review Val Lewton Jacques Tourneur The Leopard Man DVD Review Jacques Tourneur The Leopard Man DVD Review Val Lewton Jacques Tourneur The Leopard Man DVD Review Jacques Tourneur The Leopard Man DVD Review Val Lewton Jacques Tourneur The Leopard Man DVD Review Jacques Tourneur The Leopard Man DVD Review Val Lewton Jacques Tourneur's - The Leopard Man - DVD Review Jacques Tourneur The Leopard Man DVD Review Val Lewton Jacques Tourneur The Leopard Man DVD Review Jacques Tourneur The Leopard Man DVD Review Val Lewton Jacques Tourneur The Leopard Man DVD Review Jacques Tourneur The Leopard Man DVD Review Val Lewton Jacques Tourneur The Leopard Man DVD Review Jacques Tourneur The Leopard Man DVD Review Val Lewton Jacques Tourneur The Leopard Man DVD Review Jacques Tourneur The Leopard Man DVD Review Val Lewton Jacques Tourneur The Leopard Man DVD Review Jacques Tourneur The Leopard Man DVD Review Val Lewton