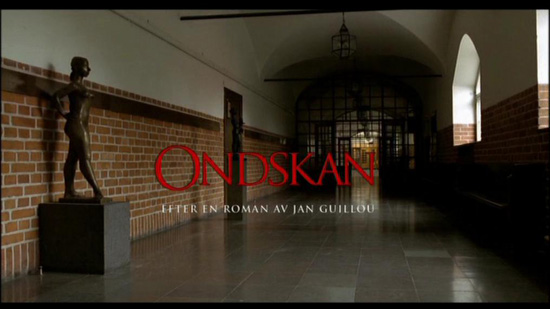 (aka "Evil" )
directed by Mikael Håfström
Sweden 2003
Being a mean bully and defiant youth, Jan Guillous was expelled from high school and subsequently barred from any high school in Sweden, as the headmaster wrote a warning letter to his colleagues, condemning Guillous as an incurable criminal. As a last chance to graduate, his mother managed to get enough money together to send him to one of Sweden's finest boarding schools, Solbacka. An elitist school, where older pupils were in charge for "educating" younger pupils in the importance of tradition and order, Guillous experienced it as the living hell. The older pupils sadistic overlords, who would punish anyone at the slightest whim - The teaching staff blindly accepted this. Jan Guillous was determined to bring the school down and went on to study law, but fate played in on his revenge, and it was an article about the inhumanities that eventually created a nationwide scandal and forced the ministry to close the school.

Based on the autobiographical book by Jan Guillous, "Evil" tells the story of the coming of age of young Erik, who is full of hate and anger. At home he is regularly beaten and punished by his stepfather and takes out his frustration on random victims at school, ultimately causing him to be expelled and bared. Arriving at the boarding school, Erik is, as any new pupil, assigned humiliating tasks, but refuses to do them, thereby not only setting him up against the older students, especially the leader Silverhielm, but also the entire body of traditions, the school is based upon.

What makes "Evil" so tense is the fact, that Erik virtually is able to beat the entire school up, but he has promised his mother not to pick any fights, because a fight would get him expelled and thus ruin any chance to get an education: Erik can nothing but rebel by being passive. But we all know that a man only can take so much, and to know that drives the tension.

Nominated as best foreign film at the Academy Awards and awarded the FIRPESCI prize in Cannes, "Evil" is a haunting depiction of a cruel and inhuman system, based upon a caste system, where the few and chosen maintain power by humiliation and physical punishment., while the teachers wash their hands clean by ignoring what goes on. Taking place in Sweden in the fifties, it is almost ironic to see, that some of the very principles upon which the Third Reich was build, is well and alive in a Swedish boarding school. (5 of 5)

Posters
Theatrical Release: May 16, 2003 (Cannes Film Festival)
Reviews More Reviews DVD Reviews
DVD Review: Nordisk Film (Sverige) - Region 2 - PAL
Big thanks to Henrik Sylow for the Review!
DVD Box Cover

CLICK to order from:

Distribution

Nordisk Film (Sverige)

Region 2 - PAL

Runtime
1:48:47 (4% PAL speedup)
Video

1.85:1 Original Aspect Ratio

16X9 enhanced
Average Bitrate: 6.20 mb/s
PAL 720x576 25.00 f/s

Bitrate:

NOTE: The Vertical axis represents the bits transferred per second. The Horizontal is the time in minutes.

Audio
5.1 Dolby Digital Swedish, DTS Swedish
Subtitles
Danish, Swedish, Norwegian, Finnish, English and None (16x9 friendly)
Features
Release Information:
Studio: Nordisk Film (Sverige)

Aspect Ratio:
Widescreen anamorphic - 1.85:1

Edition Details:
• Making of featurette (23:40)
• Interview with Jan Guillous (35:10)
• Deleted scenes with optional audio commentary by Mikael Håfström
• Trailers
• No English subtitles on additional material

DVD Release Date: April 1, 2004
Keep Case

Chapters 12

Comments

NOTE: While etailers and backcover of "Ondskan" may indicate that no English subtitles are available, they are. Nordisk Film simply forgot to add them when designing the cover and the mistake is currently being corrected. English subtitles are available on all Nordisk Film versions of "Evil" in Scandinavia.

Being an Oscar nominee, the DVD has been cared for by Nordisk Film. Sound and vision is in top and the additional material is well produced and presented. We get a look behind the scenes and into the production, we have an in-depth interview with Guillous, we get deleted scenes with audio commentary. And most important here, Nordisk Film adds English subtitles, which allows an international audience to enjoy this great film. We need more DVDs of Scandinavian films as this, because we do make great films and its about time that the world realizes it.

Sadly there are no English subtitles on the additional material. This is especially true for interview with Jan Guillous, where we get the entire story and where he talks about evil and society in general. If anything the interview should have had English subtitles, as it provides valuable insight.

---



DVD Menus

---
Subtitle Sample
---




---