NOTE: The below Blu-ray captures were taken directly from the Blu-ray disc.
The Criterion Blu-ray of
Crisis
is part of their Ingmar Bergman's Cinema 100th Anniversary 30 Blu-ray Boxset (reviewed, as a work in-progress, HERE).
The Magic Flute
shares this Blu-ray with
After the Rehearsal
. See comparative captures, a listing of technical details, extras etc., on this page.
We've compared it here and it is significantly different from the BFI 1080P with colors appearing far more authentic, there is also more information in the 1.37 frame but it can look softer in some scenes. It starts with this source-screen: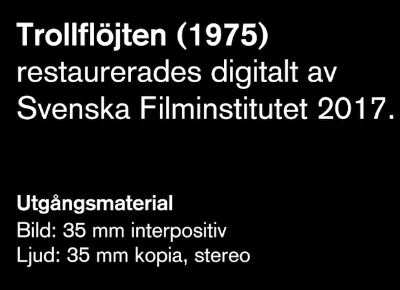 Overall I would say it is superior to the BFI that can look very video-like but the Criterion HD image is far from ideal but, we expect that the source is compromised. It does start with the same 'Overture' sequence: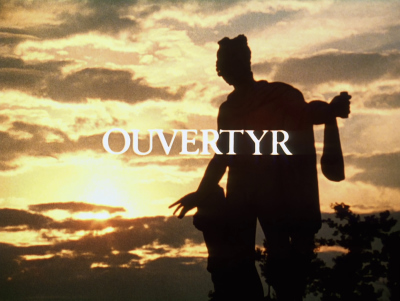 Criterion also use a linear PCM track in the original Swedish and there are, what appears to be, sync issues but generally the sound and songs are pleasing in the uncompressed. There are optional English subtitles (see sample) on the Region 'A'-locked Blu-ray disc.
Criterion
***
ON THE BFI Blu-ray: The BFI HD is a very welcome, massive, update to the 18-year old Criterion DVD as the screen captures can attest. Briefly, the BFI did show some unusual artifacts in the first few minutes - almost like snow falling and I was trying to see if it was intentional as an overlay - but I will please ignorance - it definitely showed a few artifacts in the faces but I wouldn't call the 1080P flawed because of it. This is from a different source and has the Trollfl÷jten title and has the 'Overture' (hence the time discrepancy? I don't recall if it is on the Criterion DVD):
Colors jump to life, skin tones normalize and tints are richer and it shows more information in the 1.33:1 frame. There is grain and it is on a dual-layered disc with a supportive bitrate.
There are optional English subtitles on the Region 'B'-locked Blu-ray disc.
Extras include Papageno: Lotte Reiniger's 1935 enchanting silhouette-animation inspired by Mozart's opera running 11-minutes. In Mozart's Footsteps is from 1938. Described as a fascinating post Anschluss travelogue by roving aristocrat Lady Dunn and On Such a Night is from 1955; the colorful adventures of an American opera buff on his first visit to Glyndebourne, directed by Antony Asquith. Also included is a UK theatrical trailer and the package has an illustrated booklet with new writing by Sameer Rahim and Vic Pratt, and full film credits.
Even with slight imperfections - likely due to the source - this is such a wonderful production to see in 1080P. I will cherish this Blu-ray - thank you BFI!
***
ON THE DVD: This may be, dare I say, Criterion worst image - certainly in the bottom 10. Taken from television standard, its highlights are the stereo score in uncompressed PCM. NOTE: Due to an authoring error on the first printing of Criterion's The Magic Flute, the left and right audio tracks are reversed. This flaw has been corrected on all subsequent printings of this DVD.
RE: The Stereo effect: It is almost as if the sound effects were designed with DVD technology in mind. Atmospheric details such as footsteps approaching across the stage, Papageno's chewing of cakes as he shows Pamina the picture of her prince, and the sly, lecherous whispers of Monostatos (sung by Ragnar Ulfung, well-known to Met audiences in the '70s) all contribute to the vivid impression of the Bergman/Ericson recording. The single most arresting moment comes when Monostatos suddenly hisses "Nu stilla, stilla, stilla, stilla!" from the left-hand speaker, and the Queen of the Night, skirts rustling ominously, advances.
The image is dull, soft and hazy for most of the performance. Color balance looks poor as well (orange skin tones). I suspect it is the best print that could be obtained. Even for TV from 1975 this looks rather poor. There are excellent subtitles and no DVD extras. A Criterion rarity, but a pleasure to own for its unique charm.