| | |
| --- | --- |
| Search DVDBeaver | S E A R C H D V D B e a v e r |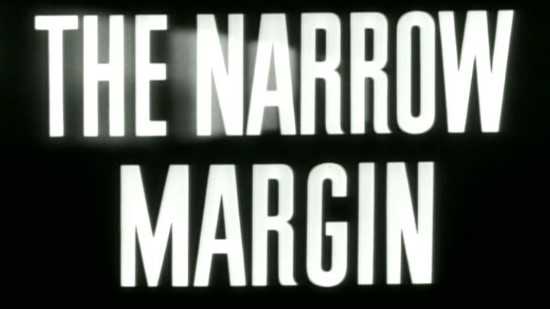 (aka 'L'Enigme du Chicago Express" or "The Target')
directed by Richard Fleischer
USA 19
52
Charles McGraw plays edgy cop Walter Brown. His job is to protect a dead racketeer's wife, Mrs. Neil (Marie Windsor) from the mob. She's a key witness in a grand jury probe, and also has a payoff list linking gang members to the LAPD. Most of the film's action takes place on board the train taking Brown and Neil to Los Angeles, where she will testify. In Mrs. Neil, played to perfection by Windsor, the queen of B movies, the tough talking, wise-cracking Brown meets his match. On the way to meet her, he glibly tells his partner, Gus Forbes that "She's the sixty cent special. Cheap. Flashy. Sticky poison under the gravy." When he and Forbes, both from Los Angeles, first meet her, she says, "How nice. How Los Angeles." Then looking Brown up and down, she snarls, "Sunburn wear off on the way?" My favorite wisecrack occurs after Brown has finally had enough of her wise remarks and lashes out, "You make me sick to my stomach." Her retaliation is a gem: "Well, use your own sink." Unlike the banter between Nick and Noira Charles of The Thin Man series, there's nothing the least sophisticated about the way Brown and Neil talk each other. Director Richard Fleischer uses inventive camera work, the sounds of the train rather than a music score, and the train's claustrophobic atmosphere to create and sustain tension. An RKO picture, The Narrow Margin is an unpretentious, taut low-budget thriller, a minor classic far superior to the 1990 Gene Hackman-Anne Archer remake.
Excerpt from Roger Zotti's comments on IMdb located HERE
Posters
Theatrical Release: May 3rd, 1952 - NY, NY - USA
Reviews More Reviews DVD Reviews
---
Recommended Reading in Film Noir (CLICK COVERS or TITLES for more information)
The Third Man
by Graham Greene

The Dark Side of the Screen: Film Noir

by Foster Hirsch

Somewhere in the Night: Film Noir and the American City

by Nicholas Christopher

Shades of Noir: A Reader
by Joan Copjec
The Art of Noir: The Posters and Graphics from the Classic Era of Film Noir
by Eddie Muller
The Little Black and White Book of Film Noir: Quotations from Films of the 40's and 50's
by Peg Thompson, Saeko Usukawa
Film Noir
by Alain Silver
Film Noir Guide: 745 Films of the Classic Era, 1940-1959
by Michael F. Keaney
Detours and Lost Highways: A Map of Neo-Noir
by Foster Hirsch
DVD Review: Éditions Montparnasse (re-release) - Region 2 - PAL
Screen captures courtesy of Herb Kane
DVD Box Cover

CLICK to order from:

Distribution
Éditions Montparnasse - Region 2 - PAL
Runtime
71 minutes (4% PAL speedup)
Video
1.33:1 Original Aspect Ratio
Average Bitrate: 7.38 mb/s
PAL 720x576 25.00 f/s
Audio
English (Dolby Digital 2.0 Dolby), DUB: French (Dolby Digital 2.0 Dolby)
Subtitles
French, None
Features

Release Information:
Studio: RKO / Éditions Montparnasse

Aspect Ratio:
Original aspect Ratio 1.33:1

Edition Details:

• none

DVD Release Date: February 3rd, 2004
Slim Transparent Keep Case
Chapters: 12
| | |
| --- | --- |
| Comments: | Image looks pretty good, with only minor softness and a bit of chroma. It has a very minimal sepia shading, but otherwise is quite strong with heavy contrast. Original audio with an optional French DUB or French subtitles. No extras and only one menu. As Herb Kane says "The absolute best film noir within the WB library (RKO film)... not yet released on R1 DVD". That is good enough for me! out of |
---
---
Subtitle Sample
Screen Captures
---
---




| | |
| --- | --- |
| Search DVDBeaver | S E A R C H D V D B e a v e r |

DONATIONS Keep DVDBeaver alive and advertisement free:
Mail cheques, money orders, cash to: or CLICK PayPal logo to donate!
Thank You!