| | |
| --- | --- |
| | S E A R C H D V D B e a v e r |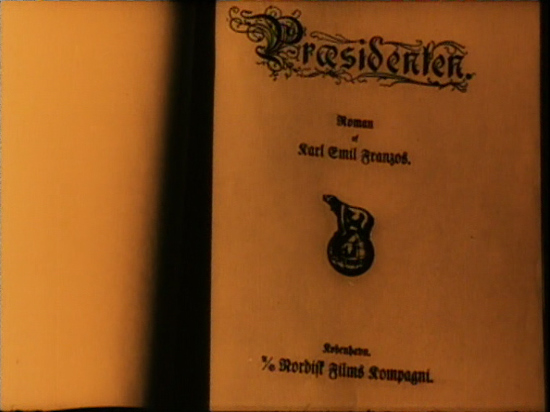 (aka 'The President')
Praesidenten is a film about the crucial conflict between the (conservative) codes of society and individual moral.

It tells the story of a grandfather, father and son of a well respected family who all make the same mistake and fall in love with a common girl.

They all have to resolve the problem in a way acceptable to the society they live in but must consequently suffer the inner guilt that inevitably follows.

Finally, late in his life the son, whose a respected judge in a small town, gets a chance to redeem himself and his ancestors by doing the right thing morally but also severely breaking the law in doing so.

This highlights the conflict between the personal and the societal spheres of right and wrong in a spectacular way, especially as Dreyer depicts the other local men of power as only concerned with how the incident would affect their status in society.

Dreyer uses flashback- structure in a very efficient and economical way to build the comparisons between the different times portrayed in the film. Furthermore: in this our digital age of fast editing and overflow of image it is most gratifying to see a film that has a complex point to make and manages to do that almost effortlessly with a minimum of "hassle". The direction is so economic it almost hides the mastery of cinematic vision behind it to the untrained eye.
Excerpt from Sorsimus' review on IMdb located HERE
Theatrical Release: February 1st, 1919 - Sweden
DVD Review: Danish Film Institute - Region 0 - PAL
DVD Box Cover

CLICK to order from Danish Film Institute (DFI Bookshop):

Distribution
DFI - Region 0 - PAL
Runtime
1:24:40
Video
1.33:1 Original Aspect Ratio
Average Bitrate: ? mb/s
PAL 720x576 25.00 f/s
Audio
Stereo piano score by Ronen Thalmay
Subtitles
Dual Danish and English intertitles
Features

Release Information:
Studio: Danish Film Institute

Aspect Ratio:
Original aspect Ratio 1.33:1

Edition Details:

• 55 second fragment of the lost film "Penage" (screenplay by Dreyer)
• Carl Dreyer Biography
• Carl Dreyer Filmography

DVD Release Date: January 10th, 2005
Keep Case
Chapters: 12
Comments:

The release of Dreyer's first film on DVD is quite a momentous occasion. It's never been available on VHS or DVD anywhere previously, and is only usually seen theatrically at rare Dreyer retrospectives. This DFI DVD is recommended for anyone keen to see this very rare film, but unfortunately, it isn't reference quality or the definitive DVD release of the film that it perhaps could have been.

First of all - the film. It's fascinating. Within the first few minutes are unusual shots of small children trying to clamber down broken ruins, closeups of frogs leaping, and lovely outdoors shots of lovers on a lake, kissing in a boat (reminiscent of DAY OF WRATH). After this quick paced, fresh, Vigo-like start - the film settles down a bit after a 30-year jump into the future, and Dreyer fans will have a treat spotting stylistic traits and decor that looks straight out of THE PASSION OF JOAN OF ARC and ORDET. I won't delineate the plot, however, let me just add that any fans of Dreyer out there should strive to pick this up --- it's unlikely we'll see another DVD of this film for many years.

The problems with the disc are to do with the 1999 film restoration and the transfer of it to DVD. First of all, the film restorer (Marguerite Engberg) replaced all the original Danish intertitles with dual-language (Danish and English) pages. Unfortunately, these new intertitle pages feature writing that is far too small. Furthermore, when the intertitles are depicting handwritten letters that a character is reading, a "script" font is used which is illegible. The print used is quite contrasty, as you can see from the shots. I doubt that Dreyer intended the film to have such a pronounced chiaroscuro look with hardly any shadow detail, but the intertitles are the main problem here: they shimmer with chroma noise and look very "analogue".

Ideally, the film needs a new film restoration, preserving the original Danish intertitles (if possible) and a better transfer -- but the problem is one of cost and the DFI have issued what they have available to them.

So I recommend it, with caveats, because there's no other version likely for years. It's a great film, a master's debut, and of huge interest.
---

DVD Menus
NOTE: The black and white image (bottom right) is from the 55 second remaining extract of PENGE
---
Intertitle Sample
Screen Captures
---
---
---
---
---
Recommended Film reading (CLICK COVERS or TITLES for more information)
DVD Box Cover

CLICK to order from Danish Film Institute (DFI Bookshop):

Distribution
DFI - Region 0 - PAL





| | |
| --- | --- |
| | S E A R C H D V D B e a v e r |