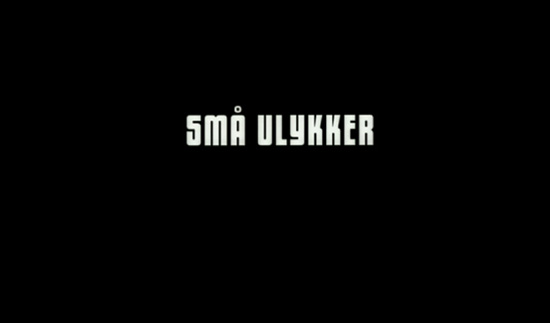 (aka "Små danska olyckor" or "Minor Mishaps")
directed by Annette K. Olesen
Denmark / Sweden 2002
A Danish film inspired by both the working methods of Mike Leigh and the Dogme 95 movement, the feature debut of Annette K Olesen explores how the members of a family respond to a shared bereavement
Excerpt from Channel 4 review located HERE
Posters
Theatrical Release: 10 February 2002 (Berlin international Film Festival), Denmark 15 February 2002
Reviews More Reviews DVD Reviews
DVD Review: Artificial Eye - Region 2 - PAL
Big thanks to Per-Olof Strandberg for the Review!
DVD Box Cover

CLICK to order from:

Distribution

Artificial Eye

Region 2 - PAL

Runtime
1:44:51 (4% PAL speedup)
Bitrate
Video

1:1.85 Original Aspect Ratio
Average Bitrate: 4.86 mb/s
PAL 720x576 25.00 f/s

Audio
DD 2.0 Danish
Subtitles
English (burnt-in)
Features
Release Information:
Studio: Artificial Eye

Aspect Ratio:
Widescreen letterboxed - 1:1.85

Edition Details:
• Interview with Annette K Olesen (26:44)
• Trailer (2:04)
• Production notes (6 Pages)
• Biography (2 Pages)
• DVD-9 (SS-DL)

DVD Release Date: March 24, 2003
Keep Case

Chapters 14
Comments
Denmark makes the most interested films of all the Nordic countries, if not in the whole Europe. This is because of strong directors, and also because the Danish government has always understood to support the film industry.

So, here we have an other fine film, but the DVD transfer has some minor mishaps....


THE PICTURE

The film is shot with two handheld cameras in Digibeta (25 f/sec (I think)), and then transferred into film (24f/sec). I don't know why this DVD is made from the film elements, instead off the original digital elements.

Now, we have pal speed-up and the picture is not the best it can be. Even tough it's extremely sharp (video sharp), the picture goes blurry in motion.

Being a low budget film focused on the actors, there are overexposed backgrounds and the picture looks much as a document film.


THE SOUND

This film is much dialog driven, without much effects or music. Basically there is nothing wrong with the sound.


THE SUBTITLE

Here we have much trouble. The image is non anamorphic, even tough the cover claims different. The subtitles are very large size and far to down, for wide-screen equipment's. I had to crop much from the headroom, to make it fit the screen.

For some reason they are burnt-in on the DVD image.


OVERALL

I think this is the only DVD with English subs, and is worth to buy.

I have informed Artificial-Eye of the misprint on the cover, over a year ago. The least they should do is to correct the screen information on their web pages, but sometimes I have a strong feeling that they don't actually want any customers!
---
---
Subtitle sample
---

Blurry in motion (Digital videoa > 35mm film > DVD)