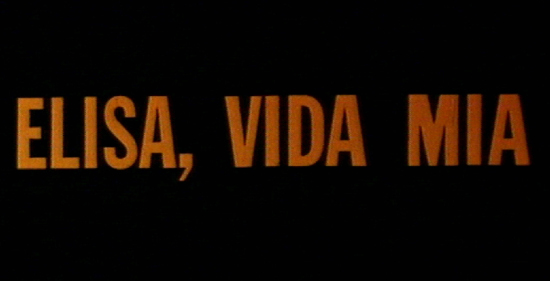 (aka "Elisa, My Love" or "Elisa, My Life")
directed by Carlos Saura
Spain 1977
The fact that this is the very first commentary here shows that we don't deal with one of the most famous movies of the great Spanish master, and this fact is really stunning. Even if not set in the dance medium, especially flamenco and tango, with which Saura is generally linked, this movie is highly personal. Saura is one of the very few directors who succeed to be very national in its cinematographic language."Elisa" is no exception: the outdoor images, looking like De Greco and Goya paintings, the stunning performance of the actors remembering sometimes flamenco intensity, give to this movie a glorious cinematographic presence. The issue which stands in the center of this movie is a universally and uneasy one: the relation between father and daughter. Saura knows to avoid a tabloid depiction of this relation, although it doesn't avoid the border-line oedipal tensions. Throughout settled mostly in a chamber-music like duet, it doesn't have the claustrophobic Bergman character. The movie is a love duet, with its aggressive and passionate outcome. Awesome experience.
Excerpt from jackush from Israel's review on Imdb located HERE
Theatrical Release: 21 April 1977 Spain
Reviews More Reviews DVD Reviews
DVD Review: Manga films (Spain) - Region 2 - PAL
Big thanks to Per-Olof Strandebrg for the Review!
DVD Box Cover

CLICK to order from:

Distribution

Manga films (Spain)

Region 2 - PAL

Runtime
1:58:49
Video

1:1.66 Original Aspect Ratio
Average Bitrate: mb/s
PAL 720x576 25.00 f/s

Audio
DD 2.0 Spanish Mono
Subtitles
English and None
Features
Release Information:
Studio: Manga films (Spain)

Aspect Ratio:
Widescreen letterboxed - 1:1.66

Edition Details:
• Cast & Crew list
• Filmographies
• DVD-9 (SS-DL)

DVD Release Date: 10/11 2004
Keep Caase

Chapters 12
Comments
Carlos Saura is one of the best Spanish directors, and Elisa, vida mia is one off his great films. When a Spanish company releases it DVD in 2004, you assume it's in proper condition.

I tried to find some information of this Spanish DVD, knowing how bad they have treated on DVD some films of Bigas Luna and Julio Medem . Unfortunately I didn't find any reviews!

The picture is taken from an old (presumably over 20 years old analog Beta-cam cassette) source. Over 30 % off the film is so black that you can't see a thing and in the other parts you wish you wouldn't see it. Transfered from a used cinema copy (ages ago), there's a lot of dirt and scratches and the picture jumps some time, because it has been broken and put together with glue. If you look closely, you find that the picture is'nt even upright!

One the good side is that the English subs are in the 1:1.66 are, and the picture is reasonable sharp.

This film contains one off the worst sound's I've listened. Never has the music from Erik Satie been so totally destroyed. The sound is narrow, and also because off some technical fault it waves a lot. Even our grandfathers old phono has better sound.

Final comments

These DVD should be re-called at once. If you desperately want to se it, take a VHS cassette. This DVD looks like a bad VHS cassette from 1980, not better not worse!
---
---
Screen Captures
Subtitle sampla