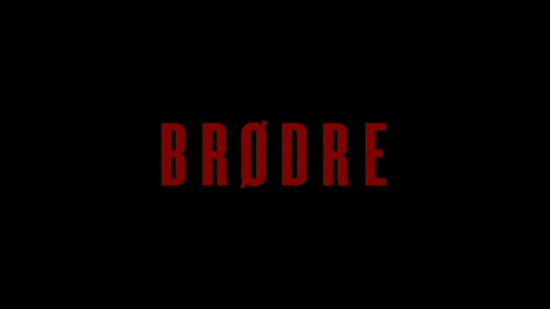 (aka "Brothers" )
directed by usanne Bier
Denmark 2004
While watching a program about the mental state of American soldiers returning from the war, Bier was intrigued by the fact, that even the smallest changes, as for instance new pillows for the sofa, could throw them off balance. The idea grew and became a character study of a returning soldier facing extreme changes. It became "Brothers".

Michael (Ulrik Thomsen) and Jannik (Nikolaj Lie Kaas) are brothers, but like day and night. Michael is the favourite son, the responsible one, the one who always does what's right. Jannik is the outcast, the slacker, who just spend some years in prison for bank robbery.

As a major for the UN forces, Michael is send to Afghanistan, but not sooner than he has arrived, his helicopter is shot down and he is assumed dead. This creates an emotional emptiness within the family. The father turns grief into anger towards Jannik, who's own sorrow makes him approach Sarah (Connie Nielsen), Michael's wife, and suddenly Jannik finds himself accepted and loved as a person, and begins to act responsible and as the uncle he is.

But Michael is not dead. He is taken prisoner by rebels and goes thru hell, before he is rescued by American troops. Returning home, he finds that everything has changed, especially with Sarah and Jannik, and even though Jannik assures Michael that there is nothing going on between them, Michael begins to develop unhealthy thoughts. He feels that he has lost his family and feels betrayed by those he loved. Jealousy turns to rage and is enhanced by the demons he fights with, as he was forced to kill a fellow prisoner in order to stay alive. There is no happy end.

Scripted by Anders Thomas Jensen, who also wrote "Open Hearts" and "Wilbur Wants to Kill Himself" for Bier, this is a haunting character study of a how the horrors of war affects an ordinary man. The notion that soldiers are trained to be, whatever they are, is presented over and over, only to be opposed by the question, but who is trained to watch other people die, and as such makes a critical comment to how returning soldiers are neglected in terms of getting rid of their demons.

Bier really has turned into a great director, who demonstrates a firm control of her characters. One thing is being popular in Denmark, which is easy, another thing is being able to make films, which can compete internationally, and with both "Open Hearts" and "Brothers", Bier proves herself. Yet there is room for improvement, she needs to be personal involved, there need to be risks, and as long as she is an audience darling, I doubt that will happened. She has a great gift in terms of character direction and does make some of the best Danish films in the last few years, but she has nothing to fight for, and in the end, that reflects upon her film.

This seems obvious comparing "Open Hearts" with "Brothers". "Open Hearts" was her Dogme film and it was to some extend a directorial risk, as she had to prove, that she not only was able of making sugar sweet comedies, but also was able to make a real film. And she rose to the challenge and made one of the best Danish films in recent years. As such, "Brothers" has a sense of resting on the laurels.

But "Brothers" is still a great film. Bier is a great character director and the acting is superb. It also continues the central Danish leitmotif of the recent years, our inability to come to terms with loss, and is on top of that a film able to compete internationally. "Brothers" is a must see for fans of Danish film.
Posters
Theatrical Release: August 27, 2004
Reviews More Reviews DVD Reviews
DVD Review: Nordisk Film - Region 2 - PAL
Big thanks to Henrik Sylow for the Review!
DVD Box Cover

CLICK to order from:

Distribution

Nordisk Film

Region 2 - PAL

Runtime
1:52:06
Video

1.78:1 Original Aspect Ratio

16X9 enhanced
Average Bitrate: 6.15 mb/s
PAL 720x576 25.00 f/s

NOTE: The Vertical axis represents the bits transferred per second. The Horizontal is the time in minutes.

Bitrate

Audio
5.1 Dolby Digital Danish, DTS Danish
Subtitles
Danish, Swedish, Norwegian, Spanish, English, None
Features
Release Information:
Studio: Nordisk Film

Aspect Ratio:
Widescreen anamorphic - 1.78:1

Edition Details:
• Audio Commentary by Susanne Bier, Pernille Bæk Christensen and Morten Søgård
• Portrait of Susanne Bier (29:53)
• Featurette (43:57)
• - When Tragedy Strikes (2:53)
• - The Helicopter Crash (11:21)
• - Afghanistan (5:14)
• - The Execution (7:27)
• - The Eternal Triangle (5:56)
• - The Breakdown (11:06)
• Deleted Scene: The Pancakes (1:40)
• Deleted Scene: After the Birthdayparty (1:49)
• Deleted Scenes: Out of Jail (2:44)
• Trailer (2:05)
• TV Spot (0:35)
• Poster Artwork

DVD Release Date: January 20, 2005
Keep case

Chapters 13
Comments
This is simply one beautifully produced DVD. If only all great Danish films were given such attention. One of the best produced Danish DVDs to date.

The image is crisp and sharp in details. Besides minor halos, no artefacts. The "grain" is due to the source.

Sound is either 5.1 Dolby Digital or DTS, but there isn't that much difference.

What really makes this great is the additional material and how it is presented. There is subtitles on all material, this meaning also English subtitles. Even on the trailers.

First the audio commentary with Susanne Bier (director), Pernille Bæk Christensen (editor) and Morten Søgård (cinematograph). A great commentary track, where they talk about the film itself and the difference phases of pre and post production.

Next comes a portrait of Susanne Bier, where we learn about her upbringing, her background and her other films, but is centered around the production of "Brødre". As Bier is one of our best directors, this is a most welcomed extra, as foreigners hereby get to know the person behind the film.

Following this comes a series of featurettes discussing various aspects and sequences of the film, each with interviews and comments with the participants. Then a few deleted scenes with optional audio commentary by Bier.

Finally, promotional material as trailer, TV spot and artwork.
---
---
Screen Captures
subtitle sample (English only) - captures resized to 800px width from 1016px original