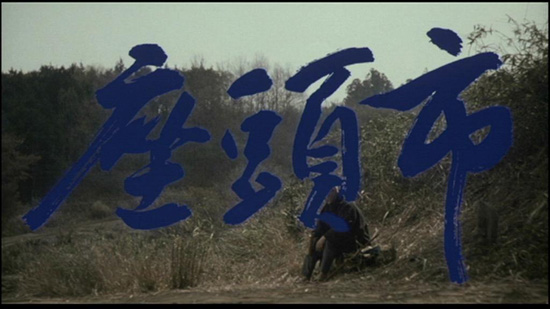 (aka "Zatoichi - The Blind Samurai" )
directed by Kitano Takeshi
Japan 2003
When Kitano was asked to make another "Zatoichi" film, he instantly turned it down, because, as he later said, "Zatoichi and Shintaro Katsu are pronounced in the same breath. If I had attempted to imitate Katsu, the audience would have rebelled, so I decided, that I had to do something completely new."

Having been given complete control and freedom, Kitano began to reinvent Zatoichi: "Just like in soccer, which basically is one ball and 22 men chasing it, so is Zatoichi basically Zatoichi and a bunch of bad guys."

The first thing he changed was the character of Zatoichi himself. Originally black bushy hair and with a beard, Kitano made him clean shaven and blond. Even his sword cane was both redesigned and changed in color from wood to bright red. Then he made the "evil swordsman" sympathetic, added a caring and moral nature, promoted him to lead-ish man and cast the hottest actor in Japan, Tadanobu Asano, for the part. So going thru the characters, altering each and everyone of them – even adding a few news ones, like the traveling geishas.

While changing just about every element of Zatoichi, the biggest and boldest change was the ending. Normal for jidei-geki is that the peasants will celebrate their freedom at the end. Kitano took this and made it into an almost ten minutes tap dance sequence, where not only the peasants dance, but the cast joins them. The dance itself is a contemporized version of Takatsuki, a classical Kabuki tap form, where the dancers originally wore Japanese wood clogs. Not only of incredible emotional force, this ending is also a wonderful homage to both jidei-geki and Kabuki theatre. A stroke of genius, this shows why Kitano is amongst the greatest living filmmakers.

The story itself is as straight forward as any Zatoichi, as any chambara, as any jidei-geki. Stealing from here and there, Zatoichi is as usual wandering the country side, when he comes to a small town, where the peasants are caught between two rival gangs. When the Ginzo gang hires a Ronin, he soon takes control of the town. Zatoichi has to clean up.

Far from being just simple chambara, Kitano explores the motif of pretending: duality by wearing a "mask". Just like the film itself, nothing is what it seems. For instance, the Hattori, the "evil swordsman", is a Ronin, who is forced to become a hit man for Ginzo in order to buy medicine for his sick wife. This dimension of the story not only adds complexity, but makes additional viewings even more enjoyable, as the more we get to know a character, the more we see of the real character.

Winning the Silver Lion for best director in Venice and going around the world, leaving nothing but rave reviews and praise in its wake, "Zatoichi" is nothing less than an experience, with great (and extremely bloody) swordfights and an ending, that will put a huge smile on your face.

In retrospect, one of Kitanos most accomplished films as auteur.
Henrik Sylow of Kitanotakeshi.com
Posters
Theatrical Release: September 2, 2003 (Venice International Film Festival)
Reviews More Reviews DVD Reviews
DVD Review: Artificial Eye (Collectors Edition) - Region 2 - PAL
Big thanks to Henrik Sylow for the Review!
DVD Box Cover

Mouse over above box cover to see metal case!

CLICK to order from:

NOTE: Purchases through DVDBeaver's links to Amazon help keep us afloat and advertisement free!

Distribution

Artificial Eye

Region 2 - PAL

Runtime
1:51:02 (4% PAL speedup)
Video

1.85:1 Original Aspect Ratio

16X9 enhanced
Average Bitrate: 7.12 mb/s
PAL 720x576 25.00 f/s

NOTE: The Vertical axis represents the bits transferred per second. The Horizontal is the time in minutes.

Bitrate

Audio
2.0 Dolby Digital Japanese, 5.1 Dolby Digital Japanese, DTS Japanese
Subtitles
English, None
Features
Release Information:
Studio: Artificial Eye

Aspect Ratio:
Widescreen anamorphic - 1.85:1

Edition Details:
• Making of 'Zatoichi' (39:59)
• Interviews
• - Kitano Takeshi (27:06)
• - Kitano Takeshi (12:46)
• - Mori Masayuki (3:37)
• - Nikamoto Tatsumi & Tokora Hiroaki (7:49)
• - Kurosawa Kazuko (7:11)
• - Isoda Norihiro (5:52)
• - Yanagishima Katsumi (5:15)
• - Hideboh (5:34)
• - Suzuki Keiichi (5:39)
• - Horiuchi Senji (7:18)
• - Fnac Masterclass (32:26)
• Theatrical Trailer (1:33)
• Stills Galleries and filmographies

DVD Release Date: January 25, 2005
Metal box and double amarey

Chapters 13
Comments
ADDITION: Artificial Eye - Collectors Edition (Dec -04) The image is completely identical to the former AE DVD, so no comments here.

The first difference is in the sound department. AE has removed the documentary from Disc 1 to give space to the DTS track. While the sound mix of "Zatoichi" is impressive, the DTS track is superior. It is more precise, has more "oomph" and is simply more dynamic than the 5.1 DD.

AE has kept the 40 minute documentary, which starts the additional material on Disc 2.

Prior not available to them, they have now added the 48 minute interview reel. Where Miramax both reduced the interviews from 8 to 4, and further edited the remaining, here are the complete 8 interviews for the first time with English subtitles.

Continuing, AE has added two recently made interviews with Kitano, one of them not previously released. Running a total of 40 minutes, the two interviews, while overlapping somewhat, are highly informative and Kitano at his best. The 27-minute interview was previously released on the French "Edition Collector" from Wild Side Video.

Also from Wild Side Video and previously released on the "Edition Collector" is part of the Kitano Master class, which was held in Paris, October 14, 2003. It is at times like this I regret not going, as I was invited. There is some perverse enjoyment of me appearing on an extra, but anyways… It is a great Q/A, where Kitano talks about his style, techniques and past.

The DVD comes in a black metal box in relief pressing. It is a limited edition. Apart from the 2 DVDs, three postcards, a 35mm strip from the film (containing the limited number) and a 12 page booklet is added. The booklet contains the same text as the press booklet, but here with a specially written introduction by Kitano himself.

This is the definitive DVD release of "Zatoichi". A beautiful picture, true to the original colour scheme, the superior DTS track and carefully chosen additional material.
---
---
Subtitle sample (English only)
Captures resized to 800px width from 1016px original