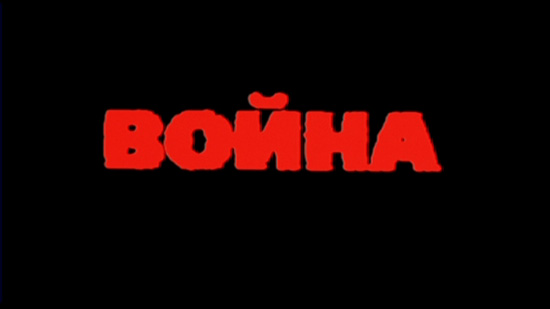 (aka "Vojna" )
directed by Aleksei Balabanov
Russia 2002
Being held as war prisoner under inhumane conditions, submitted to daily beatings and set to do slave labour, the bare adult Ivan is shown some mercy, because he is able to translate internet news to the Chechen rebel leader. Along him two British actors, John and Margaret, are held hostages for ransom. When John is released to raise £2 million ransom for the release of Margaret, they release Ivan as well, since he isn't worth anything. Going home, Ivan attempts to fit in again, while John, in London, tries to raise the money, but is met by a diplomatic stonewall. After being approached by the KGB, John accepts an offer from a TV station for £200,000 to go back and film the rescue of Margaret. John thus travels to St. Petersburg where he locates Ivan and makes him an offer. Reluctant he accepts and the two now journey back into Chechnya on a suicide rescue mission.

Director Alexei Balabanov makes no attempt to camouflage his political point of view, which is very nationalist Russian. The Chechens are gangsters, selfish criminals, without any rights, without any human emotion. This point of view is further coloured by his depiction of a passive Europe, and for that matter also Russia, as corrupt cowards hiding behind diplomacy and political principles. The soldier, as Ivan, is in direct opposition to these, as they are men of action, who dares do what others don't.

That Balabanov chooses to tell "War" as a western comes as no surprise. Chechnya is a place beyond law and order (as the wild west), and the Chechens are primitive beings who must be eliminated (just as the native Indians). The story could easily be transferred to a pre WW2 western, where Ivan was the young cavalry soldier, John and Margaret were travelling thespians and the Chechens were evil Apaches. However such a nationalist black and white dichotomy is too one dimensional and removes any attempts upon the realist notions of war. In the end, "War" appears as a Russian realistic clone of "Rambo" and "Proof of Life".

However if one looks past Balabanovs political point of view, the film has a strong cynicism. No one really cares about the war. Both Ivan and John are pawns exploited by behind the scene interests, and John's motif may be driven by the desire to rescue Margaret, but not sooner than he sets foot in Russia, he becomes self-absorbed and obsessed about his own self image, constantly filming himself and commentating on his journey. This is underlined by Ivan's final voice over, that John became famous because of the "documentary" and also wrote a book about his time in Chechnya, where he exploits Ivan as a heartless cold-blooded killer, to make himself stand out as a humanitarian and leader, towards a western audience, who depend upon descriptions of inhumanity with an human interest to feed their passive outrage. It is also ironic, that John, who to begin with is an actor of such reputation that he has to tour Georgina to find an audience, finally finds fame and an audience at home.

The irony becomes even greater as the entire film is told in flashbacks, as Ivan is imprisoned and is debriefing an off screen interviewer about the events, where the anonymity of the interviewer once again stressed the point, that this is a war those in power rather would like to forget about. Sadly the irony is overshadowed by Balabanovs extreme polarized point of view, which makes it very hard to take it serious.
Posters
Theatrical Release: March 14, 2002
Reviews More Reviews DVD Reviews
DVD Review: Tartan - Region 0 - PAL
Big thanks to Henrik Sylow for the Review!
DVD Box Cover

CLICK to order from:

NOTE: Purchases through DVDBeaver's links to Amazon help keep us afloat and advertisement free!

Distribution

Tartan

Region 0 - PAL

Runtime
1:59:55
Video

1.74:1 Original Aspect Ratio

16X9 enhanced
Average Bitrate: 6.50 mb/s
PAL 720x576 25.00 f/s

NOTE: The Vertical axis represents the bits transferred per second. The Horizontal is the time in minutes.

Bitrate

Audio
2.0 Dolby Digital, 5.1 Dolby Digital, DTS Russian/English/Arabic
Subtitles
English, None
Features
Release Information:
Studio: Tartan

Aspect Ratio:
Widescreen anamorphic - 1.74:1

Edition Details:
• Behind the scenes (23:59)
• 2 Trailers (2:33)
• 3 TV Spots (0:53)

DVD Release Date: November 22, 2004
Amarey

Chapters 16


Comments
Apart form some edge enhancements and bleeding colours, the image is beautiful. Great colour balance and detail. Sound is either a somewhat flat 2.0 Dolby Digital, a great 5.1 DD and an impressive DTS.

Tartan has chosen only to subtitle when English isn't spoken, and even here some dialogue is not translated. Very rudimentary.

The additional material is a bit disappointing. To begin with a "Behind the scenes" where Balabanov briefly talks about the themes, but which deals more with the production itself, followed by two trailers and three TV spots. I would really have loved an interview here, which put Balabanov in the hot seat, and where he could elaborate in details on why he chose such a polarized position.
---
---
Subtitle sample (English only)
Captures resized to 800px width from 1016px original
DVD Box Cover

CLICK to order from:

NOTE: Purchases through DVDBeaver's links to Amazon help keep us afloat and advertisement free!

Distribution

Tartan

Region 0 - PAL