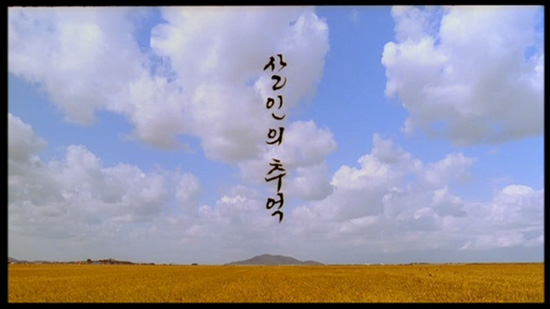 (aka "Salinui chueok" )
directed by Bong Joon-Ho
South Korea 2003
In October 1986, a woman was found in a ditch, raped and strangled in her own stocking, and was the first of a total of ten women murdered over the period of 1986 to 1991 in the rural Gyeonggi Province in South Korea, by the first recorded serial killer in Korean history. To this day the crimes remains unsolved.

Director Bong Joon-ho, "Barking Dogs never Bite" and "JSA", was fascinated with the circumstances of both the crime and the investigation, and after having researched original case files and news clippings, turned the case into a film. Bong chooses to approach the story from an investigative point of view, showing how the case initially was muddled by inexperienced rural detectives and the conflicts between them and the outsider, in form of the professional murder detective from Seoul, before they join forces and actually make progress.

The centre conflict is between Park, the local detective who normally solves cases by beating up suspects and whose idea of locating a rapist consists of him spending time at the local bath looking at the size of men's penises, and the outside from Seoul, Seo, who solves crimes by forensics and reconstructing crime scenes. Only slowly does Park realise that his methods lead nowhere and join forces with Seo, only to realises that the killer leaves no real traces or clues. The investigation causes more and more frustration and its only a matter of time before the detectives break under the pressure.

Bong uses the political background of South Korea at the time, the military dictatorship by Chun Doo-hwan, to stress the situation further, but also to establish a time reference. A narrative strength, it also is a potential weakness, as it can seem disruptive and be seen as a political comment thrown in the midst of a murder drama, especially if one has "JSA" fresh in mind. Another weakness is the way Bong chooses to tell the story, beginning with a relative loose structure and tightens it up, as the investigations gets on its way. As such, the last 30 minutes are stunning and very intense, but up to this point somewhat dragging. A narrative gamble, which some feel pays off, others don't.

A special mentioning of Song Kang-Ho, who delivers one hell of a performance, as a detective without any real intelligence, who realises his own shortcomings and who actually begins to think as a detective at the end. Song also stars in "JSA" and in Park Chan-Wook's "No Sympathy for Mr. Vengeance". Bong very intelligently ends the film in 2003 with Park (played by Song), now a captain, now a family father, revisiting the ditch where the first woman was found, in hope to find some clue, as the murders still are unsolved. His final gaze is that of a haunted man and suggests that the murders not only is a never healing wound within himself, but also within South Korea. A beautiful touch.

It is refreshing to see this sort of murder story, when everything else we watch today is high-tech FBI / CSI investigatory, where killers are caught because they left a fragment of a skin cell on the victim. Very few contemporary murder stories deal with the frustration of the investigator and thus the human aspect of investigating a serial killer. The only other film I can think of is the overlooked HBO masterpiece "Citizen X". As such, "Memories of Murder" is a haunting study of men reaching their breaking point. A great film.
Posters
Theatrical Release: May 2, 2003
Reviews More Reviews DVD Reviews
DVD Review: Optimum Asia - Region 2 - PAL
Big thanks to Henrik Sylow for the Review!
DVD Box Cover

CLICK to order from:

Distribution

Optimum Asia

Region 2 - PAL

Runtime
2:05:08 (4% PAL speedup)
Video

1.78:1 Aspect Ratio

16X9 enhanced
Average Bitrate: 5.27 mb/s
PAL 720x576 25.00 f/s

NOTE: The Vertical axis represents the bits transferred per second. The Horizontal is the time in minutes.

Bitrate

Audio
2.0 Dolby Digital Korean
Subtitles
English (non-removable)
Features
Release Information:
Studio: Optimum Asia

Aspect Ratio:
Widescreen anamorphic - 1.78:1

Edition Details:
• Real Life Memories of Murder: Into the murder (3:43)
• Deleted Scenes w. optional audio commentary (14:26)
• Interview Song Kang-Ho (5:48)
• Interview Kim Roe-Ha (3:29)
• Interview Kim Sang-Kyung (5:29)
• CG Effects: Kang Yung-Ik (5:10)

DVD Release Date: January 24, 2005
Keep case

Chapters 16
Comments
The image has a few occasional errors, like combing, slight halos and in one instance a severe compression error (frame #7). These might be excusable, but that the image suffers from ghosting throughout the film is not. This is really sad, as the general image is beautiful in its colours.

Optimum also only has the 2.0 Dolby Digital sound, where the Korea DVD has both 5.1 EX DD and a very tight DTS 6.1 ES track, which both really adds a very dynamic surround stage. The 2.0 DD track is still quiet dynamic and dialogue is clear.

The subtitles is critical, as they are non-removable.

The additional material consists of five short interviews and 9 deleted scenes with optional commentary. Brief and quiet good.

---
---
Subtitle sample (English only)
Captures resized to 800px width from 1016px original
---

Example of graphical compression error