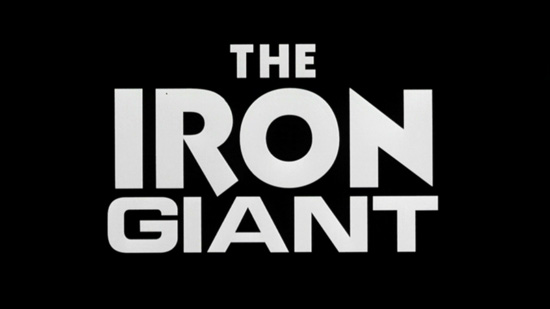 (aka "Drengen og Jern-kæmpen" )
directed by Brad Bird
USA 1999
In 1968 the children's book, "The Iron Giant" was written by Ted Hughes, where an Iron Giant comes to earth, becomes friends with a farmers son and eventually saves earth by fighting an evil space monster the size of Australia. The book fascinated Pete Townshend of "The Who", who wanted to make it into a musical after "Tommy". Thus so the project landed at Warner. Sadly, Hughes never got to see his book as film, as he died short before its completion.

After leaving "The Simpsons", where he had been the creative consultant since 1989, Bird had his pick amongst the projects and was intrigued by "The Iron Giant". After having read the book, he suggested some changes, the central, "What if a gun had a soul?", and while Townshend and Warner was skeptical, he was allowed to go on. Originally trained as an animator at Disney, his sense of story structure and his genial creative mind made him hot property, and friend John Lasseter of Pixar had attempted to get Bird on board to helm "A Bugs Life", but Bird wanted to be his own boss for a while.

Bird rewrote the script, adding human aspect and a reference to the paranoia of the fifties, as the book and film takes place in 1957, like the red scare, the sputnik, the nuclear naivety and low budget science fiction films, making it into a social conscious construction with touches of "ET" and "Mechanoids".

For reasons unknown, a 50 foot robot comes to earth and crashes outside the little town of Rockwell, Maine. Here he becomes friends with Hogarth, and in turns the beatnik Dean, as Dean has a scrap yard and the robot eats metal. Harmony is interrupted by Kent Mansley, who works for the government, and soon Rockwell is invaded by the military in order to get rid of this danger to society. Facing his destruction, the robot turns into a omnipotent killer robot in order to defend itself. As Kent Mansley, who works for the government, orders a nuclear strike to kill the robot, it chooses to sacrifice itself in order to save the town.

"The Iron Giant" was overlooked during its theatrical run, hardly making half its budget, largely thanks to Warner, who really didn't believe in it. It wasn't until it was released on home video that it was discovered and today it is considered a masterpiece of animated cinema, highly praised by animators as Lasseter and Miyazaki. In an interview, Miyazaki directly accuses the American audience of having no sense of animation, of dismissing anything without the Disney seal. But where Warner failed, Pixar triumphed and got Bird onboard, who in turns made "The Incredibles", perhaps the best Pixar film since "Toy Story". And I can't help wonder, if the real reason for Warner to re-release "The Iron Giant" isn't an attempt to cash in on Bird's recent success.

But why is "The Iron Giant" one of the greatest achievements in animated cinema? First of all, it relies on old school techniques. While it is CG assisted effects, in terms of "line drawing" to make contours look hand-drawn, everything was done as in the old days, creative minds and their tusch. Secondly, the story: straight forward simple, paying attention to its characters and giving them a heart. Thirdly, Brad Bird, who might just be one of the most creative minds ever to work within animation.

Already during his years with "The Simpsons", his touch was visible. For instance, when making "The Shining" episode, Bird asked the animators to imitate the use of symmetrical wide-angle shots (like Kubrick), and when "The Simpsons" was suggested "The Flintstones" of our generation, he couldn't resist to open, what many consider the best episode ever, "The Springfield monorail" episode, with copying the start of "The Flintstones", even having Homer singing his version of the theme song.

Last and not the least, "The Iron Giant" has heart, a lot of heart. While the authorities are busy making up new dangers, creating a world where anything not made by "us" is made in order to destroy "us", never caring or asking "why?", an innocent boy, thus not yet programmed, finds not only a friend, but the greatest toy one could ever wish for. The message is clear: We must defend us against actual dangers, not against made up dangers, otherwise we only destroy ourselves. As such, the theme of the story is even more actual today, as we live in the most xenophobic times since the red scare.

Above all, "The Iron Giant" demonstrates the potency of a good story. This is a classic to be seen and re-seen, that will touch the heart of all generations.
Posters
Theatrical Release: July 31, 1999
Reviews More Reviews DVD Reviews
DVD Review: Sandrew Metronome (Special Edition) - Region 2 - PAL
Big thanks to Henrik Sylow for the Review!
DVD Box Cover

CLICK to order from:

Distribution

Sandrew Metronome

Region 2 - PAL

Runtime
1:23:01 (4% PAL speedup)
Video

2.34:1 Original Aspect Ratio

16X9 enhanced
Average Bitrate: 7.20 mb/s
PAL 720x576 25.00 f/s

NOTE: The Vertical axis represents the bits transferred per second. The Horizontal is the time in minutes.

Bitrate

Audio
5.1 Dolby Digital English, Danish (dub), Swedish (dub), Finnish (dub)
Subtitles
English, Danish, Swedish, Finnish, None
Features
Release Information:
Studio: Sandrew Metronome

Aspect Ratio:
Widescreen anamorphic - 2.34:1

Edition Details:
• Audio Commentary by Brad Bird, Jeff Lynch, Tony Fucile and Steven Markowski
• 8 Deleted scenes introduced by Brad Bird (18:51)
• Teddy Newton 'The X-Factor' (5:38)
• Duck and Cover sequence (2:23)
• The Voice of the Iron Giant (2:39)
• Behind the Armor: Concepts and Origins (16:09)
• Gallery (4:22)
• Original Theatrical Trailer (2:17)
• Brad Bird Trailer (1:29)
• DVD-ROM features

DVD Release Date: December 1, 2004
Keep case

Chapters 34
Comments
The new digitally restored and remastered image is simply beautiful. There are occasional and minor edge enhancements, halos and surface issues, but over all, it is very beautiful. Even the gyro-mobile-swing sequence, each single frame stands completely sharp.

The DVD comes with 384 Kb/s 5.1 Dolby Digital track, which is good, but having a DTS or a Home Theatre optimized track would have made it even better.

The additional material begins with a great audio commentary, while chatty, is very informative in terms of production and so forth. It's followed by scrapped sequences all introduced by Bird and a neat little featurette about Teddy Newton and his out of this world ideas. But then the quality of the material drops, as the rest is minute(s) long small production featurettes.

For a special edition of one of the most important animated features, it is pretty thin. Considering Pixar and recent Disney material, I would have expected a 2-disc SE, with DTS, with an additional Making Of documentary, a featurette about Brad Bird and Ted Hughes, and (dreaming here) a Miyazaki introduction.

This Danish edition comes with Danish, Swedish and Finnish dubbed sound, and additional subtitles, to allow the youngest viewers to enjoy the film likewise.
---
---
Screen Captures
subtitle sample (English only) - captures resized to 800px width from 1016px original