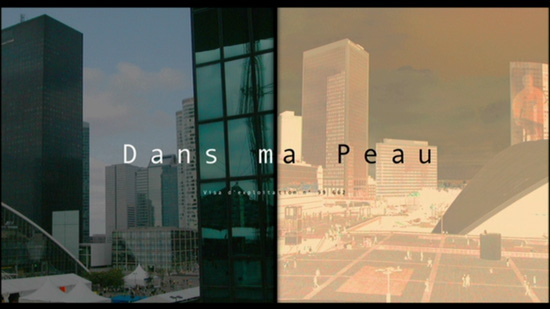 (aka "In my Skin" or "Coupures (working title)")
directed by Marina de Van
France 2002
Attending a party, Esther (de Van) decides to catch a breath of fresh air in the garden and accidentally cuts herself severely. Only later does she realise her injury and when telling this to her doctor, he asks her, "Does this leg belong to you?"

While his question notes upon the irony of the situation, it actually is exactly what goes on in Esther's mind, as her body and mind are two. Hardly has her wound healed, before she cuts it open again, both in order to feel the pain, but also to watch how her flesh reacts. Slowly she becomes obsessed about her flesh, her blood and mutilating herself, going thru phases of self-vampirism and self-cannibalism, to a point, where she begins to peal her skin off, for later to take it out and feel it. Equally slowly, she becomes detached from the world around her, giving up friends and her job, retracting herself into a world, where she can be alone with her pealed skin.

The self-mutilation of Esther begins as any other act of self-mutilation, due to stress and low self esteem. She isn't as attractive as her girlfriend, nor as successful at work. During the early stages of the film, while her girlfriend is writing a report for the ministry unsupervised, she has to rewrite her report, as her boss found it flawed. But soon it becomes obvious, that she has become addicted to it. During a business dinner, the image of her boss pealing a grape excites her to such a degree, that she first rips her stocking, then, as she watches her arm being detached from her body, has to go away for a moment, to satisfy her urge by cutting herself over and over. Its not lust, but addiction, and within days, her addiction has reached a level, where she hardly can get home, before she maniacally indulges in acts of self-vampirism.

With "Dans ma peau", Marina de Van, has created a sickening fascinating and honest depiction of a woman who undergoes a mind body split. While thematically associated with David Cronenberg and early Polanski, their political point of views differ. Where Cronenberg and Polanski would have investigated what social elements caused the pathology, de Van is not interested in doing so, but only in the pathology itself and how Esther deals with it. And that is a flaw in the film, as it never offers a reason, and thus risks detaching its audience. While this is a character study, depending on how much this character and her pathology appeals to the audience, it will at some point, even after the film, have to ask certain questions the film never gives answers to.

Yet, despite its flaws, "Dans ma peau" has a strange ability to keep us watching. Even during the scenes of mutilation, which I must admit made me twitch and actually look away, one has to look. There simply is something strangely morbid fascination about watching it. It almost becomes like porn, where you can't wait for it to happened, simply so you can be disgusted by it. As such, this is not a film I would dare recommend for everyone. Marina de Van shows a lot of guts putting herself and this story on the screen, and it takes guts to watch it.

Where others would let themselves become seduced by displaying the pathology, de Van does not, and her mise-en-scene really does the intelligence of this character study credit. During the final act of self-mutilation, she creates a visually body mind split thru a split screen composition (frame #6), which also is how she introduces the film, by a split-screen (positive left, negative right), where the body is left out, but we see everything else. With this mise-en-scene, de Van directly suggests, that the body no longer is part of Esther, that only her mind is. Whatever flaws the narrative may suggest, this mise-en-scene is a stroke of genius and directly goes to character.

With a background in philosophy and having worked with Ozun, de Van here demonstrates both intelligence and personal vision as director. She may not be that good of an actress, but she is so dedicated to this film, that her vision is absorbed by her. "Dans ma peau" is simply one hell of a daring film.
Posters
Theatrical Release: September 27, 2002 (San Sebastián Film Festival)
Reviews More Reviews DVD Reviews
DVD Review: Tartan - Region 2 - PAL
Big thanks to Henrik Sylow for the Review!
DVD Box Cover

CLICK to order from:

Distribution

Tartan

Region 2 - PAL

Runtime
1:30:45 (4% PAL speedup)
Video

1.85:1 Original Aspect Ratio

16X9 enhanced
Average Bitrate: 8.15 mb/s
PAL 720x576 25.00 f/s

NOTE: The Vertical axis represents the bits transferred per second. The Horizontal is the time in minutes.

Bitrate

Audio
2.0 Dolby Digital French, 5.1 Dolby Digital French, DTS French
Subtitles
English, None
Features
Release Information:
Studio: Tartan

Aspect Ratio:
Widescreen anamorphic - 1.85:1

Edition Details:
• Audio Commentary by Marina de Van
• Theatrical Trailer (1:35)
• Tartan Trailer Reel
• 4-page booklet with film notes by Tony McKibbin

DVD Release Date: January 24, 2005
Keep case

Chapters 16

Comments
A next to flawless presentation. There are extremely minor signs of compression artifacts (look around her ear in frame #7), but not noticeable while watching it.

It comes with both 2.0, 5.1 and DTS, but the rears are hardly active, as it mainly is center speaker dialogue only. The only real difference I could detect was a more aggressive sub in DTS.

Additional material is, apart from a booklet, an audio commentary by de Van in French, subtitled in English. A very personal, dedicated and analytic commentary, where she discusses the significance and aspects of the film. Perhaps its because she is French, but one gets the impression that she says the entire commentary track in one breath.

The only point of critic is that one cannot switch between the different sound options or on/off subtitles while watching the film. Only via menu.
---
---
Subtitle sample (English only)
Captures resized to 800px width from 1016px original