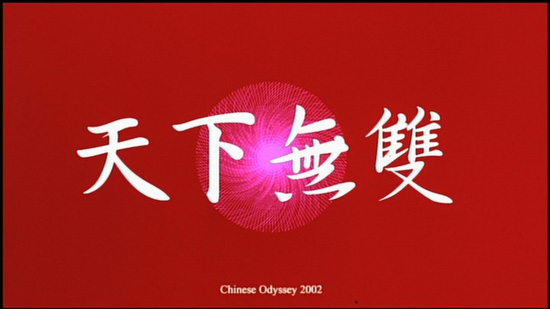 (aka "Tian xia wu shuang" )
directed by Jeff Lau
Hong Kong 2002
At some point while watching "Chinese Odyssey 2002", I got a strange feeling of deja-vu, that it was mocking "2046" thru hidden in-jokes, using word-plays and numbers. That Tony Leung, Faye Wong and Chen Change had leading roles only made the feeling stronger, as well as that Wong himself had produced it.

Directed by Jeff Lau, who also made the incredible silly and bad "The Top Bet", "Chinese Odyssey" was made to profit from the Chinese New Year holiday, and while it on the surface is an extremely silly slapstick comedy, there really is more to this film than meets the eye.

The princess Wushuang (Faye Wong) and her brother, the emperor Zheng De (Chen Chang), are bored with living in the palace, and decide to run away. Zheng is caught, Wushuang is not, and many reports suggest that she used magical martial arts powers to escape, to cover up, that the guys never saw her walking out. Another place in the empire, in the Mei Long Province, another pair of siblings, Li Yilong ("little bully" Tony Leung) and his sister Phoenix Vicki Zhao, of "Shaolin Soccer" fame), also have their problems, as they run the Dragon "Phoenix" Inn. Dressed as a man, Wushuang arrives and makes friends with them, and since they both are looking to get married, Yilong is playing the matchmaker between Phoenix and Wushuang, even though he is strangely attracted to "him". Later Zheng manages to get out of the palace, and arrives, and falls in love with Phoenix. Now Yilong faces the dilemma of having "gayish" feelings towards Wushuang, who finally tells him, that she is a she, and at the end, they also find happiness together.

At times so confusing it makes no sense, the plot is basically your average four-way love triangle Chinese Opera, with elements of Shakespearian gender confusion and an incredible amount of in-jokes. It serves up a gag about twice a minute, and if one doesn't work, the next maybe will. The martial arts ranges from parody of old kung-fu films to (on purpose) very bad executed slow motion sequences. And it has the most outrageous disguise ever, as Chang disguises himself with a huge afro, talks "jive" and makes the imperial guards wear plateau shoes – pure kung-fu disco.

The real attraction of this film is of course Tony Leung and Faye Wong and their love story, and it is very doubtful, that this film ever would have become a hit, hadn't it been for them.

I have no idea why Wong produced it, but Wong does have a history with Lau. He played a small part in "The Haunted Cop Shop of Horrors 2" and produced "The Eagle Shooting Heroes", which starred Tony Leung and Maggie Cheung. And Lau recognises Wong by pastiching "Ashes of Time", "Chungking Express" and "2046".

But all in all, this is a film for hard-core fans of Lau, Wong and of silly Hong Kong slapstick only. Others will most likely find it too silly, but for the rest, it simply is stupendously funny.
Posters
Theatrical Release: February 6, 2002
Reviews More Reviews DVD Reviews
Recommended Reading in Chinese/Hong Kong/Taiwanese Cinema (CLICK COVERS or TITLES for more information)
Check out more in "The Library"
---
DVD Review: Tartan - Region 0 - PAL
Big thanks to Henrik Sylow for the Review!
DVD Box Cover

CLICK to order from:

Distribution

Tartan

Region 0 - PAL

Runtime
1:26:21 (4% PAL speedup)
Video

1.78:1 Original Aspect Ratio

16X9 enhanced
Average Bitrate: 5.78 mb/s
PAL 720x576 25.00 f/s

NOTE: The Vertical axis represents the bits transferred per second. The Horizontal is the time in minutes.

Bitrate

Audio
2.0 Dolby Digital Mono Mandarin
Subtitles
English, None
Features
Release Information:
Studio: Tartan

Aspect Ratio:
Widescreen anamorphic - 1.78:1

Edition Details:
• Trailers
• Booklet

DVD Release Date: January 24, 2005
Keep case

Chapters 16
Comments
As the two other DVDs in the WKW Collection, this is also a DVD5. The film takes up 3.7 GB.

The image is most of the time simply beautiful, but has occasional halos and edge enhancements, especially in out-door scenes. White is very bright and has a tendency to bleed and fast movement shows ghosting.

Where the MaiAh DVD comes with a 5.1 Dolby Digital Cantonese track, Tartan comes with a 2.0 Dolby Digital Mono Mandarin track. As this is a Hong Kong production, the language should be Cantonese. According to Tartan, they did request the Cantonese version, but received Mandarin.

But the real critical issue here is, that apart from the booklet, this is a DVD5 bare-boned release, and to ask £19,99 is really pushing the envelope to cash in on Wong and the January UK premiere of "2046".
---
---
Subtitle sample (English only) -
captures resized to 800px width from 1016px original