NOTE: The below Blu-ray captures were taken directly from the Blu-ray disc.
Firstly, there have been other renditions beyond the two editions we are comparing here including a Grindhouse Releasing Blu-ray with two versions - out-of-print HERE.
The Shameless 1080P / 24 frame transfer is on a dual-layered Blu-ray and despite having an occasional green cast is a significant leap over the 2004 Sazuma DVD with superior detail and consistent grain textures. It starts with this screen: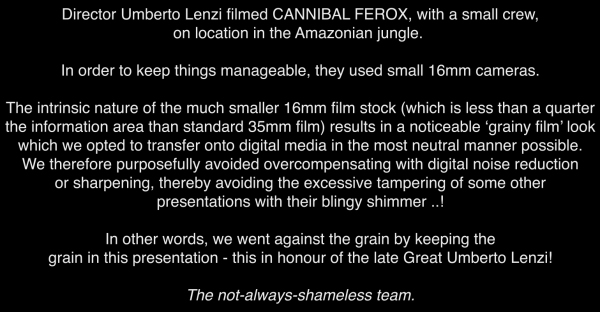 It also states: "ALL previous cuts(*) waived by BBFC and reinstated 1st time ever (* cuts relating to staged scenes of violence by & against humans - there are some animal torture scenes removed and substituted)." Although dismembering penis and like nastiness is retained. It looks okay in-motion without undue blemishes or excessive speckles. There is a split-screen segment on the 2K-restoration in the extras.
Shameless use a linear PCM audio track - 2.0 channel mono (16-bit). There are effects that seem to gain benefit from the depth of the uncompressed transfer and the score is credited to Roberto Donati (as Maglione) + Fiamma Maglione (as Budy) both working on Eaten Alive together - and is suitable in supporting Cannibal Ferox. There are yellow subtitles for the non-English (Spanish) dialogue in the film (sample below) It is a Region 'B'-locked Blu-ray.
Extras include a 21-minute interview with director Umberto Lenzi entitled A Taste of the Jungle - and it is cited as being one of the last. It is in Italian with English subtitles. Hell in the Jungle spends a 1/2 hour + with outspoken interview by Giovanni Lombardo Radice (aka 'Mike Logan') on the film and genre. There is a 3.5 minute video piece comparison of before and after 2K Restoration and a brief gallery with exclusive photos for Director Lenzi's own archives of behind the scenes stills of the production.
I don't own the Grindhouse and this seems a strong Blu-ray package for those keen on the cannibal exploitation genre. Certainly recommended to that niche.
***
ON THE DVD:
The image quality is a pleasant surprise - no where near as bad as the film. It appears as though some real effort went into this for some unknown reason. It is a shade washed out, but I have seen worse. I suspect it is about as sharp an image as the lackluster original budget allowed. There is a pinkish haze over much of the film causing unusual skin tones. Advertised as 'Completely Remastered and transferred in Ultrabit' I expect this is the best quality of all the (public domain?) editions that are available. It is anamorphic, has original audio and a few international trailers as extras. It comes in a totally gaudy (but appropriate) metal case - perhaps to protect it from frequent attempts at being set on fire.