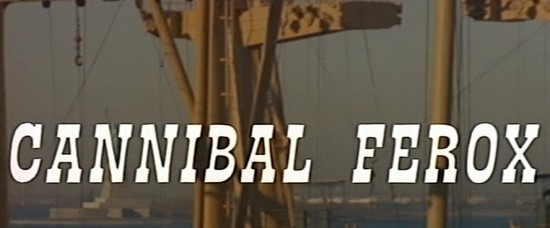 (aka 'Make Them Die Slowly' or 'Woman From Deep River')
directed by Umberto Lenzi
Italy 1981
A New York grad student and anthropologist Gloria, her brother Rudy, and their friend Pat, travel to a remote part of the Amazon jungle to find and disapprove the local theory of cannibalism among the local tribes when they run into something far worse: a cruel and sadistic, streetwise drug dealer, named Mike Lawson, and his partner, Joe, hiding out in the jungle from murder and drug-dealing charges in back in New York and whom are presently using the docile natives to mine for emeralds and harvest cocoa. When the crazed Lawson kills a few natives, including the daughter of the chief, just for his sadistic enjoyment, the warriors turn against their masters and subject the two dealers and three grad students to the most horrific torture and murder for their crimes using their own harsh law of the jungle.
****
My favorite of all the Cannibal Exploitation films, although thatıs not saying much. A sub-genre in Italian horror, these are movies that pushed the levels of onscreen carnage to new levels of depravity. Most featured the same storylines, the same actors, similar titles (Cannibal Apocalypse, Cannibal Holocaust etc.) and even the same scenes (gruesome stock footage of a turtle being gutted for example, seems to pop up in all of the films). The real genius behind this sub-genre was the marketing strategies their makers employed of actually stressing the fact that many countries had banned the movies from being screened. Horror and exploitation cinema has always been able to make people question their integrity for actually watching such images, but now audiences were actually getting off on the idea of 'I shouldnıt be watching this' and the thrill of seeing something 'forbidden' had people paying top dollar for bootleg copies. Look deep and might be able to find some commentary regarding white fears of alien cultures, but for the most part, this is exploitation cinema in its purest form ­ cheap sensationalism that will make your stomach turn, think 100 proof liquor without a chaser and youıll get the picture.
****
I really can't even classify this as an 'genre' or 'sub-genre' - to me this isn't even film - it is 'anti-cinema'. It expresses all of the opposing attributes of what heights film is capable of reaching. Where a vision like Anh Hung Tran's "The Vertical Ray of the Sun" may express all the beauty of the world around us - family, love, desire - Cannibal Ferox focuses on exploiting its audiences most base emotions. It is film-makers like this that should be honest and simply film live executions or traffic fatalities. They are only after a buck any way they can get it - sinking to whatever new lows they can. There is nothing positive about this film and I question the emotional depth of anyone who creates or enjoys it.
Gary W. Tooze
Alternate DVD Covers
Theatrical Release: April 24th, 1981 - Italy
Reviews More Reviews DVD Reviews
DVD Review: Sazuma - Region 0 - PAL
DVD Box Cover

Distribution
Sazuma - Region 2 - PAL
Runtime
1:28:54
Video
1.74:1 Original Aspect Ratio
Average Bitrate: 8.9 mb/s
PAL 720x576 25.00 f/s

NOTE: The Vertical axis represents the bits transferred per second. The Horizontal is the time in minutes.

Bitrate:

Audio
English (Dolby Digital 2.0 Mono)
Subtitles
German, English, Dutch, Finnish, Swedish, none
Features

Release Information:
Studio: Sazuma

Aspect Ratio:
Original aspect Ratio 1.74:1

Edition Details:

• Italian trailer
• US trailer
• German trailer
• Director filmography
• Coming attractions with Sazuma

DVD Release Date: December 1st, 2004
Transparent Skip case inside Metal Box / Individually Numbered Limited to 3,333 Edition
Chapters: 16
| | |
| --- | --- |
| Comments: | The image quality is a pleasant surprise - no where near as bad as the film. It appears as though some real effort went into this for some unknown reason. It is a shade washed out, but I have seen worse. I suspect it is about as sharp an image as the lackluster original budget allowed. There is a pinkish haze over much of the film causing unusual skin tones. Advertised as 'Completely Remastered and transferred in Ultrabit' I expect this is the best quality of all the (public domain?) editions that are available. It is anamorphic, has original audio and a few international trailers as extras. It comes in a totally gaudy (but appropriate) metal case - perhaps to protect it from frequent attempts at being set on fire. |
---

DVD Menus
---
Subtitle Sample
Screen Captures
---
---




DONATIONS Keep DVDBeaver alive and advertisement free:
Mail cheques, money orders, cash to: or CLICK PayPal logo to donate!