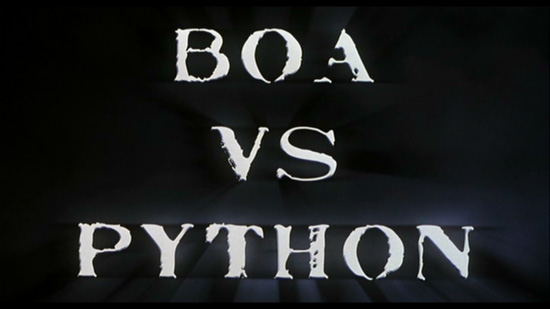 (aka "Duell der Killerschlangen" )
directed by David Flores
USA 2004
"It's big… big is good"

It all began in 1997 with "Anaconda", written by Hans Bauer, who also gave us "Komodo and "Anaconda 2", which basically was a rip-off on Jack Arnold's classic "Creature from the Black Lagoon", where JLo and others got their feet wet in the Amazons while facing a 90 feet Anaconda. The film was a huge success, to date having cashed in over $500 millions (theatrically and on home video) and subsequently opened up the marked for a new batch of killer snake films.

The first to arrive was "Python" (2000) where a 60 feet Python wrecks havoc in a small American town, followed in 2002 by "Python 2", where a 80 feet Python wrecks havoc in Russia, and in the same year by "Boa", where a 90 feet Boa is found in the ice on the South pole and subsequently wrecks havoc there. All three were written by Phillip J. Roth. In 2004 the forth in the row appeared as "Boa vs Python", this time only produced by Roth, as a TV-film for the Sci-Fi Channel, who felt the film was better than that and thus released it theatrically in the US.

Broddick (Adam Kendrick) arranges hunting parties for those too cool and too rich, and has for his next one gotten a 90 feet Python, which however manages to escape into the rural area outside Philadelphia, USA. FBI agent Sharpe (Kirk Woller) arrives and takes over the case, because he knows about these cases and also draws reference to "the incident in Russia" ("Python 2"), before he gets hold of marine biologist Monica Bonds (ex playmate Jaime Bergman, aka BJ Cummings from "Son of the Beach") and snake expert Emmett (David Hewlett) and his pet snake Betty, a 80 feet Boa. The plan is to implant a small computer, developed by Bonds to be used on dolphins, into Betty's brain, enabling them to see what Betty sees and to follow her movements, then to let Betty lose for her to track down Python and kill it, along with a small team of special ops. At the same time, Broddick and his team of hunters, also are tracking down the Python. The hunt is on.

These direct-to-video tv-productions are very similar to the z-grade sci-fi and horror flicks which came in the fifties, but while their plots are equally stupid, the note upon pretty decent production values (these snake flicks all have budgets around $3-4 million) and decent acting from professional b-actors. And while the CG isn't ILM standard, they are decent enough to make us believe that it really is CG generated snakes.

The plot is the second most silly of them all, only surpassed by "Boa", and notes upon some genuine strokes of stupidity. Broddicks hunting party is a dork copy of the one in "Surviving the Game" and both the police and the news reporter give a new definition to the word inexperienced. It also notes upon some truly amazing sequences, like when a waterworks employee is dragged away by Python, but is not seen by another employee not 3 feet away, or when a guy goes down on his girlfriend, who doesn't discover that Python rips the door open, eats her boyfriend and then continues where he left off… "Ohh Bill." (which possible is an homage to the opening sequence of "Python"). But it is not all bad, there also are important stuff here, few know about, like how to get a better signal on your cell phone (hint: go backwards into the forest), and that one can develop a powerful antivenom by feeding poisonous snakes to Betty and extracting it from her blood (and that those poisonous snakes look very much like small boas, but as we hear a rattle, they must be rattlesnakes).

While the plot may be completely silly, the dialogue is outrageous and has some amazing one-liners like "its big… big is good", or "There is a gigantic leap from dogs and seals to a boa", or my favourite, "I say, we either go after the python and the boa, without any radio or support of any kind, or we get the hell out of here. Your call, doc."

The poster is also a brilliant example of promotional art, displaying two gigantic snakes (based on perspective at least 300 feet each) in mortal battle amongst skyscrapers about to be shot down by a hellfire missile from an apache helicopter. Needless to say, the film has no such scene, nor such action-ish action.

Ohh... Did I mention that it utilizes part of the score from Bay's "Armageddon" - Well it does in its action-packed opening sequence, where the escape of Python is juxtaposed by a wrestling match between two wrestlers named... (surprise) Boa and Python. Thus, the opening sequence can be seen as a allegoric pretext to the main text, which notes upon... sorry, forgot to take my anti-auteurism drugs again.

The only real negative point of criticism must be, that Jaime Bergman never takes off her clothes. We only get to see her in a bikini. While we do get a sexy full nudity bathing scene from ex playmante Angel Boris, one has to ask: Honestly, what point is there to have an ex playmate in the leading role fully dressed in an epic as this?

Having said all this, "Boa vs Python" is a modern classic, a masterpiece, which deserves all the bad reviews it can get. It is a perfect film for a six-pack and a pizza. And honestly, in a time where studios put out major productions like "Timelines" and "The Core", it is damn refreshing to see a similar bad film, made for a fraction of their cost, with a more believable story.
Posters
Theatrical Release: May 22, 2004
Reviews More Reviews DVD Reviews
DVD Review: Universal - Region 2 - PAL
Big thanks to Henrik Sylow for the Review!
DVD Box Cover

CLICK to order from:

Distribution

Universal

Region 2 - PAL

Runtime
1:26:59 (4% PAL speedup)
Video

1.85:1 Aspect Ratio

16X9 enhanced
Average Bitrate: 6.17 mb/s
PAL 720x576 25.00 f/s

NOTE: The Vertical axis represents the bits transferred per second. The Horizontal is the time in minutes.

Bitrate

Audio
5.1 Dolby Digital English, Italian (dub), Spanish (dub)
Subtitles
Arabic, Bulgarian, Croatian, Czech, Danish, Dutch, English, Finnish, Greek, Hebrew, Hindi, Hungarian, Icelandic, Italian,
Features
Release Information:
Studio: Universal

Aspect Ratio:
Widescreen anamorphic - 1.85:1

Edition Details:
• Trailer

DVD Release Date: September 20, 2004
Keep case

Chapters 21
Comments
A DVD5, the image is actually quiet good, without any compression artefacts. Colours are deep and solid. The image is cropped to its theatrically AR of 1.85:1, while its OAR (TV) is 1.33:1. In any other case, this would be an outrage, but here... lets put it this way, if tits and snakes and gore still is visible, who cares.

The DVD comes with a 5.1 Dolby Digital track, but never really gives the impression of using the rears. Optional is an Italian and Spanish dub. Personally, I would have loved a German dub, which only would have added an extra dimension to the film.

As additional material the DVD has a trailer, which for most will be better than the film itself.

---
---
Subtitle sample (English only)
Captures resized to 800px width from 1016px original