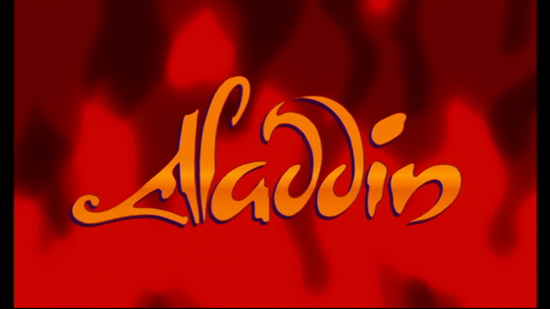 directed by Ron Clements & John Musker
USA 1992
The tale of Aladdin and the magic lamp was first accounted for around 944 AD, but it wasn't until 1888 by Burton's "Arabian Nights" it became known to the western world. It is the tale of Aladdin, the son of a poor tailor, who was deceived by an African magician to fetch a magic lamp and to be left for dead, who takes revenge and marriages the sultan's daughter and in turn becomes the sultan himself. The first film version came in 1906 as "Aladdin ou la lampe merveilleuse" by Albert Capellani, and later became integrated parts on "The Thief of Bagdad", both in Raoul Walsh's 1924 version and in Michael Powell's 1940 version, both by themselves stunning timeless classics.

Having turned Paramount around, Eisner and Katzenberg moved on to Disney in 1984, both in order to make it financially sound again, but also to make Disney regain the magic it had lost during the seventies. Katzenberg believed that the secret to success was a great story and under his control, Disney went from making forgettable films to re-establishing its second golden age, with films like "Who killed Roger Rabbit?", "The Little Mermaid", "Beauty and the Beast", "Aladdin" and "The Lion King". Katzenberg was also responsible for taking on Pixar, before he was fired by Eisner and moved on to form DreamWorks with Spielberg and Geffen, where he continued to develop great animated stories like "Shrek" and "Shrek 2". By any standard, "Aladdin" is still today the greatest achievement by Disney, surpassed only in box office by "The Lion King", but in terms of animation, storytelling and music, it has no equal.

The story is a very basic adaptation of the original tale. Aladdin is a thief with a golden heart, who longs for a better life and dreams of living a life of luxury in the sultan's palace. Here, princess Jasmin, has the same dream, except that she wants a life outside the palace. The two meet and fall in love, but are torn apart by the evil schemes of the grand vizier Jafar, who wants to both be the sultan and have Jasmin for himself. Luring Aladdin to get him a magic lamp and to leave him for dead, his plans are foiled and Aladdin by chance activates the lamp, releasing the Genie, who grants him three wishes. But Jafar does not intend to let a simple thief spoil his plans…

There are several reasons why "Aladdin" is such a great film.

First of all it has a simple story, where the motif of being true to yourself is pitted against greed and megalomania. A step up from traditional golden age Disney motifs of the inner child and coming of age, the motifs are more mature, yet innocent enough to find their way to the hearts of those with an inner child.

Second of all, the supporting cast were strengthened in character. The supporting cast have always had its stars and strength in character, just think Jiminy Cricket in "Pinocchio" or Thumper in "Bambi", but in "Aladdin" the supporting cast almost have the strength of leading characters: Iago the parrot, the magic carpet and above all, Genie. All three are an animators dream come true, strongly inspired by the non-stop improvisations of Gotlieb and Williams.

A brief note here towards the characters of "Aladdin", who very much so are inspired by Powell's 1940 "Thief of Bagdad". The monkey Apu is as energetic as Sabu, the sultan is a playful variation of Malleson's sultan and Jafar seems like carved from Veidt's Jafar. All done with much respect and admiration, this is what homage is all about.

Third and finally, the songs. To some extend, a Disney film is very much like a classic musical, where the plot stops to allow the characters to express the situation thru song, but thanks to the genius of Alan Menken (winner of 8 Oscars) the musical side is elevated to classical status by its modern Broadway approach. . A special note here to collaborator Howard Ashman, who wrote the lyrics for this, as well as for "The Little Mermaid" and "Beauty and the Beast". A genial song writer, with a magical sense for variation and tempo, the musical side of these films would have been lesser without his playful skill. Sadly Ashman died of AIDS in 1991, thus "Aladdin" became his last film.

But "Aladdin" is not beyond criticism. A major critique has to go to the Genie, who is such a scene stealer, that he not only at times disrupt the story, but even allows one to approach the story as him as the lead and Aladdin and Jasmin as supporting cast. Where Iago has the darkest evil to play against, Genie has indecisive goodness. Yet it is doubtful if "Aladdin" would have worked so well without him.

Another critique is that "Aladdin" is the most violent of all Disney films. Especially the show down is too frightening for small children. Where all Golden Age Disney films were made for adults with an inner child, they always had an innocent approach to violence. "Aladdin" has not.

By many been compared to "Raiders of the Lost Ark", in its energy and transcending entertainment, "Aladdin" is a true Disney classic and amongst the greatest Disney films ever made. It is an adventure film with a capital A and timeless with a capital T. It is a roller coaster ride full of memorable characters, great songs and a daring innovation in animated story telling. Aladdin may be a diamond in the rough, but "Aladdin" is a gem of the highest karat.
Posters
Theatrical Release: November 11, 1992 (limited NY and LA only)
Reviews More Reviews DVD Reviews
DVD Review: Walt Disney Home Entertainment (Platinum Edition) - Region 1 - NTSC
Big thanks to Henrik Sylow for the Review!
DVD Box Cover

CLICK to order from:

Distribution

Walt Disney Home Entertainment

Region 1 - NTSC

Runtime
1:30:18
Video

1.69:1 Original Aspect Ratio

16X9 enhanced
Average Bitrate: 7.90 mb/s
NTSC 720x480 29.97 f/s

NOTE: The Vertical axis represents the bits transferred per second. The Horizontal is the time in minutes.

Bitrate

Audio
5.1 Dolby Digital English (Home Theatre), 5.1 Dolby Digital English, 5.1 Dolby Digital French, 5.1 Dolby Digital Spanish
Subtitles
English, None
Features
Release Information:
Studio: Walt Disney Home Entertainment

Aspect Ratio:
Widescreen anamorphic - 1.69:1

Edition Details:
• See comments for complete details

DVD Release Date: October 5, 2004
Keep case

Chapters 26
Comments
By any standard an incredible DVD presentation.

The image is presented in original 1.66:1 anamorphic enhanced and while the actual image is 1.69:1, comparing it to the CAV Laserdisc, it seems not cropped. The image is breathtaking. Over 100 scenes were reasserted, several scenes redrawn, all to allow more detail on digital presentation. Colours are solid and intense. There are a few places that shows edge enhancement and mosquito noise (see capture #5), but all in all, this is reference material.

The sound side has likewise been enhanced. The films original 5.1 Dolby Digital track has been remixed by "Aladdin"'s original sound mixer, Terry Porter, to give it a more dynamic surround presentation. Additionally, a special remix for home theatre, designed for living room acoustics, is added. This special mix is +3 to +6 DB louder than the "normal" 5.1 DD mix, has a tighter sub and a bit more action in the rears. Those who are familiar with the sound track of the CAV laserdisc will know, that certain passages were subdued. On this DVD, everything is fully restored.

Now to the additional material, which begins with two audio commentaries. The first is by producers/directors John Musker, Ron Clements, and co-producer Amy Pell who talks about the production, about direction (as directing animation is very different to directing live actors), about the in-jokes and about the general history of the film. The second is by the animators Andreas Deja (Jafar), Will Finn (Iago), Eric Goldberg (Genie), and Glean Keane (Aladdin). . Personally I would have liked a tighter commentary, but both commentaries are still very informative and highly enjoyable.

Next comes deleted scenes and songs. The scenes are early story board sketches and while not crucial to the story, they allow a nice reference to the construction of the story, when holding them together with the production history. Sadly the title song, "Arabian Nights", in its original format is not present. The original opening lyrics was "Where they cut off your ear if they don't like your face...", but was considered to harsh and was replaced with "Where it's flat and immense and the heat is intense..." for Video and Laserdisc releases. An important piece of production history missing.

Disc 2 has, as all Disney DVDs, a good amount of extras for the kids. Here you can ride the magic carpet, visit Genie's lamp (what did he mean with itsy-bitsy living space???) and play a game of three wishes. As said, its for the kids.

For the adults, it begins with a 100 minute Making of special, introduced and hosted by Leonard Maltin. It's a very unusual Making of. It is divided into specific chapters, each beginning with live introduction of the people in questions (on stage with an audience), then having footnote subchapters, which allows you explore the details. The Making of can either be played all or seen individually thru an index. Great stuff.

Following this comes a 20 minute presentation of Alan Menken. Again a great presentation, but for my taste not talking enough about Ashman.

Next is a 6 minute featurette, with audio commentary by the animators, of different art work and concepts, followed by a still frame gallery.

The DVD comes in two formats. The standard 2-DVD and a Collector's Gift Set. For the true Disney fan, the gift set really is worth the extra dollar, as it comes with 5 exclusive all-new sketches by the original animator, film frame from the movie, and a new "Aladdin" Special Edition book all enclosed in a slip sleeve case. If the book is the same as the one from the Japanese CAV laserdisc ("The Making of an Animated Film: A Walt Disney Classic Aladdin" by James Culhane (in Japanese), 121 pages, originally published by Hyperion Press New York) I cannot say.

-----------------------------------------------------------------
DISC 1
Audio commentary by filmmakers
- John Musker, Ron Clements, and Amy Pell
Audio commentary by animators
- Andreas Deja, Will Finn, Eric Goldberg, and Glean Keane
Pop-up fun facts

Deleted Songs
- Proud of your baby (4:00)
- You can count on me (2:25)
- Humiliate the boy (4:00)
- Why me (3:45)

Deleted Scenes
- Aladdin and Jasmin's first meeting (2:50)
- Aladdin in the lamp of luxery (2:55)

Song
- Proud of you boy (2:20)
- A whole new world: new and old version (4:10)
- Songs from the film

Sneak Peaks
- Bambi
- Pooh's heffalump movie
- The Aladdin trilogy
- Mulan
- Mary Poppins
- Mulan 2
- Jetix
- Make a wish
- Disneyland resort

DISC 2
- Games and Activities
- Aladdin's magic carpet ride (3D game)
- Inside Genie's lamp (6:10)
- 3 Wishes Game
- The Genie world tour

Backstage Disney
- A Diamond in the rough: The making of 'Aladdin' (1:49:50)
From Arabian Nights to the Silver Screen
Reflection on Black Friday
Redesigning the lead characters
Rough stuff #1
Rough stuff #2
Green Room
The recording session
Rough stuff #3
Green Room 2
- Alan Menken: Musical Renaissance Man (20:00)
- The Art of Aladdin
Art review w/commentary (8:45)
Still Frame gallery
- Publicity
Original trailer (2:55)
Publicity gallery
Aladdin and the King of Thieves trailer (1:30)
Return of Jafar trailer (0:30)
---
---
Subtitle sample (English only)
Captures resized to 800px width from 960px original
DVD Box Cover

CLICK to order from:

Distribution

Walt Disney Home Entertainment

Region 1 - NTSC