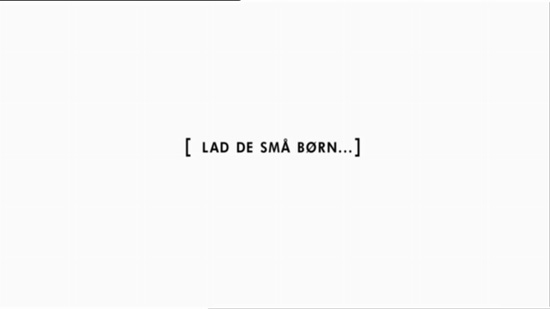 (aka "Aftermath" )
directed by Paprika Steen
Denmark 2004
Whether Danish film is about finally to find an identity again or if it only is a contemporary trend, the best Danish films have for a few years now been dealing with our inability to handle loss. More than that, it is a reflection of us as humans, both in a selfish way and in the way we depend on others, and how the sudden emotional vacuum, that follows the loss of someone dear, affects the way we act and think. We are so focused on happiness and success, that failure and misery alienates us from life itself, and we become irrational.

The key person here seems to be writer Kim Fupz Akkeson, who also wrote "Minor mishaps", where the children of a recently deceased father return home to deal with his death, and starring Paprika Steen, and "In your hands", where faith and crime are the themes. In "Aftermath", it is the death of a child that is the catalyst.

Britt (Sofie Gråbøl) and Claes (Michael Birkkjær) have recently lost their daughter in a traffic accident. Contra to the accidental, a middle-aged miss lonely heart and real estate seller (Karen-Lise Mynster), they know her, she doesn't know them. While Britt have taken some months of work to grief, Claes works thru. Yet their grief remains and affects their ways. Britt begins to work again, and begins to "mother" a neglected child, Claes grows angry and plays with the idea of killing the woman who killed their daughter.

Central for all characters in "Aftermath" is, that they are lonely and have empty lives. Britt and Claes are so due to the loss of their daughter and the inability to get to terms with it, their friends, Nisse and Vivi, are so because they have everything and never really did anything to get it, and Anette is so, because she is and always will be a spinster.

At least according to Akkeson, the writer, today's humans are lonely and empty inside, because they need an object to tie their love to, and you cannot love material objects. That is why Nisse and Vivi never will be happy; they have grown accustomed to each other, love is there, but it has become meaningless. Likewise, Britt and Claes are unable to love each other, even themselves, until they come to terms with their loss.

The emotional vacuum is brilliantly portrayed towards the end of the film, where Britt says, "I want problems as everyone else. I want you to go and fuck someone, confess it to me, so that I can leave you for three weeks, until I come back and you ask me to forgive you", stressing their inability to feel anything and their desire to do so. Steen also uses mirrors to stress emotional emptiness, as if we are but reflections of our true selves. While I would have liked to see her use mirrors more than she does, perhaps she felt like they would take over the scene and dilute their strength if overused, it is a nice touch, just as her use of sweat. A minute detail and most would never have thought of it, but Steen wanted the story to take place during a heat wave, to make certain daily routines seem more detached from reality. The heat also allows a defense for the irrationality of the characters. As said, a minute detail, but the marks of a great director.

Most will know Paprika Steen from "Festen", but as one of Denmark's best actresses, she also appeared in minor roles in "The Idiots", "Mifune's Last Song" and "Dancer in the Dark". "Aftermath" is her directorial debut, and while she displays some insecurity in the mise-en-scene and handling male characters, her direction of female characters is very involved, especially the direction of Sofie, who gives the best female performance of the year.

It is also easy the best edited Danish film of the year, by Anne Østerud, who is the regular editor of Danish auteur genius Nicolas Winding Refn. If the cinematography had been a bit more precise, it would also have topped.

A brief note here upon how a close circle of friends affect each other into making Danish film better and better. Paprika Steen is a close friend of Thomas Vinterberg, so everyone he knows, she knows. This hip Copenhagen film scene may be considered elitist by some, especially those on the outside, but the way they rub off on each other has made Danish film into something worth of its international attention and accolade.

Winner of the audience award at the San Sebastian Film Festival, "Aftermath" is amongst the best Danish films of 2004. A painfully beautiful story about a couple coming to terms with their loss. One of the best Danish films of 2004.
Posters
Theatrical Release: March 25th, 2004 (NatFilm Festival)
Reviews More Reviews DVD Reviews
DVD Review: Nordisk Film - Region 2 - PAL
Big thanks to Henrik Sylow for the Review!
DVD Box Cover

CLICK to order from:

Distribution

Nordisk Film

Region 2 - PAL

Runtime
1:40:48 (4% PAL speedup)
Video

1.78:1 Original Aspect Ratio

16X9 enhanced
Average Bitrate: 7.67 mb/s
PAL 720x576 25.00 f/s

NOTE: The Vertical axis represents the bits transferred per second. The Horizontal is the time in minutes.

Bitrate

Audio
2.0 Dolby Digital Danish, 5.1 Dolby Digital Danish
Subtitles
Danish, Swedish, Norwegian, Finnish, English, None
Features
Release Information:
Studio: Nordisk Film

Aspect Ratio:
Widescreen anamorphic - 1.78:1

Edition Details:
• Behind 'Aftermath' (27:31)
• Deleted scenes (5:25)
• Trailer (2:11)
• Trailer reel of other Nordisk Film presentations

DVD Release Date: November 25, 2004
Keep case

Chapters 13


Comments
A wonderful produced DVD. The image is basically flawless. The sound is what can be expected from that sort of film. And English subtitles, which allows non-Danish film lovers to appreciate this fine film.

The additional material is a rather chatty, but still informative, commentary by director Steen and writer Akkeson, a 25 minute behind the scenes, made especially for this DVD, with interviews, and 4 deleted scenes with optional audio commentary by Steen. For the Danish readers, this is everything one could wish and ask for.

The rest of you, tough shit, as there are no English subtitles (or for that matter Danish subtitles for hearing impaired) on the additional material, nor for the audio commentary. So despite a great presentation, there still is room for improvement.

---
---
Screen Captures
subtitle sample (English only) - captures resized to 800px width from 1016px original