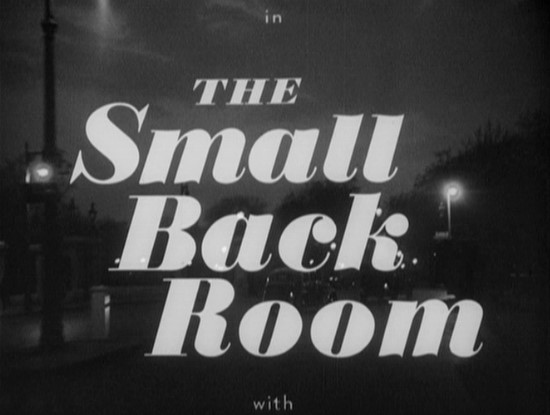 After the lavish Technicolor spectacle of The Red Shoes, British filmmakers Michael Powell and Emeric Pressburger retreated into the inward, shadowy recesses of this moody, crackling character study. Based on the acclaimed novel by Nigel Balchin, The Small Back Room details the professional and personal travails of troubled, alcoholic research scientist and military bomb-disposal expert Sammy Rice (David Farrar), who, while struggling with a complex relationship with secretary girlfriend Susan (Kathleen Byron), is hired by the government to advise on a dangerous new German weapon. Deftly mixing suspense and romance, The Small Back Room is an atmospheric, post–World War II gem.
***
Adapted from Nigel Balchin's famous novel about a military bomb disposal wizard, Tha Small Back Room traces the struggles of Sammy Rice (David Farrar), a crippled, neurotic scientist. Sammy, plagued by feelings of inferiority because of his lameness, labours to solve the problem of a new type of enemy bomb that is causing many casualties. When a close friend and colleague is killed attempting to dismantle one of the bombs, Sammy is force to face his demons, take his life in his hands and prove his worth - to the military and himself. (Description from the back of the Warner DVD case.)
Book Cover
Theatrical Release: Feb. 21, 1949
Reviews More Reviews DVD Reviews
DVD Comparison:
Warner - Region 2 - PAL vs. Criterion - Region 1 - NTSC
Big thanks to Donald Brown for the Review!
(Warner - Region 2 - PAL LEFT vs. Criterion - Region 1 - NTSC RIGHT)
DVD Box Cover

Distribution

Warner

Region 2 - PAL

Criterion Collection Spine # 441

Region 1 - NTSC

Runtime
1:42:24 (4% PAL speedup)
1:47:36
Video

1.33:1 Original Aspect Ratio
Average Bitrate: 5.71 mb/s
PAL 720x576 25.00 f/s

1.33:1 Aspect Ratio
Average Bitrate: 6.38 mb/s
NTSC 720x480 29.97 f/s

NOTE: The Vertical axis represents the bits transferred per second. The Horizontal is the time in minutes.

Bitrate: Warner

Bitrate: Criterion

Audio
English - Dolby Digital 2.0
English - Dolby Digital 1.0
Subtitles
none
English, none
Features
Release Information:
Studio: Warner

Aspect Ratio:
Fullscreen - 1.33:1

Edition Details:

none

DVD Release Date: May 31, 2004
Keepcase

Chapters 20

Release Information:
Studio: Criterion

Aspect Ratio:
Fullscreen - 1.33:1

Edition Details:

• Audio commentary featuring film scholar Charles Barr
• New video interview with cinematographer Christopher Challis
• Excerpts from Michael Powell's audio dictations for his autobiography
• PLUS: A new essay by film critic Nick James

DVD Release Date: August 19th, 2008
Transparent Keepcase

Chapters

15
Comments
ADDITION: Criterion - August 2008 - Comparatively this new Criterion edition has far fewer instances of damage (speckles, light vertical scratches, dirt etc.) but many remain and the boosting of the black levels has raised detail up a solid notch or two. Technically the disc is dual-layered (where the Warner is single) and the Criterion is again pictureboxed transferred (see our full description of 'pictureboxing' in our Kind Hearts and Coronets review) with a black border circumventing the framed image. The Criterion is coded for Region 1 in the NTSC standard and both appear progressive. There are optional English subtitles with mono dialogue on the Criterion which starts with the Studio Canal logo - which we can assume is the master source.

Contrast is probably the most dramatic improvement over the older PAL disc with blacks and whites far more pure - where they could appear muddy on the Warner. The dual-layering has produced less artifacts and it's a pleasure to identify true grain (as opposed to digital noise) on the Criterion. I toggled back and forth a few times on my system, from one edition to the other - synched for the same scenes, and the Criterion's superiority was quite evident. Also the Criterion shows more information in the frame - notably at the top of many shots.

Extras easily go in Criterion's favor with a rather dry commentary by film scholar Charles Barr. He does his share of narrating but still imparts some extraneous, if unnecessary, details. His stayed monotone script reading really is more akin to producing sleep than enthusiasm. Not his problem I suppose and I wasn't totally uninterested and he did seem very prepared. There is also a 21-minute video interview with cinematographer Christopher Challis that I thought was worth watching. He reminisces about Michael Powell and that is always keen for fans of the director. There are some audio excerpts (48 minutes, 7 chapters) from Michael Powell's dictations of his autobiography - a continuation, or adjunct, of what was found on the Thief of Bagdad. Discussions of Korda and the like are marvelous to hear from the director himself. Finally, we have a 16-page liner notes booklet with photos and a new essay by film critic Nick James.

Not premium Powell and Pressburger but I enjoyed seeing Farrar and Byron reunited after Black Narcissus - made two years earlier. This story can get uncomfortably tense at times and it's the master film creators at their most resourceful - squeezing keen nuances out of the original, topical, wartime, story. I think its very much worth seeing, but perhaps more so for fans of the P+P team than for those uninitiated into their cinema magic. Not surprisingly the Criterion is the definitive edition to own despite the occasional blemishes.

Gary Tooze





ON THE WARNER: Darkness and lack of shadow detail are the only minor faults with this DVD, but few lights seems to have been used for the interior shots, so I suspect much of the film was originally dark anyway. It's sharp and clean, with only a rare appearance by a dust speck, and the pleasing film-like texture is preserved. Recommended.
---
DVD Menus
(Warner - Region 2 - PAL LEFT vs. Criterion - Region 1 - NTSC RIGHT)

---
S
ubtitle Sample (Criterion)
---
Screen Captures
(Warner - Region 2 - PAL TOP vs. Criterion - Region 1 - NTSC BOTTOM)
---
(Warner - Region 2 - PAL TOP vs. Criterion - Region 1 - NTSC BOTTOM)
---
(Warner - Region 2 - PAL TOP vs. Criterion - Region 1 - NTSC BOTTOM)
---
(Warner - Region 2 - PAL TOP vs. Criterion - Region 1 - NTSC BOTTOM)
---
(Warner - Region 2 - PAL TOP vs. Criterion - Region 1 - NTSC BOTTOM)
---
(Warner - Region 2 - PAL TOP vs. Criterion - Region 1 - NTSC BOTTOM)
---
(Warner - Region 2 - PAL TOP vs. Criterion - Region 1 - NTSC BOTTOM)
---
(Warner - Region 2 - PAL TOP vs. Criterion - Region 1 - NTSC BOTTOM)
---
Associated Reading (CLICK COVERS or TITLES for more information)