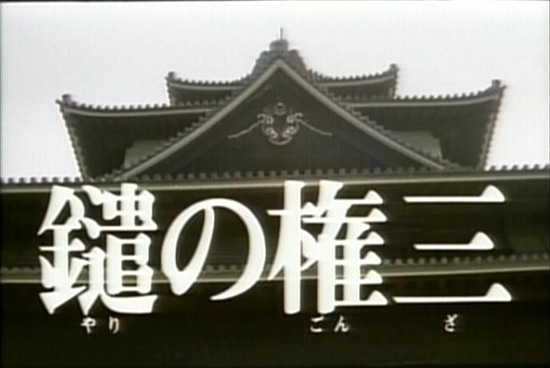 (aka "Yari no gonza" or "Gonza the Spearman" )
directed by Masahiro Shinoda
Japan 1986
Based upon the buranku play by Chikamatsu, "Yari no Gonza" becomes a complex character study of a samurai, who is a master in the use of the yari (the spear), which no longer is of value, as the nation is at peace. In order to both advance as samurai and make a name of himself, Gonza has to master an art form, the one of his choice is tea ceremony. At the same time Gonza is a very beautiful man, so beautiful, that songs are written about him.

To celebrate the birth on an heir to the daimio, a demonstration of tea ceremony is chosen. Two samurai are suggested: Ichinoshin and Gonza. But Gonza has only been taught not to error, so in order to acquire the scroll which will enable him perfection, he accepts the wish of Ichinoshin's wife, Osei, to marry their daughter, Okiku. But Gonza is already involved with another woman, Oyuki, whom he also promised to marry, but still promises, in order to get the scroll, that "If I should violate this oath, may I never again wear armour on my back, may I be slashed to bits by Ichinoshin's sword, and may my dead body be exposed on the public highway!" Eventually Gonza is exposed and killed by Ichinoshin.

While most plays of Chikamatsu deal with the conflict between giri (duty) and ninjo (passion), the characters here are far more complex. Gonza is not torn. His passion lies with Oyuki and his duty is to his own advancement. Okiku is not torn. Her duty is to Gonza, as well as her passion. If any is torn, then its Osei, who, when discovering the adultery of Gonza, becomes furious. Not because of his adultery, but because she was deceived by him. Gonza is not a bad guy, but more a victim of a society, which has no use for his skills.

Shinoda previously used Chikamatsu as source with "Double Suicide" (1969), but in "Yari no Gonza" he recreates Chikamatsu by using the story and characters to advance his own vision towards cinema. Shinoda thus continues to recreate a unique style, which on one side is highly stylised and on the other liberated by its dynamic mise-en-scene vs. buranku. The result is one of the most intelligent adaptations of a Chikamatsu text and a very unique period piece.
Posters
Theatrical Release: February 20, 1986 (Berlin International Film Festival)
Reviews More Reviews DVD Reviews
DVD Review: ArtsMagic - Region 2 - PAL
Big thanks to Henrik Sylow for the Review!
DVD Box Cover

CLICK to order from:

NOTE: Purchases through DVDBeaver's links to Amazon help keep us afloat and advertisement free!

Distribution

ArtsMagic

Region 2 - PAL

Runtime
2:06:14
Video

1.62 Original Aspect Ratio
Average Bitrate: 7.75 mb/s
PAL 720x576 25.00 f/s

NOTE: The Vertical axis represents the bits transferred per second. The Horizontal is the time in minutes.

Bitrate

Audio
2.0 Dolby Digital Japanese
Subtitles
English (fixed)
Features
Release Information:
Studio: ArtsMagic

Aspect Ratio:
Widescreen letterboxed - 1.62

Edition Details:
• Biographies
• Promotional material (4 pages)
• Artwork from other releases

DVD Release Date: August 28, 2004
Keep case

Chapters 13

Comments
Presented in original aspect ratio of approx 1.6:1, the DVD falsely suggests a 16x9 anamorphic presentation. However the menus are in 16x9.

The image lacks detail and has a lot of contrast. Likewise the colours seems faded. Additional, there are ghosting and edge enhancement issues. Overall a very poor transfer.
---
Recommended Reading for Japanese Film Fans (CLICK COVERS or TITLES for more information)
The Japan Journals : 1947-2004,

by Donald Richie

The Midnight Eye Guide to New Japanese Film
by Tom Mes and Jasper Sharp

Kon Ichikawa (Cinematheque Ontario Monographs)

by James Quandt, Cinematheque Ontario

Shohei Imamura (Cinematheque Ontario Monographs, No. 1)
by James Quandt
Eros Plus Massacre: An Introduction to the Japanese New Wave Cinema (Midland Book, Mb 469)
by David Desser
The Films of Akira Kurosawa by Donald Ritchie

by Yasujiro Ozu, Kogo Noda, Donald Richie, Eric Klestadt

Ozu by Donald Ritchie

A Hundred Years of Japanese Film by Donald Richie
Check out more in "The Library"
---


DVD Menus

---
Subtitle Sample