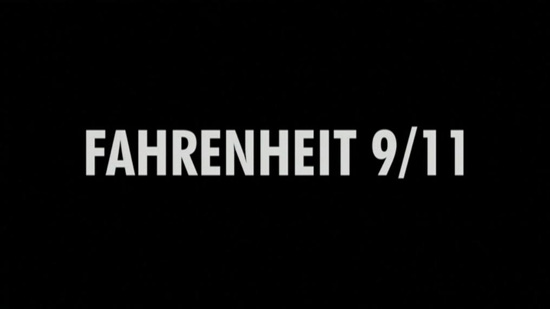 (aka "Fahrenheit 911" )
directed by Michael Moore
USA 2004
"The people will believe any lie, if only they are repeated often enough, and the bigger the lie, the better chance it being believed." (Joseph Goebbels)

At 8:45am, a hijacked plane torpedoed the north tower of the World Trade Centre. At 9:03am, a second hijacked plane, did the same in the south tower. One hour later, the towers collapsed. This happened on September 11, 2001.

More things happened that day. At 9:30am, half an hour after the second attack, Bush announced, that the US "apparently had suffered a terrorist attack". The FAA instantly ground all flight operations and business and government and corperation internet sites closed down. Yet the FBI was quiet. During the 1993 bombing of the WTC, the FBI posted a $1 million reward one hour after the bombing, after September 11, the FBI did no such thing. Perhaps it was because the FBI already knew who did it, as they in their security brief of July 10, 2001, wrote, that Al Qaeda had been sending students to the US to train in aviation and that they planned a terrorist attack on American soil. Bush never read this brief, because, as we learn in "Fahrenheit 9/11", the title was "too weak".

Not surprising, the amount of secrecy and unanswered questions that followed September 11 has lead to countless accusations and conspiracy theories. Several books has been written on the subject and as late as September 11 2004, Kitano Takeshi lead a panel discussion, where he argued the parallels between Pearl Harbour and the WTC attack. The urge to understand such a horrible event promotes the need for answers, any answer, as long as we therein find reason.

In Michael Moore's "Fahrenheit 9/11", he attempts, not to find reason for the attack, but more, why certain things following the attack happened and why it all lead to an invasion of Iraq, which Kofi Annan recently stated was illegal, as it went against UN resolution 1441. Moore paints with the big brush of satire, beginning his film with an account of the Florida election, then showing Bush going on vacation for 42% of the eight months before September 11. Very wisely he does not show the attack itself, but blackens the screen, then to continue building up his side of why the war in Iraq happened.

Moore has never given the impression of being a master film maker. While all his documentaries are great fun to watch, and raises several interesting questions, he has always, despite being very shy, loved to be on the spot, in the spotlight, posing as the crusader of truth and justice. But with "Fahrenheit 9/11", Moore enters the world of "real" filmmakers and documetarists. The first hour of "Fahrenheit 9/11" is the best work Moore ever has done, extremely well researched, very tightly constructed and very entertaining.

It is surprising how toned down Moore is here. Where he usually goes over the edge, he holds back on speculations, and very carefully builds up his point of view to what is going on. It could have been very easy to portrait Bush as someone, who over a year, wilfully lied again and again to defend the war, only juxtaposing 2001 statements, that Iraq had "no weapons of mass destruction" and "no military capabilities" vs. 2003 statements, that Iraq had advanced systems of WMD. While one, by reading up on the news and White House statements can see, how the lie carefully was constructed from "coulds" and "possible" (August 2002) to that the president had intelligence reports telling him that there "actual were" WMD (March 2003), even though the same intelligence leaked information and suggested that Bush's statements were "highly dubious" [Washington Post, 7/19/03], Moore plots his attacks out with a broader coverage. Instead of going into details about the cover up and deception, Moore goes into detail about why (possible) it was done, showing how relationships formed over the last twenty years now have been moved into position, as in a geopolitical game of chess. Of course this point of view was attacked from numerous sources, but Moore stands by his accounts of the events and has several times stated, that he is more than willing to go before a court proving them.

The second hour of "Fahrenheit 9/11" is less structured and more up the alley of Moore's previous work. Here he shows what September 11 has done to the US, for instance the "Patriot Act", and how the war affects the average low-income American. Here Moore steps more into character as we know him. This part is less solid than the first, but still supports some of the themes the first half sets up.

It is clear that Moore has become more skilled by each film he makes, yet I doubt that he will top this one. Where the subjects of his previous films has been "limited", all his films deal with how big corporations (ab)use the common American, and no subject is as confronting as the events following September 11 or the war in Iraq.

Winning the Palme d'Or as best film, "Fahrenheit 9/11" was instantly attacked and speculations of conspiracy were aired. Several critics and professionals suggested that a documentary wasn't "a real film" and that Tarantino had "convinced" the jury members to vote the way he wanted. But "Fahrenheit 9/11" is a real film and as the jury stressed in their press conference, the best film won.

What makes "Fahrenheit 9/11" such a great film is that it dares to do what it does. Along with "Control Room", which is a better documentary, it sets an agenda, by which we can weigh our convictions, doubts, suspicions and truths. It gives us information, suggests relationships and hidden agenda and directly questions the actions of the most powerful nation in the world, thereby creating an as equal strong opposition to what the White House is telling us. We can accept them, deny them or doubt them, but as we are confronted with them, Moore asks us to take a stand. This is cinema and documentary at its best.
Posters
Theatrical Release: May 17, 2004 (Cannes Film Festival)
Reviews More Reviews DVD Reviews
DVD Review: Optimum Home Entertainment (2 disc) - Region 2 - PAL
Big thanks to Henrik Sylow for the Review!
DVD Box Cover

CLICK to order from:

or CLICK LOGO below and buy the US Edition (Oct 5th-release):

NOTE: Purchases through DVDBeaver's links to Amazon help keep us afloat and advertisement free!

Distribution

Optimum Home Entertainment

Region 2 - PAL

Runtime
2:02:17
Video

1.78:1 Original Aspect Ratio

16X9 enhanced
Average Bitrate: 6.30 mb/s
PAL 720x576 25.00 f/s

NOTE: The Vertical axis represents the bits transferred per second. The Horizontal is the time in minutes.

Bitrate

Audio
2.0 Dolby Digital English, 5.1 Dolby Digital English
Subtitles
English, None
Features
Release Information:
Studio: Optimum Home Entertainment

Aspect Ratio:
Widescreen anamorphic - 1.78:1

Edition Details:
• The release of 'Fahrenheit 9/11' (11:20)
• The eve of the invasion (8:20)
• Outside Abu Ghraib (6:56)
• Eyewitness account from Samara (18:00)
• Rose Garden Press briefing (5:23)
• Condoleezza Rice's testimony (8:04)
• Lila Lipscomb at the premiere (4:35)
• Soundtrack to war (2:35)
• 'System of a down' music video: 'Boom' (3:06)
• John Ashcroft sings 'Karaoke' version (5:41)
• Homeland security: Miami style (2:55)
• Extended interview with Abdul Henderson (7:29)
• Arab American Comedians (10:32)
• Kudos Youth Group (4:42)
• Career Gear (4:20)

DVD Release Date: October 18, 2004
Keep case

Chapters 16

Comments
This is a dual DVD edition, with the feature film on disc one and additional material on disc two. Nothing much is to be said about the presentation itself. Where most of it is footage, the quality varies a great deal, but the by Moore shot footage is crisp and sharp. Likewise the sound is as one can expect.

Considering this being one of the most talked about releases of 2004, the additional material is extraordinary weak. Out of 104 minutes of material, about half is really good and supports the film. I really miss a "Making of", where Moore goes into detail about his sources, his strategy and his structuring of the documentary. The film has been attacked from so many groups, that putting himself in the hot seat and answering some of the many questions viewers may have, would have been a most valuable asset for the film.

Especially the eyewitness account from Samara and the Arab American comedians are great material, as they add a different perspective to the situation. But then very Moore-ish commentary as the John Ashcroft karaoke and the career gear seems only to be there to fill out. In any case, this is not the sort of material I would except from a film like that, but it is what I would expect from Moore.

* A note towards the running time. Sources name 122 minutes as the running time, which also is the one on this PAL DVD. Therefor have I noted, there is no PAL Speed-Up. Why, I cannot account for.
---



DVD Menus

---
Subtitle Sample
DVD Box Cover

CLICK to order from:

or CLICK LOGO below and buy the US Edition (Oct 5th- 04 release):

NOTE: Purchases through DVDBeaver's links to Amazon help keep us afloat and advertisement free!

Distribution

Optimum Home Entertainment

Region 2 - PAL