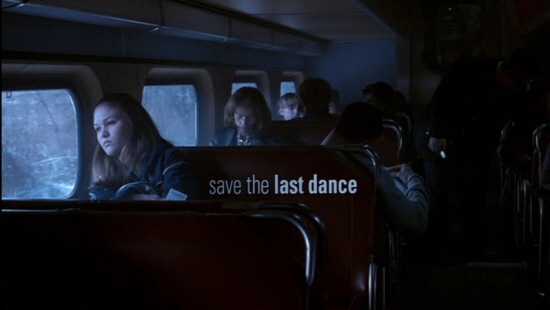 directed by Thomas Carter
USA 2001
Save the Last Dance was originally released on DVD in 2001 a few months after its theatrical run. Paramount is now issuing a Special Collector's Edition that is little more than a double dip timed to coincide with the release of the direct-to-video Save the Last Dance 2. If you're not interested in the sequel, then the previous Save the Last Dance DVD is all you need. Even if you are interested in the sequel, then you still don't need this release since you're going to watch Save the Last Dance 2 anyway, regardless of the preview footage on this disc.

Bowing in theatres in January 2001, Save the Last Dance surprised everybody by raking in more than $90 million at the box office. For a film without major stars and buzz, grossing $90 million is like winning the lottery. Sadly, the movie does not quite deserve its handsome box office returns. Heavily promoted by MTV (one of the film's production partners), Save the Last Dance won two MTV Movie Awards--Best Male Breakthrough Performance and Best Kiss.

Save the Last Dance follows a whole bunch of other films, plays, novels, etc. that has mined similar territory, and it suffers as a result of its derivative nature. The problem does not lie with the execution of the material but with the immense weight of cultural history that the film must bear. It plays as a hip-hop version of Romeo and Juliet, but it fails to find a convincing balance to the love story at its center. Ultimately, the movie comes up short, leaving every issue that it tries to discuss feeling half-baked.

Julia Stiles plays Sara, a ballet dancer who moves to an inner-city neighborhood in Chicago to live with her father after her mother dies in a car accident. She attends a high school that is decidedly different from her previous one; around these parts, WASPs are few and hard to find. Sara gets into an academic debate with Derek (Sean Patrick Thomas) in her very first class, and she almost has her backpack stolen when she sets it on the floor while getting books from her locker. It turns out that Chenille (Kerry Washington), Derek's sister, was just giving Sara a cautionary lesson on being alert in a crime-ridden school.

Sara makes fast friends with Chenille and Derek, and they invite her to the local dance club. Since she fails to make good on her promise to "dance circles" around Derek, he offers to meet with her after school to work on her hip-hop moves. Soon, he finds out that Sara used to harbor dreams of going to Juilliard to study dance. That discovery leads to his unearthing the source of Sara's buried emotional distress.

The two (not quite star-crossed) lovers see each other through with their pursuit of life-long dreams--he to Georgetown University and then med school, she to the stage as a dancer. In their moments alone, Stiles and Thomas share a chemistry that belongs in a better film than this one. The leads deliver enjoyable, moving performances. They get to the heart of the matter in each of their scenes, and that leanness in acting is rather poetic. The two, even when arguing, manage to convey the moods of two smart people realistically working to sustain a relationship that they both want and need. Therefore, they try to make each moment count without drifting into sentimentality.

Sadly, the two characters are placed within the wider context of the rest of the script, which, were it not for its dramatic tone, would basically be a pastiched parody of all sorts of other movies. There are trifling scenes between Sara and Derek's ex-girlfriend, Nikki (Bianca Lawson). The two get into a catfight that is, regrettably, a kinetic high point in a film that feels listless for a project about dancing. Isn't the movie supposed to be "dancing circles" around its audience?

Finally, there is the dancing. Of all things, the dancing is deplorable. The scenes in the crowded club are cramped, confusing, and uninvolving. Stiles's dance sequences are especially problematic. Throughout the film, she is seen dancing everywhere and practicing various styles of dance. It seems like she has all the moves down cold. The finale involves, of course, a Juilliard tryout. I was shocked to see a horrendous cut-and-paste sequence. It was atrociously obvious that Stiles WASN'T doing most of the dancing.
Posters
Theatrical Release: 12 January 2001
Reviews More Reviews DVD Reviews
DVD Review: Paramount (Special Collector's Edition) - Region 1 - NTSC
Big thanks to Yunda Eddie Feng for the Review!
DVD Box Cover

CLICK to order from:

Distribution

Paramount

Region 1 - NTSC

Runtime
112
Video

1.85:1 Original Aspect Ratio

16X9 enhanced
Average Bitrate: 6.14 mb/s
NTSC 720x480 29.97 f/s

NOTE: The Vertical axis represents the bits transferred per second. The Horizontal is the time in minutes.

Bitrate

Audio
Dolby Digital 5.1 English, Dolby Digital 2.0 surround English, Dolby Digital 2.0 surround French
Subtitles
Optional English
Features
Release Information:
Studio: Paramount

Aspect Ratio:
Widescreen anamorphic - 1.85:1

Edition Details:
• audio commentary by director Thomas Carter
• The Making of Save the Last Dance
• The Writers' Story
• In Step: The Choreographers' Story
• What It Takes
• Save the Last Dance--A Retrospective
• two deleted scenes
• Crazy (music video)
• Sneak Peek at Save the Last Dance 2
• previews for other Paramount titles

DVD Release Date: 26 September 2006
Keep case

Chapters 18
Comments
The keepcase cover art does not mention anything about re-mastering, so it's probably safe to assume that Paramount is using the same video and audio options for this disc that were used for the previous DVD.

Video:
The 1.85:1 anamorphic widescreen print used for the DVD looks appropriately moody and atmospheric for what is essentially a serious drama. The wintry grays of Chicago look beautiful, and you can see the cold breaths that the actors draw. Detail is very good; everything looks clearly defined. The compressionists kept film grain to a minimum, but understandably, things look shakier during the dance club scenes (lots of smoke, lighting effects, etc.).

Audio:
Paramount included three primary audio tracks--Dolby Digital 5.1 English, DD 2.0 surround English, and DD 2.0 surround French dub. The soundstage feels slightly cramped as most of the effects come from the center channel. Once in a while, music pans out to the surrounds, and the bass only kicks in during the dance club sequences. While what's on the disc doesn't exhibit anything "wrong", the sound design is rather undistinguished.

Optional English subtitles and optional English closed captions support the audio.

Extras:
First up is the audio commentary by director Thomas Carter. Most of his comments cover exactly what's going on in the movie (a play-by-play, if you will), but Carter does give some extra details about the production.

"The Making of Save the Last Dance" is a disappointing rehash of scenes from the movie, the trailer, and interviews with the cast and the director (all found elsewhere on the DVD). We get to see Julia Stiles practice ballet and hip-hop, but the film's editing clobbers her efforts. It's odd; you see Stiles's hard work, but the final product throws away that hard work.

"The Writers' Story" is an assemblage of talking-heads clips with some of the behind-the-scenes personnel talking about their interest in the project as well as some of the movie's themes.

"In Step: The Choreographers' Story" shows how the cast learned to move like "cool" people.

"What It Takes" is a featurette about how difficult it is to find success as a professional dancer.

"Save the Last Dance--A Retrospective" has a mis-leading title because it is comprised of interview clips with members of the cast and crew during and right after production as well as during promotional events.

There are two deleted scenes, and the music video "Crazy", featuring K-Ci and JoJo, has footage from the film as well as footage with the actors and the musicians expressly shot for the music video.

Finally, you get a "Sneak Peek at Save the Last Dance 2", a trailer for Save the Last Dance 2, and a trailer for All You've Got. Save the Last Dance 2 follows Julia Stiles's character to Juilliard, though Sara is now played by Izabella Miko (of Coyote Ugly infamy).

Unlike the previous DVD release, the Save the Last Dance SCE DVD does not have the movie's theatrical trailer. The new disc also has only two deleted scenes (down from four).

--Miscellaneous--
Per Paramount's standards, the keepcase does not have an insert.
---
---
Screen Captures
DONATIONS Keep DVDBeaver alive and advertisement free:
Mail cheques, money orders, cash to: or CLICK PayPal logo to donate!
Thank You!