| | |
| --- | --- |
| | S E A R C H D V D B e a v e r |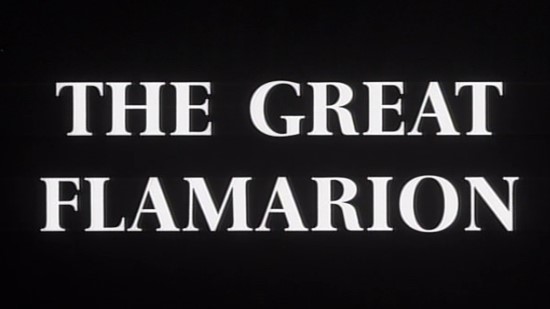 (aka ' La cible vivante ')
5
Erich Von Stroheim portrays the title character in this clever film noir directed by the then up-and-coming Anthony Mann. The Great Flamarion, an egotistical vaudeville performer specializing in a trick-gunshot act, at first pays little attention to his beautiful assistant Connie, played by Mary Beth Hughes. Connie is married to Al (Dan Duryea), Flamarion's other assistant, but she has become bored with her husband and begins to flirt with the boss, which leads to the "accidental" death of her husband during a routine performance. Not realizing that his pretty assistant has just played him, Flamarion expects to be romantically compensated for his "unfortunate aim" but the treacherous Connie has other plans.
Posters
Theatrical Release: January 14th, 1945
Reviews More Reviews DVD Reviews
DVD Comparison:
Sony (Nuits américaines - Vol. 4) - Region 0 - PAL vs. VCI (DVD-R edition) - Region 0 - NTSC
Sony (Nuits américaines - Vol. 4) - Region 0 - PAL LEFT vs. VCI (DVD-R edition) - Region 0 - NTSC RIGHT
DVD Box Cover

Distribution
Sony / BMG - Region 0 - PAL
VCI - Region 0 - NTSC

There is another French edition of this film on DVD. I have not personally seen the quality, but suspect it to be strong.

There are two Region 1 editions of The Great Flamarion on DVD but both are interlaced and extremely poor including this Alpha edition. Our suggestion is to avoid, unless you have no other options.

Runtime
1:14:45
1:17:03
Video
1.33:1 Aspect Ratio
Average Bitrate: 6.69 mb/s
PAL 720x576 25.00 f/s
1.33:1 Original Aspect Ratio
Average Bitrate: 6.90 mb/s
NTSC 720x480 29.97 f/s

NOTE: The Vertical axis represents the bits transferred per second. The Horizontal is the time in minutes.

Bitrate:

Bitrate:

Audio
English (Dolby Digital 2.0)
Dolby Digital 2.0 (English)
Subtitles
French, None
None
Features

Release Information:
Studio: Sony / BMG

Aspect Ratio:
Original Aspect Ratio 1.33:1

Edition Details:

• Catalogues of films
• Biographies
• Quiz

DVD Release Date: March 12th, 2002
Keep Case
Chapters: 12

Release Information:
Studio: VCI

Aspect Ratio:
Fullscreen - 1.33:1

Edition Details:
• None

DVD Release Date:
Keep Case

Chapters 1
Comments:

ADDITION: VCI - Region 0 - NTSC - December 2010: A single-layered DVD-R from VCI was released back in 2003. Transferred from 16mm print, the interlaced image is overly dark and hazy. It's still watchable, compared to most of the transfers from Alpha Video, but we can not recommend it considering top quality transfer of the French Sony DVD. The film is encoded as one single chapter on VCI's disc and despite the back cover stating that there is a cartoon short and trailers included, there are no extras at all.

***

A pretty strong progressive transfer that has decent sharpness and contrast (blacks look rich and deep, but their may be some minor brightness boosting). A few speckles but mostly damage free. This is from the Nuits américaines series - Vol.4 - and shares the package with Kansas City Confidential. These are great DVDs released by Sony/BMG in France. Vol 1 (HERE) contains Suddenly (1954)and D.O.A. (1950) Vol 2 (HERE) contains Vengeance Valley (1951) and Salome (1953). Vol. 3 (HERE) contains Sturges' The Sin of Harold Diddlebock (1947) as well as My Favorite Brunette (1947). There are many more - but many seem to be out-of-print - but still available from individual sellers at Amazon.

Unfortunately, again, Region 1 gets the bum end of the stick with many extremely poor PD versions (ex. VCI Entertainment and Alpha Video). We may compare one day - ditto for the Kansas City Confidential version in this package.

Extras amount to some text screens and a Quiz - both only in French.

Overall - I found this film highly memorable with a haunting depiction of the Femme Fatale by wonderfully cast Mary Beth Hughes (The Ox-Bow Incident (1943), Orchestra Wives (1942), The Women (1939) ). Certainly this Mann Noir is a must see for fans of the style.
---

Sony (Nuits américaines - Vol. 4) DVD Menus
Lone VCI DVD Menu
---
Screen Captures
Sony (Nuits américaines - Vol. 4) - Region 0 - PAL TOP vs. VCI (DVD-R edition) - Region 0 - NTSC BOTTOM
Sony (Nuits américaines - Vol. 4) - Region 0 - PAL TOP vs. VCI (DVD-R edition) - Region 0 - NTSC BOTTOM
---
Sony (Nuits américaines - Vol. 4) - Region 0 - PAL TOP vs. VCI (DVD-R edition) - Region 0 - NTSC BOTTOM
---
Sony (Nuits américaines - Vol. 4) - Region 0 - PAL TOP vs. VCI (DVD-R edition) - Region 0 - NTSC BOTTOM
---
Sony (Nuits américaines - Vol. 4) - Region 0 - PAL TOP vs. VCI (DVD-R edition) - Region 0 - NTSC BOTTOM
---
Sony (Nuits américaines - Vol. 4) - Region 0 - PAL TOP vs. VCI (DVD-R edition) - Region 0 - NTSC BOTTOM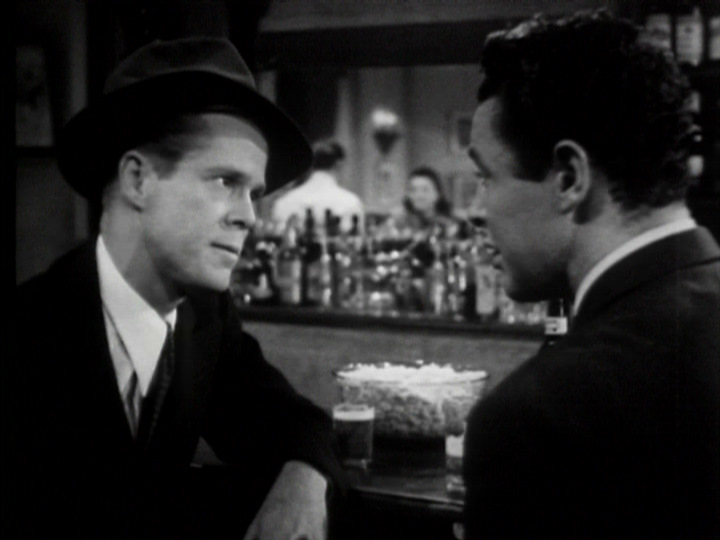 ---
Sony (Nuits américaines - Vol. 4) - Region 0 - PAL TOP vs. VCI (DVD-R edition) - Region 0 - NTSC BOTTOM
---
Recommended Reading in Film Noir (CLICK COVERS or TITLES for more information)
The Dark Side of the Screen: Film Noir

by Foster Hirsch

Somewhere in the Night: Film Noir and the American City

by Nicholas Christopher

Shades of Noir: A Reader
by Joan Copjec
The Art of Noir: The Posters and Graphics from the Classic Era of Film Noir
by Eddie Muller
The Little Black and White Book of Film Noir: Quotations from Films of the 40's and 50's
by Peg Thompson, Saeko Usukawa
Film Noir
by Alain Silver
Film Noir Guide: 745 Films of the Classic Era, 1940-1959
by Michael F. Keaney
Detours and Lost Highways: A Map of Neo-Noir
by Foster Hirsch
DVD Box Cover

Distribution
Sony / BMG - Region 0 - PAL
VCI - Region 0 - NTSC

There is another French edition of this film on DVD. I have not personally seen the quality, but suspect it to be strong.

There are two Region 1 editions of The Great Flamarion on DVD but both are interlaced and extremely poor including this Alpha edition. Our suggestion is to avoid, unless you have no other options.

Runtime
1:14:45
1:17:03