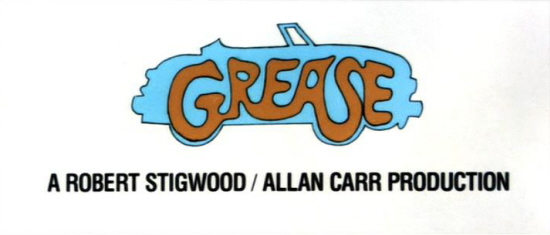 directed by Randal Kleiser
USA 1978
Grease first hit DVD in 2002. That disc was largely a simple re-issue of the 20th Anniversary VHS released in 1998. Heck, I remember working in a Blockbuster Video store taking pre-orders of the 20th Anniversary VHS during the time when I was trying to convince friends and customers to jump on the DVD bandwagon. At that time, Paramount and 20th Century Fox still refused to commit to DVD, and I remember thinking that Grease would be a great choice to inaugurate Paramount's DVD line. When the first Grease DVD streeted, I remember reading somewhere that Paramount was already at work on a special edition. Presumably, 2006's "Rockin' Rydell Edition" SD-DVD will be the basis for the possible HD-DVD/Blu-ray releases.

Originally a hit Broadway musical, Grease became a hit film musical in 1978 starring John Travolta, Olivia Newton-John, and Stockard Channing. The movie cemented Travolta's rising star, and Newton-John's fame as a singer lent the project welcome authenticity. For some reason, the musical genre inspires mad affection from people who really dig them (I should know, for my sister's always belting one Broadway standard or another), and Grease must be one of the most-watched and most-adored film musicals of all time.

At the beginning of Grease , we see Danny Zuko (Travolta) and Sandy (Newton-John) enjoy the final moments of their summer fling. He's about to start his senior year in high school, and she's going back to Australia. However, when the fall term begins, Sandy appears at Danny's Rydell High. Apparently, he never told her about his belonging to the "T" Birds, the local greasers, so he gives her the cold shoulder at school in order to maintain his reputation. Didn't you know? Greasers don't hang out with preppies.

Grease presents a very simple story about two young things trying to figure out a way to be able to have a romance without being stigmatized by their friends. My previous sentence sounds more serious than the film actually is; after all, we're not talking about an interracial relationship or a love between two persons separated by fundamentally, drastically different backgrounds. The movie charts Sandy's attempts to be cool and Danny's attempts to be mainstream.

Of course, only in a movie are people allowed to be two extremes at once. By now, it shouldn't surprise anyone that Sandy can be a sexy rebel (as witnessed in the ubiquitous photos of Ms. Newton-John in tight-fitting black clothes). Danny shows his buddies that you can be tough and sensitive at the same time. Only in the movies can you eat your cake and have it, too.

The actors exhibit a great deal of energy in well-choreographed song-and-dance numbers, and there's also a great deal of physical humor as well. For example, there's a scene where Sandy gets out of Zuko's car, and he tries to follow her. However, she slams the door, hitting him in the groin, and he collapses. Travolta's face neatly expresses the pain and clumsy horror of being nailed where it hurts most.

Despite many re-runs on TV, I've never actually seen Grease until watching the first DVD release for reviewing purposes. I admit that I enjoyed it a lot even though musicals are not normally my cup of tea. For me, the most surprising thing watching Grease is witnessing how well Mr. Travolta can dance. He's all over the place, twisting and turning his body until it seems like his skeleton was made of cartilage, not bone. The actor has opted to make action films like Face/Off in recent years, but it'd be a treat to see him in go-for-broke dancing again.

Grease isn't a great film, and it certainly is not in the same league as Singin' in the Rain, The Sound of Music, or even Evita. However, Grease IS great fun, a romp filled with the kind of exuberance that we wish we could enjoy in our lives. Few people are ever as cool as Danny Zuko, and even if it were possible to attain his level of coolness, real life eventually forces us to grow out of being cool 24/7. Grease lets us inhabit "cool" every time we enter its world for two hours.

Considering that the Grease "Rockin' Rydell Edition" DVD has a lot more extras that are comprehensive and substantive in terms of covering the movie's production and popularity, an upgrade is in order for fans.
Posters
Theatrical Release: 16 June 1978
Reviews More Reviews DVD Reviews
DVD Review: Paramount (Rockin' Rydell Edition) - Region 1 - NTSC
Big thanks to David McCoy for the Review!
DVD Box Cover

CLICK to order from:

Distribution

Paramount

Region 1 - NTSC

Runtime
110 min
Video

2.35:1 Original Aspect Ratio

16X9 enhanced
Average Bitrate: 5.87 mb/s
NTSC 720x480 29.97 f/s

NOTE: The Vertical axis represents the bits transferred per second. The Horizontal is the time in minutes.

Bitrate

Audio
Dolby Digital 5.1 English, Dolby Digital 2.0 surround English, Dolby Digital 2.0 surround French
Subtitles
Optional English
Features
Release Information:
Studio: Paramount

Aspect Ratio:
Widescreen anamorphic - 2.35:1

Edition Details:
• video introduction by Randal Kleiser
• audio commentary by Randal Kleiser and Patricia Birch
• Rydell Sing-Along (karaoke-style subtitles)
• The Time, The Place, The Motion: Remembering Grease
• deleted/extended/alternate scenes
• Grease on DVD Launch Party
• Grease Memories From John & Olivia
• The Moves Behind the Music
• Thunder Roadsters
• Olivia Newton-John and Robert Stigwood "Grease Day" Interview
• theatrical trailer
• photo galleries
• previews for other movies

DVD Release Date: 19 September 2006
keepcase with leather slipcover

Chapters 18
Comments
Video:
The cover art states that the movie has been re-mastered, but I don't know if Paramount is referring to the 1998 re-mastering or to a recent re-mastering. Either way, the video looks about the same as what you get with the previous Grease DVD.

The 2.35:1 anamorphic widescreen image looks as if the film has been neglected without suffering heavily. Colors are rather faded in some places, and a thin layer of dust seems to have settled permanently on the negative. Scratches, a few hairs, and some white specks also make unwelcome appearances. The picture is also rather soft, and a lot of objects have blurred edges. Still, one could say that the video's aged look is a part of the movie's nostalgic charm.

(As far as I can tell, Paramount is not bothering to release a Pan&Scan version this time around.)

Audio:
The Dolby Digital 5.1 English audio track sounds comfortably wide across the front stage, but there's not much for the rear speakers to do. Despite the loud music, dialogue and singing voices can be heard clearly. Bass levels and the track's dynamic range are not as impressive as comparative qualities with, say, Peter Jackson's The Lord of the Rings DVDs, but they are adequate for a nearly 30-year-old film.

Those of you without true Dolby Digital sound systems should opt to watch the film with the DD 2.0 surround English track, and there's a DD 2.0 surround French track, too.

Optional English subtitles as well as English closed captions support the audio. (This release drops the optional Spanish subtitles offered by the previous version, though some of the extras have optional English and French subtitles.)

Extras:
This time around, you can watch the movie with a video introduction by director Randal Kleiser. Basically, Kleiser thanks you for buying Grease on DVD (again).

Randal Kleiser and choreographer Patricia Birch contributed an audio commentary that is basically a pleasant conversation of reminisces. The "Rydell Sing-Along" feature lets you watch specific songs or the entire movie with karaoke-style subtitles.

"The Time, The Place, The Motion: Remembering Grease" is a new retrospective featurette with interviews of the movie's makers; it replaces the brief, fluffy, inconsequential featurette that was on the first Grease DVD.

The deleted/extended/alternate scenes are a surprise since they are in black-and-white. The quality is rather low, but they give the movie a certain grittiness despite not being incorporated in the final cut.

"Grease on DVD Launch Party" offers footage from Paramount's bash to celebrate the first DVD release of the movie. Several members of the cast hop on stage to belt out songs. "Grease Memories From John & Olivia" has interview footage from the aforementioned party.

"The Moves Behind the Music" takes a detailed look at the dance numbers, and "Thunder Roadsters" focuses on vintage cars.

The "John Travolta and Allan Carr 'Grease Day' Interview" and "Olivia Newton-John and Robert Stigwood 'Grease Day' Interview" clips are footage from the movie's premiere back in 1978. Travolta and Newton-John talk with TV personalities about how excited they are about the movie and their careers.

Paramount is on-and-off about theatrical trailers, but this disc has the movie's trailer as well as photo galleries of production stills.

Finally, there are previews for other Paramount DVDs (none of which, oddly, are musicals).

--Miscellaneous--
Paramount dressed up the keepcase with a mini "leather" jacket slipcover. Presumably, this is something that's being produced for the disc's earliest pressings. As per Paramount standards, the DVD does not have an insert--not even one that advertises other Paramount products.
---




DVD Menus
---
Screen Captures
---

Rydell Sing-Along (karaoke-style subtitles)
---
DVD Box Cover

CLICK to order from:

Distribution

Paramount

Region 1 - NTSC