| | |
| --- | --- |
| | S E A R C H D V D B e a v e r |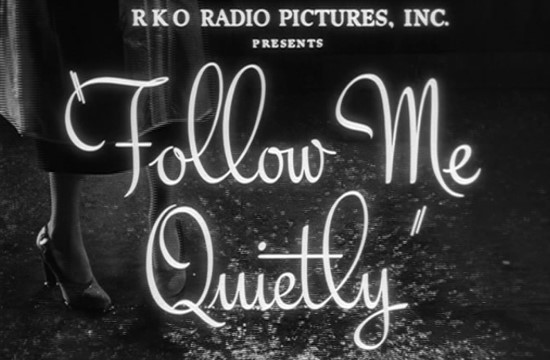 (aka 'Assassin sans visage')
Directed by Richard Fleischer and Anthony Mann (uncredited)
USA 1949
"This is the film that, above all, increased my knowledge of the trade. I learned how to organize a film," director Richard Fleischer said about Follow Me Quietly. The filmmaker learned well: his subsequent career included the film noir gem The Narrow Margin, the family favorite 20,000 Leagues Under the Sea and the sci-fi milestone Soylent Green. William Lundigan stars in Follow Me Quietly as a cop on the trail of an elusive serial killer who strikes when darkness and rain fall. Anthony Mann shares a credit for the story, a tale similar to his work (uncredited) on the previous year's He Walked by Night. Slip into the shadows (cinematography by The Body Snatcher's Robert de Grasse creates a sinister mood). Embrace the night. Follow into classic noir.
***
A mysterious killer, known only as "The Judge", kills anyone he considers worthless. Detective Harry Grant (Lundigan) is assigned to track him down. With just a handful of clues, Grant constructs a faceless dummy to help his men conduct their investigation.
****
Follow Me Quietly (1949) has a script partly by Anthony Mann, and the film is in the tradition of Mann's He Walked by Night (1948). Both films are semi-documentaries, focusing on the hunt for a lone serial killer. Both films have the regular police as their protagonists. Both films have somewhat similar police work. In both, the police finally get a clue to the killer's identity. This clue is followed up by much legwork. This allows the police to get closer and closer to the killer, progressing through inquiries at various institutions, and finally track him to where he lives. At the finale, the killer escapes the police net at his home, and winds up in a police chase through a Los Angeles industrial location.
Posters
Theatrical Release: July 7th, 1949

Reviews More Reviews DVD Reviews
DVD Comparison:
Editions Montparnasse - Region 2 - PAL vs. Warner Home Video (Warner Archive Collection) - Region 0 - NTSC
Editions Montparnasse - Region 2 - PAL LEFT vs. Warner Archive Collection - Region 0 - NTSC - RIGHT
Big thanks to Gregory Meshman for the Review!
DVD Box Cover

Distribution
Editions Montparnasse - Region 2 - PAL

Warner Home Video

Region 0 - NTSC

Runtime
:59:26
:59:56
Video
1.33:1 Aspect Ratio
Average Bitrate: 4.29 mb/s
PAL 720x576 25.00 f/s
1.33:1 Original Aspect Ratio
Average Bitrate: 7.63 mb/s
NTSC 720x480 29.97 f/s

NOTE: The Vertical axis represents the bits transferred per second. The Horizontal is the time in minutes.

Bitrate:

Bitrate:

Audio
English (Dolby Digital 1.0), DUB: French (Dolby Digital 2.0)
Dolby Digital Mono (English)
Subtitles
French, None
None
Features

Release Information:
Studio: Editions Montparnasse

Aspect Ratio:
Original Aspect Ratio 1.33:1

Edition Details:

• Serge Bromberg Intro (2:53) in French only

DVD Release Date: March 1st, 2006
Transparent Slim Keep Case
Chapters: 8

Release Information:
Studio: Warner Home Video

Aspect Ratio:
Fullscreen - 1.33:1

Edition Details:
• Theatrical trailer (1:42)

DVD Release Date: July 12th, 2011
Keep Case

Chapters 6
Comments:

ADDITION Warner Archive - Sept 2011: Follow Me Quietly finally got a US release as part of Made-On-Demand Warner's Archive Collection, and this single-layered disc features what looks like the same transfer for the film. Unlike older disc from France, Warner's DVD is progressive so there is an improvement in image quality (compare capture # 3). The sound is fine - the same mono audio, but per usual standard, there are no subtitles in any language. The lone extra is a brief theatrical trailer.

This Essential Noir via the Warner disc is recommended if it can be found at a reasonable price.

***

ON THE FRENCH DVD: A Montparnasse interlaced transfer that is quite sharp and surprisingly contrast levels are acceptably decent. The 'combing' is relatively fine but quite rampant. Audio, although unimpressive, was fairly consistent. No extras save mono-brow Bromberg's usual intro-praise (in French only).

Another instance where the film eclipses the DVD presentation but us Noir devotees will take what we can get. Positives are that the French subs are removable and the compact slim case. I have seen far worse transfers from Montparnasse and on a tube this will look quite acceptable. If you have the Noir bug - this should find a place in your DVD library.
---
DVD Menus

Editions Montparnasse - Region 2 - PAL LEFT vs. Warner Archive Collection - Region 0 - NTSC - RIGHT
---
Screen Captures
Editions Montparnasse - Region 2 - PAL
TOP
vs. Warner Archive Collection - Region 0 - NTSC -
BOTTOM
Editions Montparnasse - Region 2 - PAL TOP vs. Warner Archive Collection - Region 0 - NTSC - BOTTOM
---
Editions Montparnasse - Region 2 - PAL TOP vs. Warner Archive Collection - Region 0 - NTSC - BOTTOM
---
Editions Montparnasse - Region 2 - PAL TOP vs. Warner Archive Collection - Region 0 - NTSC - BOTTOM
---
Editions Montparnasse - Region 2 - PAL TOP vs. Warner Archive Collection - Region 0 - NTSC - BOTTOM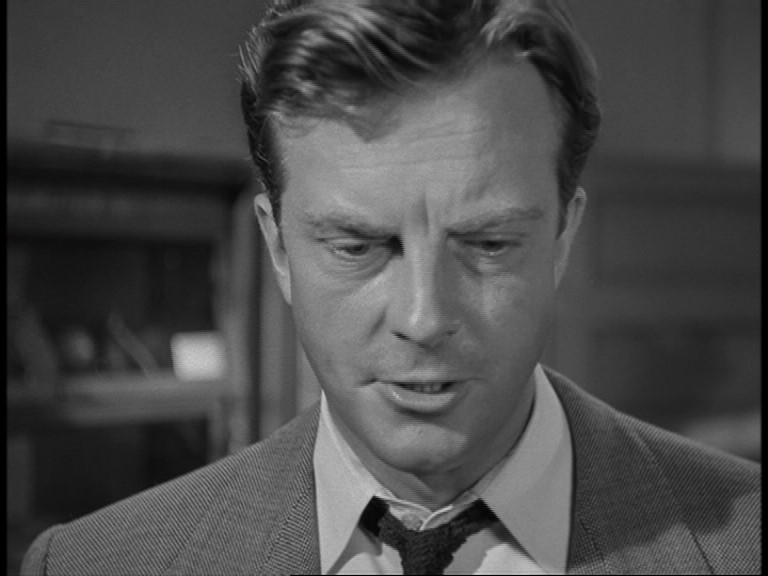 ---
Editions Montparnasse - Region 2 - PAL TOP vs. Warner Archive Collection - Region 0 - NTSC - BOTTOM
---
Editions Montparnasse - Region 2 - PAL TOP vs. Warner Archive Collection - Region 0 - NTSC - BOTTOM
---
Recommended Reading in Film Noir (CLICK COVERS or TITLES for more information)
The Dark Side of the Screen: Film Noir

by Foster Hirsch

Somewhere in the Night: Film Noir and the American City

by Nicholas Christopher

Shades of Noir: A Reader
by Joan Copjec
The Art of Noir: The Posters and Graphics from the Classic Era of Film Noir
by Eddie Muller
The Little Black and White Book of Film Noir: Quotations from Films of the 40's and 50's
by Peg Thompson, Saeko Usukawa
Film Noir
by Alain Silver
Film Noir Guide: 745 Films of the Classic Era, 1940-1959
by Michael F. Keaney
Detours and Lost Highways: A Map of Neo-Noir
by Foster Hirsch
DVD Box Cover

Distribution
Editions Montparnasse - Region 2 - PAL

Warner Home Video

Region 0 - NTSC