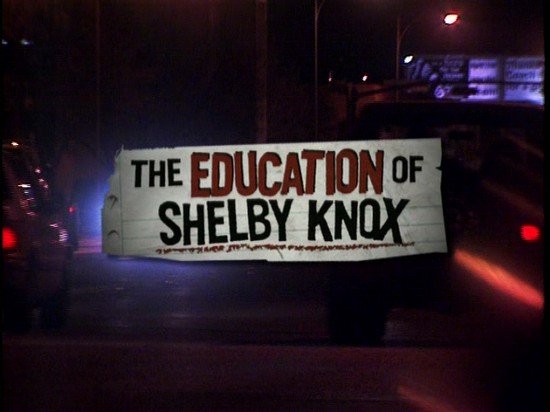 directed by Marion Lipschutz and Rose Rosenblatt
USA 2005
In the conservative Christian community of Lubbock, TX, school policy (in accordance with a state law passed by Governor George W. Bush) mandates that teachers' adhere to an abstinence-only program of sex education in the public schools. The program has produced the predictable results: the teen pregnancy rate in Lubbock is among the highest in the state, and STD rates have skyrocketed since the policy was implemented.

Shelby Knox, a fifteen year old student, is determined to do something about it. Along with other members of her student group, she battles the school board and local religious leaders to promote a more comprehensive sex education curriculum, one that begins with abstinence, but actually mentions other possibilities… even the dreaded condoms that local preacher Ed Ainsworth compares to a gun. Ainsworth lectures to local youth about the dangers of sex, and runs a program called True Love, a religious ceremony that bears a creepy resemblance to a wedding in which teens promise to remain pure of body until marriage. None of this sounds too crazy until we're granted an insight into Ainsworth's true feelings on the subject: "Sex is what dogs do outside on the corner." Man, has he been watching the wrong porn flicks.

The story is more about Shelby than about her public crusade. Raised as a devout Baptist with a father who agrees with "whatever the Republicans do," Shelby is tacking into a blistering headwind. Ainsworth tells her, in thinly-veiled terms, that she can't be a real Christian if she continues with her campaign. He shakes his head in despair because he senses "tolerance" from her and, as he proudly proclaims: "Christianity is the most intolerant religion in the world." Shelby's changing relationship with Ainsworth mirrors her own transformation; she grew up admiring him greatly, but now can't help but think that he's just too sure of himself. Shelby doesn't believe she has to choose between faith and tolerance, or faith and progress.

The film follows Shelby from her sophomore you until her senior year, and her maturation is impressive to behold. In fact, it's downright inspiring when the once-timid young woman stands up to an obnoxious prick from the local "family values" collation who tries to intimidate her and her friends into abandoning their campaign because, as he promises (threatens), nobody who matters in the community will support them. Unfortunately, he's right.

On the surface, the documentary seems like evidence that the blue state/red state dichotomy packaged by the mainstream media isn't far off-base. However, a closer look at the community reveals a real diversity of opinion, despite the fact that Shelby's mom notes: "I'm sure there's Democrats here… but I don't know any of them." The most interesting character of all is Shelby's died-in-the-wool Republican father. He obviously wishes his little girl would stop spending all her time with these "liberal" projects, but his love for her trumps ideology. He lends her his unqualified support even when he doesn't agree with her, though Shelby's support of a student gay rights' group sorely tests his paternal devotion (he passes.)

With so many reviews describing the movie as "inspiring," I was prepared to suffer through another after-school special masquerading as a documentary. Though the film does offer a few facile life lessons ("Everyone becomes their own person"), it never becomes too saccharine or simplistic. Shelby is not just some plucky "Norma Rae" style dynamo, but a teenager plagued by all the insecurities (and occasional petulant fits) that come with the territory. She's also tough, smart, and determined. Anyone who likes to grumble about how kids today just don't care about anything needs to watch this movie.

PROGRAMMING NOTE: One scene in the film shows Fred Phelps (of GodHatesFags fame) and his idiot followers arriving in town to protest a gay student group. The shot of a blankly-smiling woman parading around with her "AIDS Cures Fags" sign should be mandatory viewing for all Americans. It's not just Middle Eastern terrorists who "hate our freedom."

Theatrical Release: June 21, 2005 (USA)
Reviews More Reviews DVD Reviews
DVD Review: New Video - Region 1 - NTSC
Big thanks to Christopher Long for the Review!
DVD Box Cover

CLICK to order from:

Distribution

New Video

Region 1 - NTSC

Runtime
76 min.
Video

1.33:1 Original Aspect Ratio
Average Bitrate: 6.52 mb/s
NTSC 720x480 29.97 f/s

NOTE: The Vertical axis represents the bits transferred per second. The Horizontal is the time in minutes.

Bitrate

Audio
Dolby Digital Stereo
Subtitles
None
Features
Release Information:
Studio: New Video

Aspect Ratio:
Fullscreen - 1.33:1

Edition Details:
• Bonus Featurette

DVD Release Date: 09-26-2006

Chapters 10
Comments
Unfortunately, this is a non-progressive transfer with some significant problems with combing (see example below which is from the beginning of a camera swish pan). Almost any motion, whether a camera movement or movement within the frame, produces this digital blurring effect. As long as nobody is moving, though, it looks just fine - so only acceptable for tube viewing.

The Bonus Featurette is really just a short outtake reel (just over 4 min.)

"Shelby Knox" is another worthy Docurama release from the POV series.
---




DVD Menus
---
Screen Captures
---

Example of combing as camera pans.