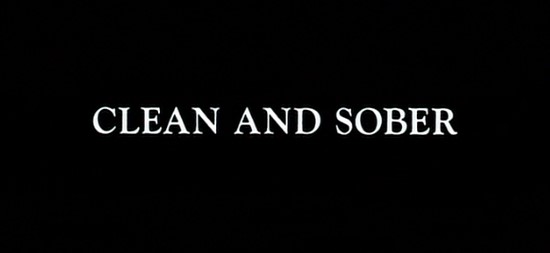 directed by Glenn Gordon Caron
USA 1988
A film about confessions and personal honesty - so its time I did as well. Although I can't directly relate as substance abuse has never been a problem with myself or any of my immediate family members this film is one of my absolute favorite movies of all time. I've seen it at least 8 times - the characters lines and gestures are virtually memorized - yet I continue to extol it - marveling at each subsequent viewing. As far as addiction films go - this, in my opinion, is the best ever made on a large screen - eclipsing everything past the unforgettable performance by Milland in Wilder's The Lost Weekend to Lemmon and Remick's tearful Days of Wine and Roses and further beyond to the intensely graphic Requiem for a Dream. It at least deserves strong mention in this respective category.

Firstly the performances - I've always rated Michael Keaton as an incredibly competent actor, add-in Kathy Baker, Morgan Freeman, M. Emmet Walsh - who require no hyperboles as to their unselfish talents... but it is those under-recognized performances that root Clean and Sober to its high acclaim. The dependency problem of Keaton's character builds momentum - encouraged by the total ignorance of his own addiction - smooth talking Daryl Poynter enters a rehabilitation clinic as a refuge to avoid legal (girl OD'ing in his bed) and fiduciary responsibilities (embezzling money for cocaine) in his life that have escalated to be totally unmanageable. He has no idea he is an alcoholic or drug addict, and what he fears, prior to checking in, is not giving a realistic enough representation of one to allow entry to the facility. The clinic's usually unkempt councilor, played by Freeman, is about as perfect casting as I can ever remember - he is so believable that if you didn't know him as an actor you would swear it was his chosen profession. Clean and Sober may gel so well because of the awesome supporting cast - Walsh, Baker, Freeman - who parallel the support Daryl Poynter requires. Keaton walks the line between a vacancy in his always reliable charisma and desperate selfishness to ease his current load - if only temporarily. This is a man who has burned all his bridges and has no energy left to build more. The scene of his late night desperation phone call to his mother is indelibly printed on my memory banks - its morose impact weighs heavily on me to this day. All-in-all this is Keaton's film - appearing in pretty much every frame - and advancing his character through a minefield of emotions from moral bankruptcy to baby-steps toward redemption.
Strangely, director Glenn Gordon Caron, his first feature effort, never returned to dramatic cinema - making a string of light comedy films and then moving onto to TV.

Obviously, my lofty perceptions are not shared by many although most critics do rate Clean and Sober quite highly. I'll go one step further with a resounding

out of

, perhaps in an effort to balance the scales - although it is easily worth it in my opinion. Don't miss under-appreciated gem of character-driven cinema.
Gary Tooze
Poster
Theatrical Release: August 10th, 1998
Reviews More Reviews DVD Reviews
DVD Comparison:
Warner
- Region 1 - NTSC vs. Warner - Region 2,4 - PAL
(Warner - Region 1 - NTSC LEFT vs. Warner - Region 2,4 - PAL RIGHT)
DVD Box Cover

Distribution

Warner

Region 1 - NTSC

Warner

Region

2,4 - PAL
Runtime
2:04:00
1:59:00

Video

1.33:1 OpenMatte/ cropped
Average Bitrate: 4.30 mb/s
NTSC 720x480 29.97 f/s

1.75:1 Aspect Ratio

16X9 enhanced
Average Bitrate: 4.57 mb/s
PAL 720x576 25.00 f/s

NOTE: The Vertical axis represents the bits transferred per second. The Horizontal is the time in minutes.

Bitrate : NTSC

Bitrate: PAL

Audio
English (Dolby Digital 2.0 Mono)
English (Dolby Digital 2.0)
Subtitles
None
English, None
Features
Release Information:
Studio: Warner

Aspect Ratio:
Open Matte / cropped - 1.33:1

Edition Details:
• none

DVD Release Date: June 1st, 1998
Snapper case

Chapters 34

Release Information:
Studio: Warner

Aspect Ratio:
Widescreen anamorphic - 1.75:1

Edition Details:
• none


DVD Release Date: November, 2003
Transparent Keep Case

Chapters

34
Comments
I have owned the NTSC (dreaded snapper case) version for years patiently waiting for it to surface in widescreen and the PAL release was a bit of a non-event. The image is better - being both widescreen and anamorphic but as the NTSC is a cross between Open Matte and cropped image there is not a massive amount of information left behind. The PAL is at about 1.75 ratio meaning it may have been slightly cropped from its theatrical 1.85 - in fact composition looks quite tight in the PAL release. I, of course, prefer the widescreen for the theatrical feel, but technically it might not be a deal-breaker for some who are indifferent. It was, however, composed for widescreen and that should be the preferred manner for viewing.

Image detail/sharpness of the Region 2,4 is about on par with the NTSC which may have a very slight edge depending on the system viewed. With the PAL being anamorphic it will undoubtedly look far superior on a upscale system. The PAL is also slightly brighter and does offer optional English subtitles - which are advertised on the NTSC menu - but I couldn't get them to function. Slight damage marks are the same.

No extras at all - another shame but, I suppose, the films perception and reputation doesn't deserve it. I for one, would love a director commentary with Keaton and some cast interviews but looks like I will be SOL.

The film continues to improve for me with repeat viewings - highly performance and character driven - I regard it as a minor masterpiece.
---
DVD Menus

(Warner - Region 1 - NTSC LEFT vs. Warner - Region 2,4 - PAL RIGHT)
---
Screen Captures
Subtitle Sample: Only PAL edition has subtitles
---
(Warner - Region 1 - NTSC TOP vs. Warner - Region 2,4 - PAL BOTTOM)
---
(Warner - Region 1 - NTSC TOP vs. Warner - Region 2,4 - PAL BOTTOM)
---
(Warner - Region 1 - NTSC TOP vs. Warner - Region 2,4 - PAL BOTTOM)
---
(Warner - Region 1 - NTSC TOP vs. Warner - Region 2,4 - PAL BOTTOM)
---
(Warner - Region 1 - NTSC TOP vs. Warner - Region 2,4 - PAL BOTTOM)
---
(Warner - Region 1 - NTSC TOP vs. Warner - Region 2,4 - PAL BOTTOM)
---
(Warner - Region 1 - NTSC TOP vs. Warner - Region 2,4 - PAL BOTTOM)
---
(Warner - Region 1 - NTSC TOP vs. Warner - Region 2,4 - PAL BOTTOM)