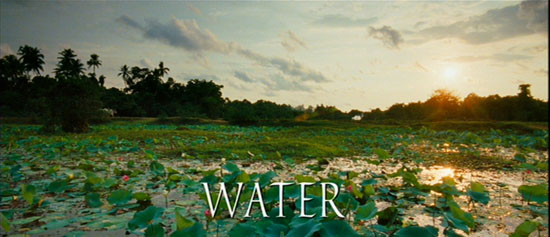 (aka "River Moon (Canada)" )
directed by Deepa Mehta
Sri Lanka 2005
I know little more than three things about Indian cinema: (1) I'm aware of Satyajit Ray's celebrated contributions to film ("Pather Panchali," 1955) and his co-founding of the Calcutta film society; (2) I've heard of actor John Abraham ("Body," 2003) and actress Lisa Ray's ("Bollywood/Hollywood," 2002) reputations in Bollywood as potential crossover stars; (3) and lastly, I've intently followed the completion of Deepa Mehta's Elemental Trilogy, which consists of "Fire" (1996), Earth (1998), and the recently released "Water" (2006).

Almost immediately, you'll probably notice the inconsistent gaps between the release of Mehta's films; particularly obvious is the eight years between her second and third instalments to the trilogy. The reason behind the delay is the formation of extremist groups consisting of Hindu fundamentalists who were concerned for the potential negative implications that could branch from the release of "Water." Fearing that the film may negatively convey their religion, these extremist groups immediately mounted a protest against the film that included verbal death threats against Mehta, the destruction of carefully designed sets, and the corruption of government support. Unfortunately, these attacks were based largely on the controversy that stemmed from Mehta's previous films "Fire" and "Earth," and a doctored script that surfaced upon announcement of the film's production. Mehta attempted to clarify that her film would not directly attack present Hindu traditions, but her efforts hardly eased the bitter and relentless harassment.

The original production of "Water" began in India in 2000 and due to the aforementioned issues was postponed for several years. Mehta would move on to other projects ("Bollywood/Hollywood" and "The Republic of Love," 2003), but always maintained her intent to finish her trilogy. In light of the controversy, Mehta decided to relocate the shooting to Sri Lanka. But, to begin production again, Mehta was forced to re-secure a sufficient budget and, in light of the time that had past, recast a considerable portion of the characters. Most notably, in the time since her first attempt at the film, Mehta encountered the work of actor John Abraham who she thought might fit the leading male role in her film. She also worked closely with actress Lisa Ray in "Bollywood/Hollywood" and developed a respect for Ray's humanist interests. Abraham and Ray were eventually cast in "Water" and the film's seemingly unfortunate past was in many ways a blessing for the film's development.

Mehta's film concerns an issue that has long been present in India--the mistreatment of Hindu widows. Set in 1938 against British colonialism and Gandhi's increasing influence over India, the film follows a series of widows at an ashram located amidst poverty and changing streams of thought. Unfortunately for the widows, the rethinking of traditional customs has yet to affect their way of life. By Hindu law, when a married man passes on, a portion of his wife dies with him. Effectively, widows must face one of three consequences: they must (1) accept the fate of their husband and perish by his side during his funeral; (2) marry his younger brother (provided that he has one); or (3) assume banishment to an ashram for the remainder of their life. Once placed in an ashram, the widows are treated with hostility by the majority of society and seen as little more than bad luck.

The film centers on how widows of different ages, maturity, backgrounds, and personalities deal with their hopelessly limited fate at a single ashram. Chuyia (Sarala) is an eight-year-old widow who is initially unable to comprehend her future and questions her religion and placement at the ashram. Alternately, Chuyia's youthful spirit inspires the other woman with liveliness and affection. Kalyani (Ray) is a beautiful young woman forced into prostitution to earn money for herself and an older, manipulative widow, Madhumati (Manorama). But, Kalyani's beauty catches the interest of a Gandhi disciple (Abraham) and the mutual attraction sparks a forbidden romance between a widow and a commoner. The religiously-minded Shakuntala (Seema Biswas) is a mother figure for Chuyia and Kalyani and provides them with direction and support; Shakuntala is literate, unlike many of the other widows. Chuyia and Kalyani are the primary figures in the film and from their friendship stems happiness and unexpected disappointments. Given their younger ages, both have the most to learn from life.

"Water" is shot in glorious tints of green and blue by cinematographer Giles Nuttgens, who collaborated with Mehta on her previous films, "Fire" and "Earth." As stated in the special features, Mehta wanted to contrast the stark unpleasantness of the widow's existence in the ashram with visual beauty. Nuttgens' able hand in experimenting with lighting has accomplished Mehta's vision and provided the film with a stunning palette of colors. His approach is most interesting because of the improvisational technique he and Mehta mastered over the course of the film's production. Rather than storyboarding the film with precise framing prior to shooting, Nuttgens would base his framing on the atmosphere Mehta created with the actors during rehearsals. The decision to supplement the gloom of the widow's lives with beautiful cinematography is often questionable throughout the film--especially if one desires an entirely realistic vision of India's slums. But, in choosing to shoot the film in such a way, Mehta only enhances her decidedly hopeful themes.

Mehta capably shifts her focus from the assorted widows to outsiders (religious influences and various plebeians) in an attempt to provide a more rounded understanding of the women's mindsets and their views towards faith. In doing so, "Water" becomes a spiritually challenging pursuit for truth and confirmation in one's beliefs. But the powerful performances Mehta coaxes from her leads, lend an emotional wallop to the story. "Water" may be a few notches removed from a great film, but it's among the best I've seen thus far in 2006 and I highly recommend it.

As many other reviewers have, I've focused my review primarily on the difficulty that Mehta faced in directing this film because of the impressive persistence and determination she has clearly shown in completing "Water." It is one thing to create a good film, but it's entirely something else to create something of importance amidst substantial protest. Mehta had her share of supporters, who attempted to promote the completion of her film. Most famously, George Lucas publicly denounced the negative controversy surrounding "Water" in an issue of Variety magazine. But ultimately, it was Mehta's commitment to social commentary that inspired the talented director to finish "Water" and given the film's accomplishments in both technique and message, I'm pleased she did so.

Posters
Theatrical Release: September 8th, 2005 (Toronto International Film Festival)
Reviews More Reviews DVD Reviews
DVD Review: 20th Century Fox - Region 1 - NTSC
Big thanks to Kurtis Beard for the Review!
DVD Box Cover

CLICK to order from:

Distribution

20th Century Fox

Region 1 - NTSC

Runtime
1:57:12
Video

2.34:1 Original Aspect Ratio

16X9 enhanced
Average Bitrate: 7.52 mb/s
NTSC 720x480 29.97 f/s

NOTE: The Vertical axis represents the bits transferred per second. The Horizontal is the time in minutes.

Bitrate

Audio
Dolby Digital 5.1 (Hindi)
Subtitles
English, Spanish, none
Features
Release Information:
Studio: 20th Century Fox

Aspect Ratio:
Widescreen anamorphic - 2.34:1

Edition Details:
• Commentary with Director Deepa Mehta
• Behind-the-Scenes (21:13)
• The Story Behind the Making of Water (4:16)

DVD Release Date: Aug. 29, 2006
Keep Case

Chapters 24
Comments
Video:

"Water" is presented in the original aspect ratio of 2.35:1. Colors are crisp and purposely tinted in hues of green and blue throughout the film. Shadows and darkness are contrasted impeccably in this impressive transfer from Fox. I didn't notice any instances of damage (no scratches, blemishes nor dirt). Another DVD is available from Mongrel Media, but having never seen the transfer, I cannot comment on its quality compared to Fox's work here. Regardless, you'd be hard pressed to find an improvement on this pristine image.

Audio:

Audio is presented in the form of a crisp Hindi Dolby Digital 5.1 track. Sound effects are well contrasted with the beautifully rendered musical compositions from Mychael Danna. I prefer the crisp white subtitles found here over the ugly yellow ones often used elsewhere. I've heard complaints over the size of the subtitles, but I had no such problem. Again, Mongrel Media's DVD may be of interest here. In their 2-Disc Special Edition, they've provided an alternative version of the film that was shot at the same time by Deepa Mehta in English by the same cast. I could see this version interesting viewers who would prefer to avoid subtitles and dubbing, but personally, I always favor audio tracks in native languages for their more naturalistic feel. Mongrel Media's DVD also has a DTS track so be advised that alternative and perhaps more enhanced audio tracks exist elsewhere.

Extras:

In an excellent director's commentary, Deepa Mehta speaks fluently and succinctly about the topic of her film and a number of other aspects about production. The information Metha offers about religion is especially insightful and I walked away with a great deal of knowledge that I may have never found elsewhere. This is a fine commentary and Mehta is a pleasure to listen to.

The "Behind-the-Scenes" extra is a relatively good featurette, albeit some information is repeated from the commentary. Cast and crew interviews are interesting and I particularly enjoyed listening to the beautiful Lisa Ray speak about her experience and approach to the film. Mehta, again, offers a wealth of information about various stages of production. This extra also shows interaction between the director and cast/crew on set, which is rather valuable for fans of the film and Mehta.

Finally, the "The Story Behind the Making of Water" featurette is brief and very much in the vein of EPK material. For those who are looking for insight into the film and production, stick to the other extras.

Here, in the extras department, Fox's DVD fails to match Mongrel Media's release, which offers additional featurettes and interviews. But, given what Fox offers, this is still a fine DVD release.
---




DVD Menus
---
Screen Captures
Subtitle Sample
---