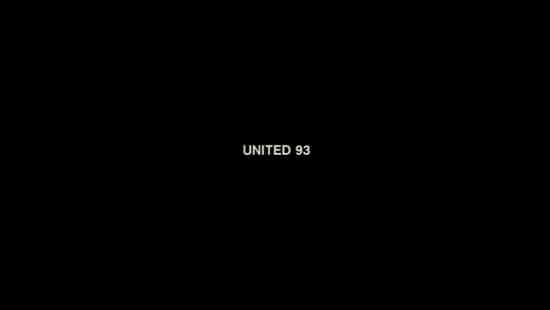 directed by Paul Greengrass
USA 2006
It is always "too soon" for movies like Pearl Harbor, even when they are made fifty or sixty years after the historical tragedies that they depict. It is NEVER "too soon" for movies like United 93, which was released five years after the 11 September 2001 terrorist attacks on the United States. The difference between movies like Pearl Harbor and movies like United 93 lies in their attitudes and approaches. Pearl Harbor is about a love triangle that was inconvenienced by WWII. United 93 tackles its subject matter head on with a minimum of BS.

11 September 2001 is a very American experience, yet ironically, the two best movies about that terrible day--the documentary 9/11 and United 93--were directed by non-Americans.

What's startling about British producer/director/writer Paul Greengrass's approach is that the sheer objectivity of his presentation of facts allows for the facts to speak their own analysis of what happened on that day. Greengrass doesn't impeach Islamic fundamentalists or George W. Bush & Co. Greengrass simply shows us a series of events that happened on 11 September, and it's surprising how unnerving pure, straight facts can be. None of the haranguing in Michael Moore's Fahrenheit 9/11 and none of the sentimentality in Oliver Stone's World Trade Center cloud the issues or this movie.

Yes, yes, a lot of what's shown in the movie is based on inferences about what happened on United 93, but we also see what happened in various air-traffic control centers and military command centers across the U.S. Clearly, America was caught off guard. Who's to blame? Everyone.

Greengrass spent most of his early career making TV documentaries about social issues in the UK. He attracted international attention with Bloody Sunday, a harrowing re-creation of British military response to civil-rights marchers in Northern Ireland. Although Greengrass went Hollywood with The Bourne Supremacy, he gave the Bourne series his no-nonsense sensibilities. It is a measure of how much confidence that Universal has in Greengrass that studio heads want him to direct the third instalment in the Bourne series despite his use of disorienting camera movements (usually a no-no according to classical Hollywood cinema rules). Universal also financed United 93.

United 93 has the same intense immediacy as Bloody Sunday and The Bourne Supremacy. Greengrass has a knack for propulsive rhythms that aren't forced. Rather, you simply feel the director's urgency in trying to convey an important message and to give viewers a sense of what it's like to be caught up in history as it happens. Greengrass's methodology is especially successful in capturing the essence of actions and re-actions that take place during moments that preclude deliberation. For example, Ben Sliney had the extraordinary responsibility for guaranteeing the safety of every airplane over American skies; he had to have nerves of steel to make the decision to shut down all air traffic on 11 September. Likewise, look at how Greengrass depicts the passengers on United 93. They only have snippets of information gleaned from telephone conversations with telecommunications operators and bewildered friends and relatives. The passengers had to determine the right course of action in a compressed time frame. There was no time for false speechifying, and as actions speak louder than words, Greengrass makes it clear that the United 93 passengers spoke louder than anyone else by not wasting words.

Oftentimes, we are haunted by a powerful movie's first and final images. United 93 is no exception. The last sequence involving the passengers' counter-attack against the terrorists was really the free world's first strike against fundamentalist terrorists. The passengers' collective action was our collective refusal to be cowed by criminals who aren't afraid of die. In the face of fatalistic determinism, the strongest response is the will to live. Still, I was stunned by the ending's forceful finality.

United 93 was released on 28 April 2006, and I saw it on opening day. I immediately declared it the Best Movie of 2006, and no matter what else is released this year, United 93 will remain the Best Movie of 2006. It may seem irrelevant (or even inappropriate) for me to mention United 93 in terms of movie awards, but I still hope that it will be honored as a stunning cinematic achievement in addition to what it accomplishes as a moral act of remembrance and reflection. Here's my dream list:

Picture
Director - Paul Greengrass
Screenplay - Paul Greengrass
Supporting Actor - Ben Sliney (playing himself)
Supporting Actress - Trish Gates (as Sandra Bradshaw the blonde stewardess)
Cinematography - Barry Ackroyd
Editing - Clare Douglas and Christopher Rouse
Score - John Powell
Sound Mixing
Sound Editing

Hollywood's major movie studios are in the movie business in order to make money. While the studios won't go out of their way to lose money intentionally, sometimes, they remember what it means to contribute something meaningful to the human experience. United 93 is one such contribution.
Posters
Theatrical Release: 28 April 2006
Reviews More Reviews DVD Reviews
DVD Review: Universal (2-Disc Limited Edition) - Region 1 - NTSC
Big thanks to Yunda Eddie Feng for the Review!
DVD Box Cover

CLICK to order from:

Distribution

Universal

Region 1 - NTSC

Runtime
111 min
Video

2.35:1 Original Aspect Ratio

16X9 enhanced
Average Bitrate: 6.67 mb/s
NTSC 720x480 29.97 f/s

NOTE: The Vertical axis represents the bits transferred per second. The Horizontal is the time in minutes.

Bitrate

Audio
Dolby Digital 5.1 English, Dolby Digital 5.1 French, Dolby Digital 5.1 Spanish
Subtitles
Optional English, French, and Spanish
Features
Release Information:
Studio: Universal

Aspect Ratio:
Widescreen anamorphic - 2.35:1

Edition Details:
• audio commentary by Paul Greengrass
• United 93--The Families and the Filmmakers documentary
• Memorial Pages
• trailer for Twin Towers
• Chasing Planes--Witnesses to 9/11 documentary

DVD Release Date: 5 September 2006
slim double keepcase

Chapters 20
Comments
Video:
Despite the cramped settings of airplane interiors and command centers, Paul Greengrass opted to use scope lenses for United 93. The picture has been transferred to DVD as a 2.35:1 anamorphic widescreen image. Despite Greengrass's obvious preference for grainy film stock drained of color (see Bloody Sunday and The Bourne Supremacy), United 93 looks "normal" with everyday colors and a sharp, clear transfer of film with minimal grain. The video appears to be a progressive transfer.

Audio:
The Dolby Digital 5.1 English track is an exceptional showcase for subtle, artful sound mixing and editing. The viewer is completely surrounded by people immersed in dialogue and phone conversations, but nothing sounds gimmicky. Rather, the viewer simply inhabits a natural-feeling audio environment. Ambient noises, such as the muffled atmosphere of an airplane cabin, are well-reproduced.

You can watch the movie with DD 5.1 French and DD 5.1 Spanish tracks. You can also watch the movie with a DD 2.0 surround Descriptive Video Service (DVS) track, though this audio feature is meant for people with severe eye conditions. Optional English, French, and Spanish subtitles support the audio. ("Hard" English subtitles appear during some sequences with Arabic dialogue.)

Extras:
--Disc 1--
First up is an audio commentary by producer/director/writer Paul Greengrass. Greengrass, ever socially conscious, has been deeply affected by 11 September and its aftermath. While the movie itself doesn't draw comparisons or analogies to other events, in his commentary, Greengrass describes the movie's final moments as how he perceives the world today and discusses our need to get a grip on our grasp of the situation before continued ignorance and confusion wreak irreversible chaos.

"United 93--The Families and the Film" is an excellent hour-long documentary about the moviemakers' efforts to engage the participation of the passengers' families. We see the actors meeting the relatives of the people they portray in the movie, and we see how the families help each other cope with their intense grief. Finally, we see the families' reactions to the movie. One interviewee says that she doesn't understand why people say it's "too soon" to make a movie about 11 September; for her, it's "not soon enough".

"Memorial Pages" is a collection of text pages that provide biographical information about the United 93 passengers.

Finally, there is a trailer for Twin Towers, a short movie that won an Oscar for Best Documentary Short Subject.

--Disc 2--
"Chasing Planes--Witnesses to 9/11" is an hour-long documentary about civilian and military efforts to deal with planes that went missing on 11 September 2001. During the mass of dis-order and panic, people monitoring the skies lost track of several aircraft, and the crisis was compounded by the fact that the 11 September attacks had hijackers who took direct control of airplanes (in the past, hijackers held pilots at gunpoint rather than piloting airplanes themselves). The documentary includes interviews with actual civilian and military authorities who were working on 11 September; among these are people who played themselves in United 93.

--Miscellaneous--
An insert advertises two other movies about 11 September. The package also has a cardboard slipcover that duplicates the keepcase's artwork. I'm glad that the front cover art is different from the American poster art, which had an airplane flying somewhere near the Statue of Liberty even though United 93 was nowhere near the Statue.
---




DVD Menus
---
Screen Captures