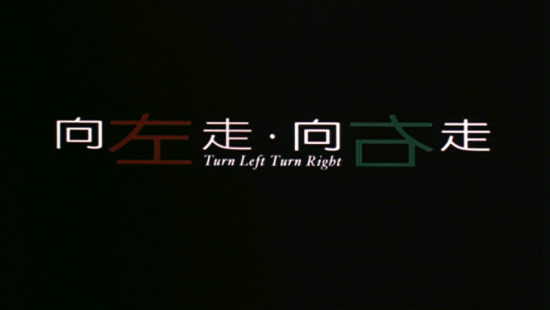 (aka "Turn Left, Turn Right" or "Xiang Zuo Zou Xiang You Zou" or "Heung Joh Chow Heung Yau Chow")
directed by Johnnie To and Wai Ka Fai
Hong Kong-Taiwan 2003
Last year, I literally traveled around the world, starting in Los Angeles after two years there for grad school and traveling eastwards to Austin, Texas; New York City, New York; England; Paris, France; Switzerland; Germany; Austria; China; The Philippines; Hong Kong; Los Angeles again; and stopping in Austin, which is "home" for now. During this trip, I worked for five months in Shanghai, China. While in China, I decided to immerse myself in various aspects of Chinese culture, from the ancient (visiting the Forbidden City and the Great Wall) to the contemporary. One day, while shopping in a Wal-Mart-style hypermarket, I bought a Chinese pop music CD. Since I had no idea who was whom, I picked a CD with a pretty girl on the cover; even if the music sucked, at least I could look at a beautiful face.

Well, the artist in question turned out to be Gigi Leung (Leung Wing-kei/Leung Yong-qi), a Hong-Kong singer who frequently appears in movies, too. I liked her singing so much that I bought as many of her albums as I could, and I started watching her movies, too. To be honest, her acting range is limited, but she is adorable when she plays silly, frantic, hapless girls. Gigi is very energetic, which is apparent in the physical comedy that she employs (she's 5-foot-8.5-inches tall, and she frequently flails her long arms and legs to humorous effect). As far as I'm concerned, the best showcase for Gigi's charming screen persona is Turn Left Turn Right.

In Turn Left Turn Right, a violinist (Takeshi Kaneshiro) and a literature translator (Gigi Leung) inhabit the same spaces but never quite seem to meet in Taipei, Taiwan. Ironically, their situation is reflected by a Polish poem that the translator loves reciting to herself and to stray cats. One day, the two young artists manage to have a conversation in a park before a thunderstorm separates them. They exchange phone numbers, but the numbers are smeared by the rain. Thus begins their odysseys to find each other again.

Turn Left Turn Right is the second big-screen pairing of Takeshi Kaneshiro and Gigi Leung as romantic leads, the first one being Tempting Hearts. Tempting Hearts features a love triangle, but this movie has a love square as both the violinist and the translator have annoying suitors pursuing them. The annoying suitors are wild, uncouth, undisciplined brats who are--surprise, surprise--perfect for each other.

Turn Left Turn Right will remind some viewers of Serendipity, in which Kate Beckinsale's character intentionally stays away from John Cusack's character in an incomprehensible test of whether or not they are fated to be together. I remember Roger Ebert calling Beckinsale's character something along the lines of "psychotic". In Turn Left Turn Right, the fate is "real" rather than forced and manufactured, though the characters have to overcome obstacles beyond their control before they can be together.

Turn Left Turn Right was directed by Johnnie To and Wai Ka Fai. Johnnie To is best-known for directing hard-boiled thrillers like PTU, Breaking News, and Election. However, Turn Left Turn Right is not really a director's movie. For one, the material, the look, the tone, and the feel are so different from To's usual output that this is almost unrecognizable as a "Johnnie To" movie (the only visual clues are the cameos by actors who appear regularly in To's other projects). Undoubtedly, the visual style was heavily influenced/dictated by Jimmy Liao's illustrated storybook of the same title, which was the basis for this movie's script. I would venture to say that Johnnie To was a metteur rather than an auteur when working on Turn Left Turn Right--that is, Turn Left Turn Right the book is so popular in Chinese-speaking territories that the director transposed the book to film rather than exercising authorial control over the production in order to transcend the story's book origins.

Nevertheless, Turn Left Turn Right the movie is a successful, enjoyable adaptation of its source. One key advantage that the movie has over the book is the sound dimension. The main male character is a violinist, and unless the reader is a connoisseur of classical music, it's not easy to "understand" why certain pieces of music are so important to the characters. On the other hand, a movie's soundtrack can reproduce Edward Elgar's violin solos for viewers, thereby deepening the audience's emotional connection with the story. The music score is so spot-on that it was nominated for a Golden Horse (Taiwan's equivalent of the Oscar). Also, Gigi sang several sweet and aching love songs, and "At the Carousel" won a Golden Horse for Best Original Song.

The performances are the movie's other key strength. Kaneshiro and Gigi were cast because they are physically-attractive stars, but that kind of casting that makes sense for a romantic dramedy. They generate real chemistry even though they're kept apart for most of the movie (shades of Sleepless in Seattle).

I was surprised by Takeshi Kaneshiro's performance. Previously, I had seen him in only House of Flying Daggers, in which he played a carousing frat boy so well that I thought that he might be one in real life. After some Internet searches, I found out that he's rather shy and reserved, and his Turn Left Turn Right character's quiet, introverted behavior reflects his real persona. In fact, the character's painfully awkward personality compels viewers to root for the guy to find love finally.

Gigi is second-billed because she's primarily known as a singer rather than as an actress. Nevertheless, it can be argued that her character has to carry the movie. Like Krzysztof Kieslowski's movies about fate and chance, Turn Left Turn Right is anchored by a strong female presence. Since she is a fan of Polish romantic poetry (another Kieslowski connection!), the translator often articulates the movie's themes as well as the characters' hopes and dreams. Also, Gigi's character is not as withdrawn as Kaneshiro's, so the actress's expressive yearnings will break your heart.

Understandably, the movie's second half is rather sad and melodramatic as it appears that the lovers will never see each other again. However, most of the movie is rather bouncy and funny. The supporting players use over-the-top stereotypes without becoming offensive; they generate laughs because their caricatures of self-centered Taiwan urbanites ring true.

Aside from lightheartedly tackling themes that Kieslowski explored with serious earnestness in The Double Life of Veronique and the Three Colors Trilogy, Turn Left Turn Right can be viewed as a celebration of Taipei itself. Flashbacks to the protagonists' childhoods reveal how carefree life is for Taiwan's young students. The cameras show only the positive effects of Asian capitalism, from well-tended parks to shiny mass-transit trains, from inviting neighborhoods to picturesque shopping districts at night.

(Note: Takeshi Kaneshiro's name written in kanji has three characters, so Chinese-speaking people refer to him by his "Chinese" name Jin Chengwu. Kaneshiro is half-Japanese/half-Chinese, and he grew up in Taiwan. He also attended Taipei American School, which explains why he can speak Japanese, Mandarin Chinese, and English.)
Posters
Theatrical Release: 11 September 2003 (Hong Kong)
Reviews More Reviews DVD Reviews
DVD Review: Warner - Region 3 - NTSC
Big thanks to Yunda Eddie Feng for the Review!
DVD Box Cover

CLICK to order from:

Thinking of buying from YesAsia? CLICK HERE and use THIS UPDATED BEAVER PAGE to source their very best...

Distribution

Warner

Region 3 - NTSC

Runtime
102
Video

1.85:1 Original Aspect Ratio

16X9 enhanced
Average Bitrate: 7.73 mb/s
NTSC 720x480 29.97 f/s

NOTE: The Vertical axis represents the bits transferred per second. The Horizontal is the time in minutes.

Bitrate

Audio
Dolby Digital 5.1 Mandarin Chinese, Dolby Digital 5.1 Cantonese Chinese
Subtitles
Traditional Chinese, Simplified Chinese, English
Features
Release Information:
Studio: Warner

Aspect Ratio:
Widescreen anamorphic - 1.85:1

Edition Details:
• making-of featurette
• two music videos
• two theatrical trailers
• two TV commercials

DVD Release Date: 10 December 2003
Transparent Keepcase

Chapters 20
Comments
NOTE: A reader wrote to me about the possibility of the "Turn Left Turn Right" video being taken from a PAL master. I see ghosting from time to time if I step-frame through the movie, but during normal playback, it's difficult to determine if there is any speed-up.

Video:
The film has been transferred to DVD with its original 1.85:1 widescreen ratio (with anamorphic enhancement). The cute mise-en-scene compositions and bright, cheerful color schemes are slightly undone by the use of interlaced scanning (either at the source or during the transfer). Also, edge-enhancement was probably used on the transfer, which should explain the ringing blobs that appear around some objects (and some subtitles). Otherwise, the picture is generally sharp and free of print damage.

Audio:
The DVD has two primary audio tracks: Dolby Digital 5.1 Mandarin Chinese and Dolby Digital 5.1 Cantonese Chinese.

Since the 1950s, most movies shot in Hong Kong and Taiwan were produced with both Mandarin and Cantonese audio tracks simultaneously in order to appeal to audiences in both territories as well as overseas Chinese, most of whom spoke either Mandarin or Cantonese. This trend continues with Hong-Kong movies shot since 1997 as Hong-Kong movies need Mandarin tracks in order to be easily-understood by the rest of China. As such, both the Mandarin and the Cantonese tracks can be considered the "original" audio experience.

The choice is really up to the viewer on a movie-by-movie basis. In the case of Turn Left Turn Right, on one hand, the movie is set in Taiwan (where people speak Mandarin), and the two leads speak their own Mandarin dialogue. On the other hand, Gigi Leung also recorded her dialogue in Cantonese, and most of the other cast members are from Hong Kong and spoke their dialogue in Cantonese (they were dubbed by voice actors for the Mandarin track). I usually watch this movie in Mandarin since the movie is set in Taiwan and since Kaneshiro was probably dubbed for the Cantonese track.

This is a dialogue-driven movie, with the actors' voices emanating mostly from the center speaker (no surround gimmicks). A thunderstorm disperses a few sound effects to the other speakers, and an earthquake kicks the subwoofer into gear with decent bass. Still, most surround activity is courtesy of the music score, and the audio tracks are very pleasant listening.

Optional Traditional Chinese, Simplified Chinese, and English subtitles support the audio.

Extras:
The most-substantive extra is a "making of" featurette that has interviews with Takeshi Kaneshiro and Gigi Leung as well as behind-the-scenes/on-set footage and clips that did not make it into the final cut of the movie.

There are music videos for the songs "Two of Us" and "At the Carousel", both sung by Gigi Leung.

Finally, there are two theatrical trailers and two TV commercials.

--Miscellaneous--
The insert is a long, folded cardboard graphic. On one side, there are pictures of Takeshi Kaneshiro and Gigi Leung on bicycles. You pull the bicycles apart to simulate a scene from the movie as well as to reveal the chapter listings. On the other side, you get to see a mural-like photo of Kaneshiro and Leung standing on a rainy street.

Everything is housed inside a purple transparent keepcase.
---
DVD Menus
---
Screen Captures
---

The cutest cut of steak I've ever seen!