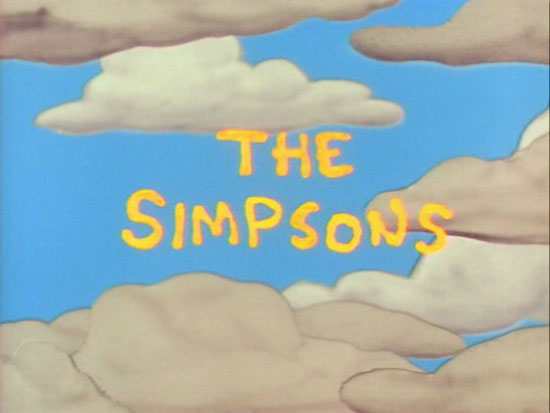 created by Matt Groening
(Season Eight) 1996
Matt Groening generated such a massive cult following with his landmark series "The Simpsons" (1989) that the popular TV show recently began its eighteenth season and, as of a couple years ago, became the longest running comedy series in television history. While it's difficult to overestimate the series' obvious fame, I think many fans fail to acknowledge the show's cultural significance over the past sixteen years.

"The Simpsons" is easily the most iconic phenomena of recent times--a series that possesses universal appeal and a worldwide audience. Groening and his teams of extremely talented writers and animators (many of whom are replaced every several years) have parodied some of the finest examples of art in almost every imaginable medium, touched on socially relevant issues through clever satire, and revitalized post-modernism in the most unexpected form. "The Simpsons" has given audiences plenty more than what one would typically expect from a comedy.

Groening's deceptively simple premise of a middle-class family of five dealing with everyday life establishes the perfect foundation for North American audiences to immediately identify with. Homer is the clueless, but lovable father; Marge, the doting mother; Bart, the rebellious pre-teen; Lisa, the brainy sister; and Maggie, the all-but-ordinary baby. Admittedly, I've reduced these roles to simple stereotypes for the purpose of this review, but the aforementioned characters each embody at least a single quality that everyone can identify in their respective family (therein lies a considerable portion of the show's appeal).

The setting for the series is Springfield, a fictional town that easily calls to mind the prototypical urban backdrop. Here Groening sets the stage for one of the most fascinating locales one could possibly imagine. But rather than flashy aesthetics, it's the simple touches that often make the most difference in Springfield. Examining the Simpson family home reveals the tremendous detail that animators and concept artists have put into the endlessly imaginative series. Marge's kitchen curtains with the infamous corncob print, Bart's Krusty-the-Clown alarm clock, and the often crooked painting of a sailboat that hangs in the family room are just a few of the subtle touches that contribute to the feel of an authentic home environment. The fine details are hardly confined to the Simpson residence and extend throughout the city to mold Groening's expansive cartoon universe.

To bring the writers' vision to life, animators have distinguished "The Simpsons" with an unmistakable vibrant style. The emphasis on vivacious primary colors calls to mind Jean-Luc Godard's famous use of cinemascope in the 1960s. It wouldn't be surprising if Groening and his animators were influenced by Godard given their vast knowledge of cinema, which dates back to Fritz Lang's "Metropolis" (1927) (see the oscillating rings in the subtitle sample). But beyond all instances of presumable inspiration, the animators should be recognized for consistently experimenting with the hand-drawn medium. The integration of 3D and live-action is impressive to some degree (these episodes were created in the mid 1990s); however, it's the mastery of fluid movement that's particularly astounding. Groening's characters move about with actions and reactions that ring of accuracy--an integral source for the show's humor. In a scene where Homer eats an extremely spicy pepper, the humor lies solely in the animator's ability to convey the unexpected pain Homer experiences. Other animated shows often rely too much on a clever quip or precise staging to generate laughter, but animators working on "The Simpsons" have the sound judgment to carefully balance their methods of delivery.

Above all else, the success of the series is shaped by Groening's ability to seamlessly integrate art and satire. Having paid homage and relentlessly parodied numerous classic films including "Citizen Kane" (1941), "2001: A Space Odyssey" (1968), and "The Shining" (1980), "The Simpsons" has renewed the excitement and philosophy that was originally generated by these very subjects. Audiences are able to draw what they choose from the stabs at politics (i.e. Bill Clinton) and blind traditions (i.e. Whacking Day), but the persistence in proposing social and cultural re-evaluation is always ingrained in every single episode.

With new executive producers onboard for season 8, there is a definite shift in focus towards supporting characters and camaraderie in unlikely places. Most notably, Lenny and Carl's familiar banter in later seasons would originate here. Other incidences include Homer befriending Mr. Burns during a company outing, Lisa and Nelson briefly becoming an item, and Moe offering to manage Homer's temporary boxing career. These episodes still revolve around various members of the Simpson family, but it's clear the producers desired a new direction for the series. More supporting characters were created (i.e. Disco Stu) and older characters (i.e. Edna Krabappel) received more airtime.

Season eight's "El Viaje Misterioso de Nuestro Homer" (1997) is a breakthrough episode for the series and one that showcases a variety of impressive techniques. It's a relatively bizarre chapter in "The Simpsons" library, but it's a personal favorite of mine because of its spiritual tone and obvious departure from typical scripts and animation (if there is such a thing in "The Simpsons"). To complement the episode's surreal hallucinatory sequence and psychedelic imagery, animators have made use of graphical continuity and a series of events that appear to be inspired by the work of artist Salvador Dali. But aside from the visuals, issues of guidance and meaning are resonant and considerably more message-driven than one would expect from an episode of "The Simpsons." This is enhanced by the voice of guest star Johnny Cash (as the coyote Homer encounters in his dream), which encourages an aura of folklore. Contrary to the popular belief of skeptical parents, there are moments in the series with profound morality.
Poster
Television Premiere: December 17th, 1989
Reviews More Reviews DVD Reviews
DVD Review: 20th Century Fox (Collector's Edition) - Region 1 - NTSC
Big thanks to Kurtis Beard for the Review!
DVD Box Cover

CLICK to order from:

Distribution

20th Century Fox

Region 1 - NTSC

Runtime
570 min
Video

1.33:1 Original Aspect Ratio
Average Bitrate: 28.68 mb/s
NTSC 720x480 29.97 f/s

NOTE: The Vertical axis represents the bits transferred per second. The Horizontal is the time in minutes.

Bitrate

Audio
Dolby Digital 5.1 (English), Dolby Stereo (French), Dolby Stereo (Spanish)
Subtitles
English, Spanish
Features
Release Information:
Studio: 20th Century Fox

Aspect Ratio:
Fullscreen - 1.33:1

Edition Details:
• Commentary with Cast & Crew
• Introduction from Matt Groening
• Deleted Scenes
• Multi-Angle Animation Showcases
• Animators' Illustrated Commentaries
• The Simpson's House Featurette
• Original Sketches
• Promotional Spots

DVD Release Date: Aug. 15, 2006
Fold Out Cardboard Digipak

Chapters 6x2
Comments
Video:

The video maintains the original broadcast ratio of 1.33:1, which is to be expected for an animated series. The image quality of the episodes range slightly, but in general, is decent and certainly superior to the video that is seen during original broadcasts and re-runs. Colors are vibrant and luminous, particularly in shades of yellow and blue, which is an advantage for the extensive palette used by animators. Brightness and contrast is sufficient and from memory, looks as though it's been improved since the original broadcasts. The instances of damage are rare, but there are occasional flecks and evidence of wear. As usual, the animation looks absolutely stunning and remarkably fluid (a standard that's been maintained since the first couple of seasons). In the "Treehouse of Horror VII" episode, look for the impressive overhead shot when Homer is fishing just prior to being abducted by aliens, Kang and Kodos.

Audio:

The audio is presented in the form of a crisp Dolby Digital 5.1 track. I'm unsure of the track used in the original broadcasts, but the 5.1 is an adequate mix. Dialogue is rarely overpowered by background noise and the soundtrack is well expressed (a must for the occasional classic tune). The track is never particularly overbearing, but more authentic in creating a life-like environment. The sound designers have accomplished very fine work here and again, a standard of excellence has been maintained.

Menus and Packaging:

Season eight can be purchased in the packaging shaped like Maggie's head or the classic foldout, custom cardboard box. Personally, I think the traditional box packaging is more economical, but for collectors, the unique 'head' casing is great departure from the standard box shape.

Animated menus have been cleverly designed with bits of humor and easy navigation. The only problem I had was with the subtitles, which were not listed in the language selection menu. While briefly attempting to enable them in several different episodes, I could only get them to work if a commentary track was playing.

Extras:

The most substantial extra in this set and almost all the previous seasons are the commentary tracks that accompany every episode. Contributors to the tracks vary with each episode and generally include episode writers, producers and directors, voice actors, occasional guests, and more often than not, creator Matt Groening. For those who have not yet experienced the commentaries on previous DVD releases of "The Simpsons," there are endless insights to various processes of production and rarely any moments of silence. The participants consistently reveal their inspiration for specific scenes and possible allusions that many audiences may have missed. These tracks are amongst the most entertaining commentaries that I've encountered.

Secondly, and of particular interest to students of animation, are a series of storyboards and animatics with commentary that reveal the motivation behind specific camera angles and direction of motion.

Deleted scenes are also included. It's often obvious why these scenes were removed from their respective episodes. But, in every few of these scenes, there are moments of substantial humor.

Lastly, there is a short featurette that chronicles the construction of a home that was built to reflect the general appearance and proportion of the Simpson's humble abode. The house is then given away in a contest.

---




DVD Menus
---
Screen Captures
Subtitle Sample