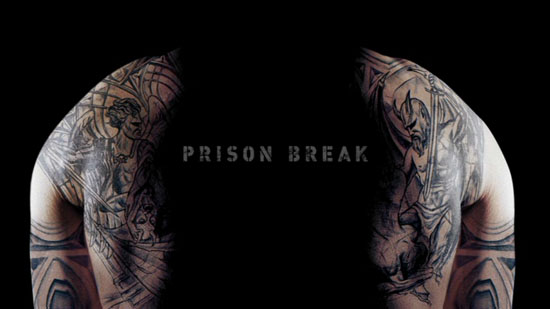 directed by Brett Ratner (Pilot)
USA 2005
The success of the television series "24" (2001), which features kinetic pacing and "real-time" action, clearly paved the way for today's outlandish television premises. "24" proved that television audiences would ignore plausibility and logic given intense performances and plenty of pulse-pounding action. The series also conveyed to audiences that a series could have staying power without necessarily having an extensive concept. "Lost" (2004) and "Prison Break" (2005)--two shows that have seemingly brief premises--are evidently the spawn of "24". "Lost" begins with an aircraft accident on a deserted island, and "Prison Break" follows the attempted rescue of a wrongly-convicted murderer. Both shows have a presumably obvious ending in sight but place an exhaustive focus on the journey to get there.

"Prison Break" was pitched to studio executives on numerous occasions in 2003, but it wasn't until "Lost" developed a considerable following that Fox gave "Prison Break" a second glance. It's now very clear that Fox executives made the right decision. "Prison Break" began its first season in the Fall of 2005 with a 13-episode contract. The series opened with a relatively slow start but quickly became one of the most entertaining dramatic thrillers on television. Fox ordered an additional 9 episodes to round out the series' opening season.

In conjunction with his role as executive producer, Brett Ratner directed the pilot episode and was largely responsible for establishing the plot and introducing audiences to the characters. It's a fairly good indication of his filmmaking ability when his most-significant contribution is amongst the show's most-detrimental faults. Given Ratner's relatively successful (commercially, not critically) past in the filmmaking industry, he should have had very little difficulty with a television series--particularly with television's decreasing standards for entertainment. However, Ratner botched the pilot, potentially alienating audiences. Fortunately, the majority of television is far worse than the damage Ratner inflicted, and in successive episodes, the writers were able to revive the series with a genuinely suspenseful tone.

The pilot's problems are difficult to pin entirely on Ratner, but the actors never appear as aimless and lacking in confidence as they do in the pilot. Of course, the pilot was their first stint at approaching their respective characters, but Ratner's experience with both A-list stars and up-and-coming actors should be somewhat evident. Regrettably, it's lead actor Wentworth Miller who struggles the most with his character, which begs the question of whether he was prepared to handle a starring role. Over the course of the first few episodes, Miller eventually grounds his character with consistency and finally immerses himself into the role of Michael Scofield, but his inexperience is apparent. He seems particularly weak when sharing the screen with veteran Peter Stormare, who is easily one of the highlights of the series. Stormare commands every scene he's in with a gritty malevolence--a quality that's been associated with his acting ever since his impressive turn as a deadpan criminal in "Fargo" (1996). Stomare's presence initially attracted me to the series, and I doubt that Ratner had any influence in evoking a solid performance from the talented Swede.

Without placing too much importance on the pilot, "Prison Break" offers much more than most TV shows. In one of Ratner's few wise decisions, he chose to approach "Prison Break" with a distinct cinematic style. The series still has lower production values than most Hollywood films, and the choppy editing has an obvious television quality. Still, Ratner enlisted gifted cinematographer Dante Spinotti to photograph the pilot as if they were making a big-screen feature. Spinotti shot the prison sequences with a grainy realism that contrasts the glossy superficiality of the scenes outside the penitentiary. The murky prison cells also set the stage for impressive lighting that accentuate writer/creator Paul Scheuring's themes of good and evil.

Scheuring comments on the duality of man in his psychological exploration of Miller's character, Michael. In an attempt to help his brother escape from prison, Michael deliberately commits a faux bank robbery in order to secure a jail sentence. He's in possession of the prison floor plans and has a complicated strategic plan of action. However, Michael is forced to struggle with the evils that stem from daily prison life in order to strive for the greater good of averting his brother from capital punishment. Racism and sexual abuse confront Michael's psyche as he compromises his ideals for corruption and malice. In episode two, "Allen," he becomes a pawn in the center of a racial feud that leaves him with a powerful enemy. As struggles intensify, the meaning of Michael's tattoo, which depicts the struggle between angelic forces and devilish figures, becomes all the more meaningful.

Occasional contrivances and uninspired performances may prevent "Prison Break" from becoming a great show, but Scheuring's psychological themes maintain suspense that provides the series with great entertainment. Lead performances become more believable with each passing episode--particularly in the case of Wenworth Miller. Plot twists prevent the series from becoming boring but also clearly amplify the manipulation of narrative devices for the sole purpose of excitement. Nevertheless, "Prison Break" is a television thriller worthy of one's attention.
Poster
TV Release: July 11th, 2006
Reviews More Reviews DVD Reviews
DVD Review: 20th Century Fox - Region 1 - NTSC
Big thanks to Kurtis Beard for the Review!
DVD Box Cover

CLICK to order from:

Distribution

20th Century Fox

Region 1 - NTSC

Runtime
960 min
Video

1.78:1 Original Aspect Ratio

16X9 enhanced
Average Bitrate: 3.6 mb/s
NTSC 720x480 29.97 f/s

NOTE: The Vertical axis represents the bits transferred per second. The Horizontal is the time in minutes.

Bitrate

Audio
Dolby Digital 5.1 English
Subtitles
English, Spanish, French
Features
Release Information:
Studio: 20th Century Fox

Aspect Ratio:
Widescreen anamorphic - 1.78:1

Edition Details:
• Audio Commentary on Selected Episodes
• Making of Prison Break (30:31)
• If These Walls Could Speak: Profile of the Joliet Correctional Center (9:18)
• Beyond the Ink (16:17)
• Fox Movie Channel Presents: Making a Scene (8:01)
• Deleted Scenes
• TV Spots

DVD Release Date: 8 August 2006
Custom Cardboard Slipcase

Chapters 12
Comments
Video:

The series is presented in its original aspect ratio of 1.78:1. The anamorphic widescreen transfer is a nice departure for audiences who sat through the series in full screen. However, the transfer is hardly what one would expect from a recent television show. The image is relatively clean with minor levels of grain and appropriate colors; however, there is noticeable pixilation during the action sequences that affect the clarity of the video. The lack of a crisp transfer is a major disappointment, but keep in mind that I am reviewing a screener and the actual retail copy may have an improved image.

Audio:

The Dolby Digital 5.1 English track provides ample range and is consistently free of distortion. The track is tested during several action scenes and during the various instances where firearms are used. There is a pleasant balance between sound effects, dialogue, and supplementary music.

Extras:

The major extras are the commentary tracks on various episodes offering insight from numerous cast and crew members ranging from Brett Ratner to Paul Scheuring. Scheuring is the more insightful of the two and speaks fluidly and concisely. Ratner has a relaxed vibe and contributes some interesting information.

There are also three featurettes on disc 6, including the "Making of Prison Break," which details various stages of production beginning from the original conception of the series. Again, insight is offered from various cast and crew with particular note of Wentworth Miller offering his opinion of his character. Miller is an interesting personality, and it's fascinating to see him attempt to illustrate the similarities between his character and himself. Unfortunately, the interview clips with Stomare offer an embarrassing take on the future direction of the series.

The second featurette, "If These Walls Could Speak: Profile of the Joliet Correctional Center," offers a history of the prison used in the film. Various talking heads have plenty to say about past inmates and the prison's reputation.

The last featurette, "Beyond the Ink," is my personal favorite of the three as it addresses an important aspect of the show--the use of tattoos. Since tattoos are so integral to Michael Scofield (the main character), I was intrigued to learn about the development and eventual creation of Scofield's enormous tattoo. The featurette also offers the opportunity to see original concept art.

Lastly, there are deleted scenes, which are rather dull, and some EPK material in the form of "Fox Movie Channel Presents: Making a Scene."
---




DVD Menus
---
Screen Captures
Subtitle Sample