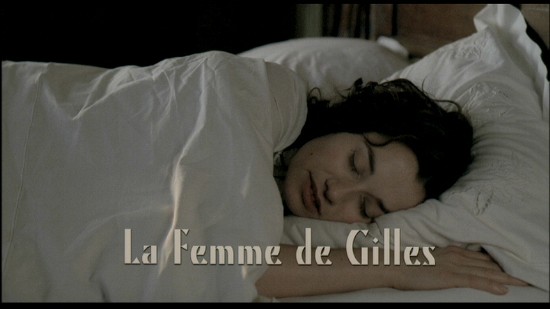 (aka "Gilles' Wife" )
directed by Frédéric Fonteyne
Belgium 2004
I thought that Emmanuelle Devos delivered the best performance of 2005 (based on American release dates) in "Kings and Queen." Now I realize I was mistaken. The best performance of 2005 was actually… Emmanuelle Devos in "Gilles' Wife."

"Gilles' Wife" is a film by Belgian director Frédéric Fonteyne, and it reminds me of another film by a Belgian director: Chantal Akerman's (in)famous "Jeanne Dielman, 23 Quai du Commerce, 1080 Bruxelles" (1976). "Gilles' Wife" is hardly the equivalent of Akerman's masterpiece cum endurance test, but the films tackle similar material. Each film depicts a woman (Jeanne, a widow; Elisa, a wife) whose world is circumscribed by the daily rituals of domestic servitude, and who eventually rebels against her repressive environment.

Though made nearly thirty years later, "Gilles' Wife" is set a little more than thirty years before "Jeanne Dielman" in 1930s Belgium. Elisa (the titular wife, played by Devos) is happily married to Gilles (Clovis Cornillac), a big oaf with the emotional maturity of a doorstop. The "happily" part of the marriage is sorely tested when Gilles falls hard and heavy for Elisa's younger sister Victorine (Laura Smet). Surprisingly, even when the shocking affair is brought into the open, Elisa does not protest. Instead, she tries desperately to hold the marriage together by any means necessary, which includes helping Gilles to pursue Victorine.

Even in the face of Gilles' childish outbursts and the ungrateful behaviour of Victorine and practically everyone else in her life (even the town priest fails her), Elisa bears everything with a quiet smile and nary a whisper of protest. Where "Jeanne Dielman" has become a feminist icon, Fonteyne's film practically invites condemnation from virtually all corners for its portrayal of a wife happily bearing the slings and arrows of her outrageous asshole of a husband. Of course, the obvious question (and the fundamental tragedy of the situation) arises: What the hell else is Elisa supposed to do?

What motivates Elisa's passive acceptance (besides her lack of options? The only answer we ever get is from the infinitely expressive face of Emmanuelle Devos, a face which bears the weight of the entire film, just as Elisa bears the entire weight of her crumbling marriage. Time and again, Fonteyne returns to a similar camera set-up: Elisa in foreground, her face inscrutably serene, with Gilles and/or Victorine (or perhaps another character) in the background, blurry and distant as if in a world entirely separate from Elisa's inner thoughts. With just the slightest modulation of glance or expression, Devos conveys worlds of strength and pain, hope and despair. Devos' performance is made all the more mesmerizing by the fact that there's something not-quite-right about her face, or rather something not "movie star-ish" about it. Is the nose a little off-center? The mouth a bit too wide? Whatever the case, her face is so spellbinding, so singular, that Fonteyne has practically made a documentary about it. I'm not the only critic to notice this. Roger Ebert wrote: "I was fascinated by the face of Emmanuelle Devos, and her face is specifically why I recommend the movie."

Devos' face is not the only reason to recommend "Gilles' Wife," however. Like Akerman, Fonteyne documents his heroine's gradual decline in excruciating detail. Though "Jeanne Dielman" was vastly more rigorous (a "structural film" compared to Fonteyne's more standard narrative film), the breaking point in each film is presented in a similar manner. Jeanne Dielman drops a piece of silverware while setting the table, and the end is near. Likewise, Elisa drops her hair brush one morning while preparing for another day as the happy housewife. With this simple gesture, we know that she has reached the limits of even her Job-like endurance. I will leave you to judge the tragic ending for yourself: it has caused some controversy but I found it moving, though a bit too coy in its artsy-fartsy delivery.

"Gilles Wife" is not a great film: the other two leads are a bit dull (though perhaps they are supposed to be) and a few scenes in the middle act are a real drag. However, the lush cinematography (even more effective in cramped domestic spaces than outdoors) by Virginie Saint-Martin is to die for, and Devos' intense, calibrated performance should not be missed. I haven't seen a lead actress this powerful since Bjork's stunning turn in "Dancer in the Dark." Check this one out.
Posters
Theatrical Release: 2005 (USA), 2004 (France and Belgium)
Reviews More Reviews DVD Reviews
DVD Review: Koch Lorber - Region 1 - NTSC
Big thanks to Christopher Long for the Review!
DVD Box Cover

CLICK to order from:

Distribution

Koch Lorber

Region 1 - NTSC

Runtime
1:47:55
Video

1.78 Original Aspect Ratio

16X9 enhanced
Average Bitrate: 5.3 mb/s
NTSC 720x480 29.97 f/s

NOTE: The Vertical axis represents the bits transferred per second. The Horizontal is the time in minutes.

Bitrate

Audio
French Dolby Digital
Subtitles
English
Features
Release Information:
Studio: Koch Lorber

Aspect Ratio:
Widescreen anamorphic - 1.78

Edition Details:
• Deleted Scenes w/ Director Commentary
• Original French Trailer

DVD Release Date: August 8th, 2006
Keep case

Chapters 12
Comments
The transfer is well-done overall; I could only find one or two examples of the slightest combing, not even worth showing here. However, the image quality is a tad too soft throughout. It's only a minor complaint, but this beautiful cinematography deserves to be seen in the highest resolution possible.

Some people don't like the bright yellow subtitles, but I greatly prefer them. This way, titles never disappear against white backgrounds (like snow or tablecloths, etc.)

"The Making of" Featurette is pretty typical fare; it is of some interest, though definitely overlong at 26 minutes.

If I didn't make it clear enough above, Emmanuelle Devos is simply amazing in this film. She's worth the price of admission (or rental or purchase) all by herself.
---




DVD Menus
---
Screen Captures