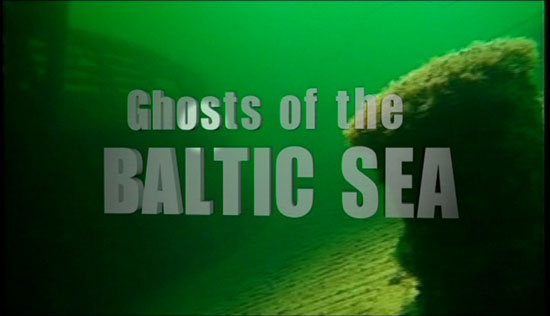 directed by Jon Goodman
USA 2005
After the success of James Cameron's epic blockbuster "Titanic" (1997), lost treasures and oceanic tragedies seem to go hand-in-hand when it comes to the subject of films. Although Cameron's movie is more likely remembered as a disaster flick than a search for concealed history (as indicated in the opening sequence), there is a resonant aura of nostalgia when the old woman reminisces about her past and the infamous red-jeweled necklace. Unfortunately, it's just that a large, powerful machine sinking to the seemingly endless depths of an ocean is certain to appeal to a wider range of audiences and given Cameron's background in special effects ("Terminator 2," 1991), the potential spectacle of a 46,000-ton ship hitting an iceberg was probably a more enticing thought than any buried treasure could ever be. But, just to be on the safe side, Cameron wisely added a few scenes with the old woman and the necklace to fuel the melodrama. Judging by the considerable box office return, audiences were enraptured by Cameron's cinematic achievement and the film has since become a romantic classic.

"Ghosts of the Baltic Sea" (2005), a documentary from director Jon Goodman, concerns the disastrous Soviet assaults on German evacuation ships at the end of WWII with a focus on both of the themes Cameron explored in "Titanic." But, rather than discovering a lost necklace and an old woman's stylized retelling of history, Goodman reawakens a much more rewarding treasure--the forlorn memories of those who survived the little known catastrophe. It's Goodman's theory that he might provide closure to these men and women who still live with the pain and loss that stems from such an unfortunate event. His approach mirrors the opening sequence of Cameron's film in that he's found survivors who are willing to relive their memories of tragedy. But, the emotionally potent retelling that follows when one survivor utters her grief over the loss of a close friend is infinitely above-and-beyond what Cameron achieved in "Titanic." It's an extremely emotional scene and a moment that's profoundly personal. The memories these survivors live with are drenched in sorrow and expressed with finality. Their stories are the driving force at the heart of this documentary.

Dr. Robert Ballard, an explorer with an impressive resume of deep-sea excursions, leads this expedition and narrates the documentary. Ballard's past documented experiences might indicate that this documentary is largely situated underwater. But interestingly enough, director Goodman is more concerned with history. There are definitely enough scenes to satisfy Ballard's following of underwater enthusiasts, but in this case, audiences are offered much more in the line of emotion and discovery rather than excitement. According to the film, a German naval commander named Karl Dönitz planned on transporting the estimated 20,000 refugees from Prussia back to Germany upon announcement of imminent soviet assaults. The means of transport were three ships: Goya, Steuben, and Wilhelm Gustloff; all of which were sunk by Russian torpedoes. If one is to consider the background to WWII, one might realize why many have disregarded the 20,000 lives that were lost. Since the victims (largely civilian Germans) were perceived as the enemy during WWII, it was probably easier for society to neglect the loss. In retrospect, the death toll is a disturbing statistic and one that easily surpasses that of the Titanic, an event in history that is the subject of far more reports and documents.

Where "Ghosts of the Baltic Sea" lacks the visual grandeur, expansive sets, and cinematic style of its more expensive predecessor, the documentary compensates in passion and exposure. The insight Ballard offers into this tragedy is clearly a source of interest for a man who has investigated many other more famous maritime disasters. Ballard believes the reason this catastrophe is overlooked is that it fails to capitalize on the beloved "romantic" quality of other disasters like the sinking of Titanic. Ballard makes an interesting and alternately disturbing realization here. In recent times, it appears that history must be documented in theatres before society will take notice--a thought that acknowledges the immediacy of more recent tragedies in Rwanda ("Hotel Rwanda," 2004 and "Shooting Dogs," 2006) and Bosnia ("Welcome to Sarajevo," 1997) that were given film translations before the majority of society was aware of what had happened.

Reviews More Reviews DVD Reviews
DVD Review: Wellspring - Region 1 - NTSC
Big thanks to Kurtis Beard for the Review!
DVD Box Cover

CLICK to order from:

Distribution

Wellspring

Region 1 - NTSC

Runtime
50:02
Video

1.75:1 Original Aspect Ratio
Average Bitrate: 6.44 mb/s
NTSC 720x480 29.97 f/s

NOTE: The Vertical axis represents the bits transferred per second. The Horizontal is the time in minutes.

Bitrate

Audio
Dolby 2.0 Surround (English)
Subtitles
Occasionally Forced English
Features
Release Information:
Studio: Wellspring

Aspect Ratio:
Widescreen letterboxed - 1.75:1

Edition Details:
• Bigraphical Text

DVD Release Date: August 15th, 2006
Keep Case

Chapters 12

Comments
Video:

The big disappointment with this DVD is that the video transfer is presented in a 1.75:1 non-anamorphic transfer. Colors are consistently muted and softer than one would hope for. Contrast is appropriate, but clearly shooting footage with the unpredictable conditions of the rugged open sea took a toll on image quality. However, these are minor complaints and the transfer is certainly average. There is an abundant amount of archival footage that is expectedly grainy and significantly damaged with scratches and blemishes.

Audio:

The audio is presented in the form of an English Dolby Surround 2.0 track. Seeing as how this is a dialogue-driven film, audio channels are rarely tested. There is some good activity during WWII footage and onboard the boat (the crashing of waves). This is by no means a great track, but one that's sufficient for this film.

Extras:

There's another disappointment here with a lack of any substantial extras. I'd settle for more insight from Ballard or even a brief interview with the director, but alas, all that's provided is a series of biographical text on Ballard.

---




DVD Menus
---
Screen Captures
Subtitle (Forced)