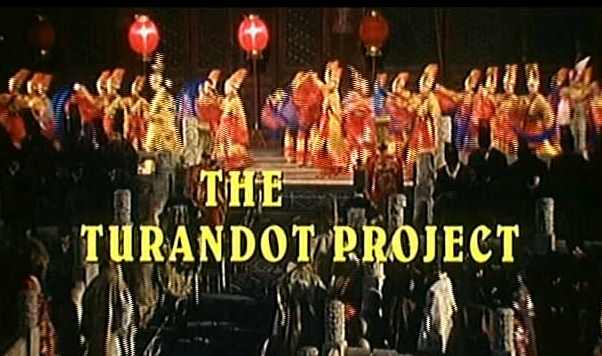 directed by Allan Miller
USA 2000
"I didn't know Zhang Yimou's name, but I had seen 'Raise the Red Lantern'. I said, 'Why don't we get that guy?'"
--Zubin Mehta, conductor

Right now, director Zhang Yimou is the most-esteemed contemporary Chinese director. Unlike Chen Kaige, who has a spotty track record despite making the masterpiece "Farewell My Concubine" as well as the excellent "The Emperor and the Assassin" and "Together", Zhang Yimou has directed acclaimed movie after acclaimed movie after acclaimed movie. It seems like Zhang has not faltered since 1990's "Ju Dou", though I'm of the opinion that if he and Chen Kaige keep trying to out-do one another in making expensive, bloated commercial fare, then Zhang Yimou will experience a terrible fall, too.

Zhang Yimou has been picked to be the artistic director of the 2008 Beijing Summer Olympic Games. Prior to this commission, Zhang was picked to direct a staging of Giacomo Puccini's opera "Turandot" (which is famous for the oft-used "Nessun Dorma") inside the Forbidden City. The opera is mostly set in a Chinese palace, so it made sense to hold a grand affair in the traditional Chinese emperor's residence.

"The Turandot Project" is a documentary about the process of realizing this dream. Zhang Yimou first worked with conductor Zubin Mehta on "Turandot" in Florence in 1996. At the time, Zhang's movies were routinely banned in China since Chinese authorities felt that he did not present his country in the best possible light. Therefore, Mehta had to meet Zhang in secret for a few months before Zhang's countrymen officially granted him the privilege of directing the opera without ramifications.

As the production wound down, Mehta and Zhang discussed the possibility of taking their show to China. They were able to obtain permission to take their endeavour to Beijing. However, a simple transposition would not do. Since the Forbidden-City performances would be outdoors, Zhang Yimou could not raise or lower objects from the ceiling, and he could not use mechanisms hidden under the stage floor as the performers would be standing on stone steps. He coped with this issue by creating two mobile platforms that could move horizontally across the staging area.

Other changes were made. Zhang Yimou ordered new costumes as the ones used in Florence did not match the Ming-Dynasty backdrop of the Forbidden City. He also wanted to use a large number of soldiers to play drummers that announced the beginning of each act as well as to play guards within the opera's context. All this involved extensive preparations, especially with regards to the soldiers because they were not actors or musicians in the first place.

At least from what I could tell of "The Turandot Project", the best addition to the Beijing production was casting a young Chinese martial artist to play the executioner. Extremely flexible and agile, this young lady flitted across the stage in a whirlwind of leaps, kicks, and twirls. Her bright red costume also added to her powerful effect; she looked like a furious flame protesting the brief life of fire.

This movie wants to celebrate the Mehta-Zhang collaboration. At the same time, it does not shy away from depicting serious problems, including differences of artistic opinions. For example, Zhang Yimou wanted to illuminate the staging area with as much light as possible, but an Italian lighting designer wanted a darker approach for atmosphere. While it's understandable that a lighting designer who's worked for opera houses for most of his career would have strong feelings about the matter, it almost feels as if he's glad that logistics and rain prevented him from completing the director's instructions. Basically, Zhang was sabotaged by a stubborn, passive-aggressive jerk. The lighting director seems to forget that he's supposed to light for an outdoors production and that he's the lighting director, not the overall director.

I want to be clear about one thing, though--"authenticity". Zubin Mehta is very excited about staging "Turandot" "where it's supposed to be performed", but the story takes place before the construction of the Forbidden City. Zhang Yimou's decision to make new costumes may have been costly, but the costumes match the Ming Dynasty era of the Forbidden City and not of the story's time period. Finally, there's the music itself, which may have glorious passages but is not Chinese or Oriental in the least bit. There's nothing wrong with appreciating "Turandot" as high-art, but at the same time, there's really no way to make Giacomo Puccini's "Turandot" "authentic".

Nonetheless, Zhang Yimou and other Chinese participants were keen on ensuring that they presented a successful "Turandot" in an effort to prove to the world that the Chinese understood what it takes to deliver Western opera. Even if the "authenticity" is in question, at the very least audiences were able to see a dazzling introduction to various facets of Chinese culture, from traditional costumes, intricate calligraphy, dancing, rituals, and the architecture of the Forbidden City itself.

"The Turandot Project" gives viewers an excellent glimpse of the difficulties in mounting an ambitious musical project. I'm not quite sure if this "Turandot" is as successful as it is important, though. The production looks a bit overblown, and the participants' claims of authenticity are thoroughly dubious. This may be a case where learning about how something was done is more fruitful than absorbing the final product.

By the way, watching "The Turandot Project" may pique your interest in obtaining the "Turandot at the Forbidden City of Beijing" DVD (a video recording of one of the nine performances), but from what I gather, the DVD offers sub-par experiences in both the video and audio departments. Moreover, disc navigation is apparently rather awkward, too.
Posters
Theatrical Release: 11 September 2000 (Toronto Film Festival)
Reviews More Reviews DVD Reviews
DVD Review: Zeitgeist - Region 1 - NTSC
Big thanks to Yunda Eddie Feng for the Review!
DVD Box Cover

CLICK to order from:

Distribution

Zeitgeist

Region 1 - NTSC

Runtime
84 min
Video

1.85:1 Original Aspect Ratio
Average Bitrate: 5.34 mb/s
NTSC 720x480 29.97 f/s

NOTE: The Vertical axis represents the bits transferred per second. The Horizontal is the time in minutes.

Bitrate

Audio
Dolby Digital 2.0 stereo (English, Chinese, Italian, and several other languages)
Subtitles
burned-in English for non-English dialogue
Features
Release Information:
Studio: Zeitgeist

Aspect Ratio:
Widescreen letterboxed - 1.85:1

Edition Details:
• Additional Footage
• Text Biographies for Zubin Mehta, Zhang Yimou, and Allan Miller
• Trailers

DVD Release Date: 28 May 2002
Transparent Keepcase

Chapters 16
Comments
Video:
My guess is that director Allan Miller and his team captured footage with analog video cameras, which would explain the picture's general lack of resolution and sharpness. Also, the DVD's image was either taken from an interlaced source or was created as an interlaced program itself. Though not oppressively dark, the video feels as if a shadow covered everything during shooting. The video is not only non-anamorphic widescreen (1.85:1) but is also slightly windowboxed as evidenced by the black bars on the left and right.

Audio:
The Dolby Digital 2.0 stereo audio track is a simple, straightforward reproduction of sound that was captured "live". As such, the participants' voices are clear and audible when giving talking-heads interviews, but when the camera crews are recording conversations outdoors, voices can get lost in the din of every-day interactions. Music reproduction is adequate but not stellar, which is understandable given the audio environment.

Extras:
There are two additional video clips featuring footage shot during the production's run in Florence.

There are biographical text pages for Zubin Mehta, Zhang Yimou, and Allan Miller.

Finally, there are previews for "The Turandot Project" and other Zeitgeist DVD releases.

--Miscellaneous--
An insert booklet provides movie and DVD credits as well as background notes about "Turandot" the opera and chapter listings. The background notes reveal that Puccini died before he finished composing the opera. Franco Alfano completed the rest of "Turandot", but at the opera's premiere, conductor Arturo Toscanini ended the performance abruptly, telling the audience that he had reached the end of Puccini's actual involvement in the project.
---

DVD Menus

---
Screen Captures