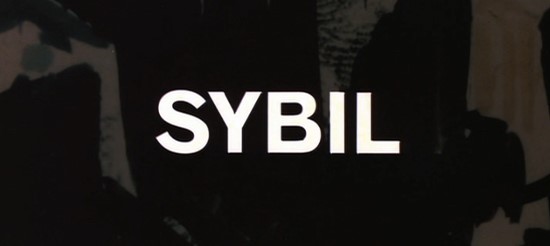 Directed by Daniel Petrie
USA 1976
The film that set into motion Sally Field's long acting career, "Sybil" was an emotional tornado of multiple personalities, child abuse, and modern psychology. Set in a now distant New York, the mini-series settled down upon an introverted young woman by the name of Sybil Dorsett. Living in constant fear of social situations, she struggles to understand what is happening within herself. But when things steadily worsen, she must seek the help of a psychiatrist: Dr. Wilbur.
The two women soon become one in each other; Sybil depends on Wilbur to help get her out of this mental mess while Wilbur depends on Sybil for the knowledge of the unknown world of multiple personalities. However, as the answers to Sybil's illness creep closer, they both suffer emotional breakdowns, whilst Sybil begins to understand the Knifes, the Glass, and the Green Kitchen.
A horrific yet beautiful series, Sybil stands alone as one of the best made for television movies of all time.
Excerpt from Amazon located HERE
***
This gripping but rather disturbing psychodrama began life as a two part TV drama. An Emmy award later, it was edited for length and given a cinema release, and the results are effective, the television production values translating to the big screen reasonably well. It helps that there are two movie stars in the lead roles. Woodward is a psychiatrist dealing with Field, a woman so disturbed by the experiences of her childhood that she has developed severe schizophrenia and seventeen separate personalities. Given its origins, the film is surprisingly sensitive, and Field's performance is quite astonishing.
Excerpt from Channel 4 located HERE
Promotional Material and Book Covers
Theatrical Release: November 14th, 1976
Reviews More Reviews DVD Reviews
DVD Review: Warner Home Video (2-disc) - Region 1,2,3,4 - NTSC
DVD Box Cover

CLICK to order from:

Distribution
Warner Home Video - Region 1,2,3,4 - NTSC
Runtime
3:06::54
Video
1.33:1 Aspect Ratio
Average Bitrate: 5.25 mb/s
NTSC 720x480 29.97 f/s

NOTE: The Vertical axis represents the bits transferred per second. The Horizontal is the time in minutes.

Bitrate:

Audio
English (Dolby Digital 1.0)
Subtitles
English (CC), French, Spanish, None
Features

Release Information:
Studio: Warner Home Video

Aspect Ratio:
Original Aspect Ratio 1.33:1

Edition Details:

• Examining Sybil - Featurette with input from writer Stewart Stern, producer Peter Dunne, Joanne Woodward , Sally Field and close friends of the real Sybil
• The Paintings of Sybil - Gallery of never-before-seen artwork, by the real Sybil
• Therapy Session Audio Tapes

DVD Release Date: July 18th, 2006
Double Standard Keep Case
Chapters: 32
Comments:

This is the 'uncut' original televised version of Sybil (that played over two separate parts), NOT the theatrical post-release (that was censored). We forget how impacting this was in 1976 - it seems everyone with a television set was watching - riveted by the acclaim of the book and the stellar performances - it had a huge element of suspense as we patiently awaited the 'secret' to Sybil's psychosis - shockingly revealed in the films conclusion.

The DVD image is okay - not stellar. It IS progressive and has acceptable sharpness. The film is on a dual-layered DVD and the entire 3+ hours are housed on this first disc - with the 2nd is single-layered and contains the supplement featurettes. The image does contain artifacts in almost all background scenes, but for tube viewing it will be unnoticeable. Audio is clear and consistent.

The extras are quite good - Screenwriter Stewart Stern exposes his opposition to Natalie Wood playing the lead and the ramifications of that decision (Natalie was quite upset) and further details of production and casting are stated by producer Peter Dunne and some input from Joanne Woodward and Sally Field. Also included are some audio tapes of the 'Sybil sessions' and a gallery of her artwork. Overall they cover quite a bit of detail of the film and persona of the characterization of Sybil and the individual herself. A commentary was rumored but the film is far too long for anyone to consider an attempt I suspect.

Overall, this is a very personal and impacting story - the kind that TV since can only distantly touch upon. It truly rivals some of the better dramas made in the 70's. An unforgettable film.
---



DVD Menus
DVD Menus
| | |
| --- | --- |
| | |
| | |
| | |
---
Screen Captures