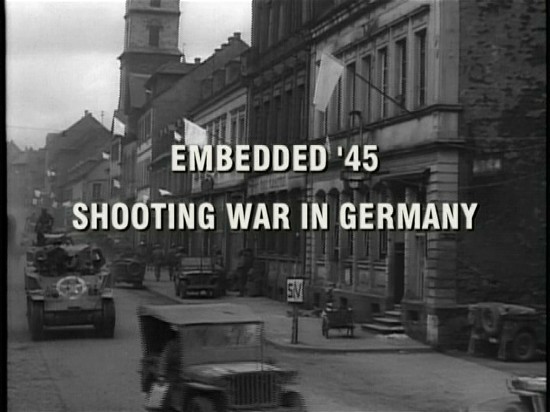 directed by Michael Kloft
2005
The term "embedded journalist" entered the popular lexicon beginning with the 2003 invasion of Iraq, but reporters have been traveling with active troops for quite some time. When American troops rumbled into Germany in the early months of 1945, several photographers followed along to document the conquering heroes. Recently, over 1,000 reels of this battlefield footage were discovered in the U.S. National Archives; Embedded '45 is two-part documentary composed from this footage, and originally shot for Spiegel TV in association with History Television, Canada.

The documentary begins with Operation Grenade in February 1945 when American troops first crossed the Ruhr River, and ends two months later just days before Germany's unconditional surrender. By this time, many German cities were in ruins as a result of sustained Allied bombing, but the troops still met with stiff resistance from desperate German soldiers, many of whom fought under threat of execution if they failed to stand their ground. While the German soldiers fought on, most German citizens had lost their appetite for destruction; often, American troops would arrive in a new city to find white flags flying everywhere and German citizens waving then on in.

The documentary consists entirely of edited archival footage, with voice-over narration that stitches the scenes together into a historical narrative. The narration is effective, though often repetitive: the primary emphasis is on the overwhelming superiority of the American forces, and the futility of German resistance.

Some of the footage is fairly mundane: soldiers milling about, tanks rolling down roads. But some of it is quite gripping, including the troops' arrival in Cologne, and house-to-house fighting in Frankfurt. Most memorable is a scene in which German locals are ordered to tour the remains of Buchenwald prison just days after its liberation by the Americans. Viewers should be warned that some of the footage is quite graphic, particularly the grisly scenes at concentration camps and the execution of an SS saboteur.

In some cases, scenes were re-created on the spot so photographers could show American soldiers in the best possible light (like today, photographers were not allowed to film dead GIs), but most of it is authentic footage. When you consider that photographers at the time weren't equipped with the light-weight video units of today, the work becomes even more impressive. I wouldn't go so far as to call this documentary a revelation, but it is certainly quite absorbing.

Film buff alert: One of the war photographers whose work is featured in the documentary is Russ Meyer – yes, that Russ Meyer. Alas, Meyer's footage is depressingly D-cup deficient.

Television Release: 2005
DVD Review: Koch Vision - Region 1 - NTSC
Big thanks to Christopher Long for the Review!
DVD Box Cover

CLICK to order from:

Distribution

Koch Vision

Region 1 - NTSC

Runtime
1:48:20
Video

1.33:1 Original Aspect Ratio
Average Bitrate: 4.87 mb/s
NTSC 720x480 29.97 f/s

NOTE: The Vertical axis represents the bits transferred per second. The Horizontal is the time in minutes.

Bitrate

Audio
Dolby Digital Mono (English)
Subtitles
None
Features
Release Information:
Studio: Koch Vision

Aspect Ratio:
Fullscreen - 1.33:1

Edition Details:

none

DVD Release Date: 08-08-2006

Chapters 16
Comments
The documentary consists entirely of 60 year-old archival footage from multiple sources, so the quality varies. Combing is particularly bad in a few scenes (see example - last capture) on this non-progressive transfer, but in general the image quality is pretty solid, with black and white contrast very sharp.

My only complaint about this DVD is the lack of subtitles. Yes, the narration is in English and is clearly recorded, but subtitles would help many viewers identify the difficult-to-understand German place names that are so frequently mentioned.
---




DVD Menus
---
Screen Captures