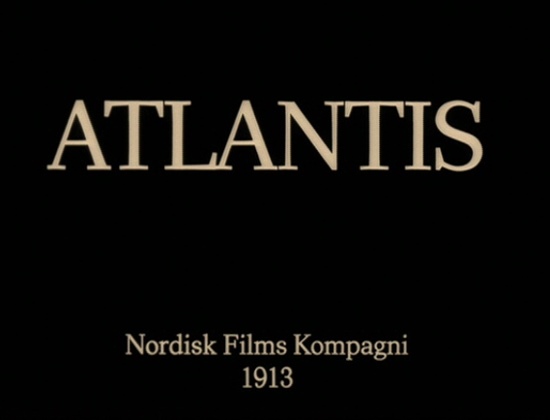 Directed by August Blom
Denmark 1913
"August Blom was one of Denmark's most prolific directors of the silent era. His finest film, Atlantis (1913), was Denmark's first major, big-budgeted, silent feature. Its sensational footage of an ocean liner sinking in mid-Atlantic made the name of its studio, Nordisk Films Kompagni, famous throughout the world. The picture starred Olaf Fønss, who later achieved fame, in Germany, in Homunculus (1916). Atlantis was adapted from the 1912 novel by Germany's leading writer, Gerhart Hauptmann, which eerily predicted the Titanic disaster that took place only four weeks later. Atlantis has been restored in high definition, in a stunning, multi-tinted transfer, but has an unneccessarily interlaced DVD encode. This didn't affect my viewing at all, but may do for those with progressive displays unable to deinterlace properly. Also included are an alternate ending, shown only in Siberia (because the Russians had "a predilection for tragic endings"), and the only surviving fragment of August Blom's and Holger-Madsen's Liebelei (1914)."
R. Dixon Smith of Masters of Cinema.
Theatrical Release: December 20th, 1913
Reviews More Reviews DVD Reviews
DVD Review: Danish Film Institute - Region 2 - PAL
DVD Box Cover

CLICK to order from:

Distribution
Danish Film Institute - Region 2 - PAL
Runtime
1:53:42 (20 fps)
Video
1.33:1 Aspect Ratio
Average Bitrate: ? mb/s
PAL 720x576 25.00 f/s
Audio
Music (2.0 channel)
Subtitles
Combined Danish and English intertitles
Features

Release Information:
Studio: Danish Film Institute

Aspect Ratio:
Original Aspect Ratio 1.33:1

Edition Details:

• Alternative ending for Russia, 2 min.
• Fragment from he National Film Center, Japan, 35 min.
• Fragment of LIEBELEI (Holger Madsen, August Blom, 1914), 15 min.

DVD Release Date: August, 2006
Keep Case
Chapters: 12
Comments:

Although an interlaced transfer the image quality is nothing short of astounding. For film fans and students of this era - this is an extremely desirable find. From the DFI website:

"The biologist von Kammacher (Olaf Fønns) leaves his home, after his wife is taken to a mental institution and his doctorate is rejected. In Berlin he meets the young dancer Ingigerd (Ida Orloff), with whom he leaves for New York. The ocean lines is shipwrecked, but von Kammacher and Ingigerd are among the few survivors. Based on the novel by Gerhart Hauptmann, Nordisk Film created this "Titanic" film merely a year after the disaster. Danish film scholar Casper Tybjerg states that Hauptmann's novel proceeded the Titanic disaster by four weeks, nearly giving Hauptmann a status as prophet. Later the same year Hauptmann was awarded the Nobel prize in literature. For the DVD a high definition scan was made from a restored negative and tinting was recreated using an abbreviated version from The National Film Center in Japan."

NOTE: For others keen on Danish Silent films available on DVD please see the DFI catalogue HERE.
---



DVD Menus
---
Intertitle Sample
Screen Captures