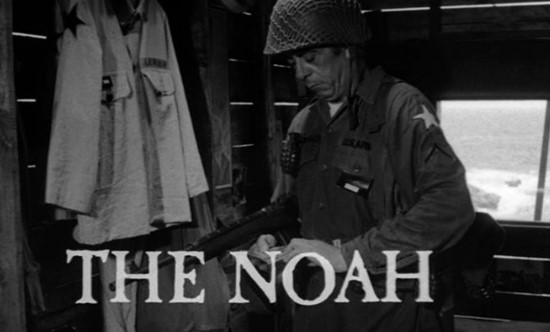 Directed by Daniel Bourla
USA 1975
Noah, the sole remaining survivor on our planet after a nuclear holocaust, finds himself unable to to accept his unique predicament. To cope with his loneliness, he creates an imaginary companion, then a companion for his companion and finally an entire civilization - a world of illusion in which there is no reality but Noah, no rules but those of the extinct world of his memory - our world.
****
The creepiest movie ever made did not require ghouls, slashers, aliens, or CGI trickery to create a brilliant state of viewer unease. All it required was a single man lost in his own madness. The film in question is Daniel Bourla's 1974 feature "The Noah," which is a disturbing journey into genuine terror via the torment of a lost soul whose mind has hopelessly frayed.
***
Shot in a murky black-and-white, "The Noah" is a harrowing psychological drama where terror is born from within. Noah's tormentors are entirely invisible, and ultimately his killer is invisible as well. Using POV camerawork to give a vision to the phantom voices (which include Geoffrey Holder as Friday and Sally Kirkland as the woman), "The Noah" is a daring attempt to capture the inner conflict of a man driven to mental illness by circumstances beyond his control.

"The Noah" is rich with strange and powerful imagery married against a wild aural tapestry. Case in point: during the party where the woman flirts shamelessly with Friday, cha-cha dance music is heard. Noah's eyes follow the invisible couple as his hands grasp a pair of hand puppets, one male and one female. The soundtrack fills with the catchy music and the giggly rapture of the dancing pair, and the puppets are drawn closer until their heads tilt so they can enjoy a deep and erotic kiss. It is a relatively brief and simple scene, yet in its simplicity is a shock to recognize where Noah's mind has gone.

The success of "The Noah" is based heavily on the performance by Robert Strauss, a gravelly voice character actor best known for comic supporting roles, including his Oscar-nominated part in "Stalag 17" (1953). He never achieved leading man status and he was already semi-retired when "The Noah" was shot. Yet he gives the performance of a lifetime as the soldier whose devotion to the Army was rewarded with betrayal by the world, indifference by many of his military colleagues, and the inability to earn respect. It is a complex role which he brilliantly pulls off, from happily savoring the adulation of his invisible fans to miserably expelling Friday and the woman with an outburst of horrific jealousy. In the end, when he realizes his demise is near, the hurt reflected in his eyes is among the most haunted visage anyone could see in a film.

Alas, few people have ever seen "The Noah." The film was shot in 1968, but was not presented until a brief festival circuit run in 1974.
Excerpt from Film Threat located HERE
Initial Release: April 10th, 1975
Reviews More Reviews DVD Reviews
DVD Review: Pathfinder Home Entertainment - Region 0 - NTSC
DVD Box Cover

CLICK to order from:

Distribution
Pathfinder Home Entertainment - Region 0 - NTSC
Runtime
1:45:00
Video
1.78:1 Aspect Ratio
Average Bitrate: 4.64 mb/s
NTSC 720x480 29.97 f/s

NOTE: The Vertical axis represents the bits transferred per second. The Horizontal is the time in minutes.

Bitrate:

Audio
English (Dolby Digital 2.0)
Subtitles
None
Features

Release Information:
Studio: Pathfinder Home Entertainment

Aspect Ratio:
Original Aspect Ratio 1.78:1

Edition Details:

• Bios
• Still gallery

DVD Release Date: June 27th, 2006
Keep Case
Chapters: 18
Comments:

Quite an interesting film which would surely qualify as an underground classic - The Noah is the first and only film by director Daniel Bourla. It has unique cinematography and some interesting direction.

The DVD transfer is quite tube acceptable - anamorphic with a very low bitrate on a single-layered bare-bones DVD. Contrast and detail are fairly good. It is not progressive and there are no optional subtitles - it has some soundtrack excerpts and text screen biographies as extras. Overall I was impressed by the film but feel the DVD may be a shade pricey for what you are getting digitally. It is always great to find films like this that have been under wraps for so long. This is memorable cinema.
---



DVD Menus
Screen Captures