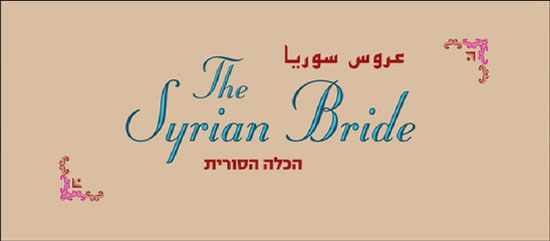 (aka "La Fiancée syrienne (France)" or "Ha-Kala Ha-Surit (Israel)" or "Die Syrische Braut (Germany)")
directed by Eran Riklis
Israel 2004
"The Syrian Bride" (2004) is the latest release from Israeli writer/director Eran Riklis and yet another addition to his continuing series of films that examine the heavy influence that culture has on lives in the Middle East. During his reserved and contemplative thirty-year career in filmmaking (similar to Terrence Malick's sparse but noteworthy canon), Riklis has completed several critically acclaimed films--the majority of which have been showcased at numerous film festivals, including Berlin and Venice. "The Syrian Bride" marks new ground for Riklis, who toured with the film overseas and picked up several major awards at Montreal's World Cinema Festival. Riklis has maintained his political sensibilities with this film, which centers on a wedding and the political strife that arises in spite of such a celebration.

Mona (Clara Khoury) is a young woman who has arranged to marry a soap opera star from Syria. She is a member of the Druze community living under Israeli occupation, and in crossing the border to Syria, it is extremely unlikely that she will ever be able to return home. Her wedding serves as the backdrop for Riklis to stage additional conflicts. Mona's brother, Hattem (Eyad Sheety), has been exiled from the family for betraying religious values by marrying a Russian woman. After eight long years, his return to the family is met by conflict between his sister, Amal (Hiam Abbass) and her husband, Amin (Adnan Tarabshi). Amal has modernized values that clash with Amin's traditional beliefs. She wears contemporary clothing rather than customary attire and decides to advance her education by attending university. Consequently, Amin is seen as a weak husband in his community because of his inability to control his wife's actions. Riklis' uses their relationship to outline a major theme in this work--the presence and practice of sexism in the Middle East.

One would assume that Mona would logically be the central character given that the film revolves around her wedding, but she is rather under-developed. Her background and past history are left almost entirely ambiguous. The plot casually reveals that she's been previously married, yet to whom, when, or how is left to the audience's imagination. Riklis' decision to sustain such a mysterious central character is an important one; it is yet another approach to his social commentary. Rather than spelling out his message for his audience, Riklis places a face (Mona) on the stereotypes and assumptions about Middle Eastern women. As a substitution for a developed lead, he uses the supporting characters to supplement the ambiguity with vivid portrayals and elaborate examinations. Amal's bright and optimistic persona outlines an individual who is desperately trying to break free of the traditional constraints of her religion and geographical obligations. In contrast, Hattem eagerly tries to revert to the principles and customs that he left behind when he married. These characterizations each embody a different aspect of Middle Eastern motivations, offering insight into Mona's possible state of mind and the burdens she carries.

Numerous critics have praised "The Syrian Bride" as a moving and deeply emotional film. It's certainly not difficult to sympathize with a good portion of Riklis' characters, but, at times, Riklis' story fails to match his actors' talent. The grief and anxiety expressed by Mona's family over her departure should be devastating. However, I couldn't help but feel somewhat removed from the situation. Roger Ebert said it best when he noted "[Mona] will never see [her family] again by crossing into Israel, but there are such things as airplane flights from both Syria and Israel to perfectly pleasant destinations that will welcome them both." Evidently, such logic weakens the premise for Riklis' melodrama. More so, his decision to use the border crossing as physical barrier to mirror Mona's personal barriers as a woman is hardly a new concept. Hany Abu-Assad's "Rana's Wedding" (2002), which also starred Clara Khoury, also followed a wedding facing border difficulties.

The greatest thing Riklis accomplishes with "The Syrian Bride" is exposing the subtle truths and everyday conflict in the Middle East. Although I am aware of the regressive attitudes towards woman and the stiff border regulations, the religious implications of daily responsibilities and the weight of familial decisions are issues I have rarely encountered. Seeing as how it is hardly ethical to impose one's cultural sensibilities on another (re: the Gulf War), the political struggles in the Middle East are a touchy issue to approach, making the immediacy of Riklis' message all the more relevant.
Posters
Theatrical Release: November 6, 2005
Reviews More Reviews DVD Reviews
DVD Review: Koch Lorber - Region 1 - NTSC
Big thanks to Kurtis J. Beard for the Review!
DVD Box Cover

CLICK to order from:

Distribution

Koch Lorber

Region 1 - NTSC

Runtime
1:36:24
Video

2.35:1 Original Aspect Ratio

16X9 enhanced
Average Bitrate: mb/s
NTSC 720x480 29.97 f/s

NOTE: The Vertical axis represents the bits transferred per second. The Horizontal is the time in minutes.

Bitrate

Audio
Dolby Digital Arabic 2.0
Subtitles
English
Features
Release Information:
Studio: Koch Lorber

Aspect Ratio:
Widescreen anamorphic - 2.35:1

Edition Details:
• Commentary with Eran Riklis and Karen Durbin
• Making of Featurette
• Interview with Hiam Abbass
• Original Theatrical Trailer
• U.S. Theatrical Trailer

DVD Release Date: June 6, 2006
Keep Case

Chapters 20
Comments
"The Syrian Bride" is presented in its original aspect ratio of 2.35:1. The transfer is anamorphic, but suffers from occasional moments of flickering. Seeing as how a significant portion of the film was shot outdoors with heavy sunlight, some problems are to be expected. Besides the flickering, Koch Lorber has released a crisp print with vibrant colors and appropriate contrast.

The audio is presented in a Dolby Digital Arabic 2.0 track. The film is also home to several other languages including English, French, Russian, and Hebrew. The mix is relatively good and showcases Cyril Morin's poignant music score quite well. Yellow English subtitles are optional.

Koch Lorber has provided a vast array of extras. You get an audio commentary by the director with Karen Durbin of "The New York Times", an interview with Hiam Abbass, a making-of documentary, and theatrical trailers. The commentary provides much historical background about the political themes of the film, and Abbass offers some production anecdotes in her interview. The real treat, however, is the making-of documentary, which fortunately is not the kind of self-indulgent fluff that most DVDs have. Instead, the documentary provides a step-by-step description of the filmmaking process. Most interesting was cinematographer Michael Wiesweg's description of his approach to the film's visual style and composition.
---




DVD Menus
---
Screen Captures
Subtitle Sample