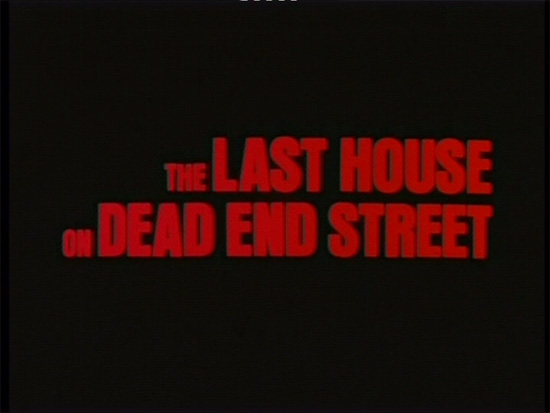 (aka "At the Hour of Our Death" or "The Cuckoo Clocks of Hell" or "The Fun House")
directed by Roger Michael Watkins
USA 1972
Released from prison, after having served a sentence for selling drugs, Terry Hawkins has set his mind to get back at society for having wronged him by making film. He gathers a crew, one of the having been institutionalized for having had sex with a dead cow, and makes his first film, kidnapping a blind man and killing him. As his connections are impressed by the film, Terry sets out to make another film, which will contain stuff they never dared dream of.

Inspired by the Manson massacre, "Last House on Dead End Street" was originally shot in 1972 as "The Cuckoo Clocks of Hell", and had an alleged running length of 185 minutes, but was butchered down to 75 minutes, redubbed and given a long credit list by its distributor, after Watkins had taken his name of the film, and released as "The Fun House", then later at drive-ins as "Last House on Dead End Street".

It's technical merits aside, as they are basically not existing, "Last House on Dead End Street" is a stunning and truly sickening gore film, with some very disturbing mise-en-scene. While it is easy to pick the scene, where they, after having sawed off the legs of a women screaming in pain, awakens her with smelling salt, just observe her screams of terror, as she realises her situation, I find the scene, where a woman having painted her face black is whipped, is equally offensive, perhaps even more so. Watkins may have been an amateur filmmaker, but he sure knew what he wanted on film and how to stage it.

While several critics has done so, I see no need to attempt to justify or elevate the film by drawing parallels to Derek Jarman or David Lynch, which in my opinion are non existing. Personally, I like comparing it to Jörg Buttgereit's "Nekromantik". Both films are no-budget underground amateur gore films, with a clear idea of how to structure the actions their protagonist. Both films are masterpieces of this subgenre of horror.

Poster
Theatrical Release: May 1977
Reviews More Reviews DVD Reviews
DVD Review: Tartan (2 Disc Collector's Edition) - Region 2 - PAL
Big thanks to Henrik Sylow for the Review!
DVD Box Cover

CLICK to order from:

Distribution

Tartan

Region 2 - PAL

Runtime
1:14:33 (4% PAL speedup)
Video

1.33:1 Original Aspect Ratio
Average Bitrate: 4.76 mb/s
PAL 720x576 25.00 f/s

NOTE: The Vertical axis represents the bits transferred per second. The Horizontal is the time in minutes.

Bitrate

Audio
2.0 Dolby Digital English Mono
Subtitles
No Subtitles
Features
Release Information:
Studio: Tartan

Aspect Ratio:
Fullscreen - 1.33:1

Edition Details:
• Outtakes (18:11 / no audio)
• Short Films w/commentary...
• Masque of the Red Death (3:33)
• Requiem (18:28)
• Ron Rico (19:02)
• Black Snow (17:03)

DVD Release Date: May 22, 2006
Keep Case

Chapters 16
Comments
As this version of the film is identical to the R1 Barrel version, the transfer is most likely a port from it, and if so, this is a true PAL conversion. Again, if so, the source is several theatrical 35mm prints and the disembowelling scene is taken from the Sun VHS master.

The film does look bad. It's often out of focus, there are obvious signs of damage, but one has to take into account, that this was shot on cheap stock, then blown up to 35mm, and coming from different sources. However, this aside, the transfers suffers from macro blocking and colour banding.

The sound is also "bad", but again, one has to take into account, that this film was re-dubbed and the original sound was recorded on a tape recorder.

Of additional material, Tartan has included 18 minutes of outtakes from the original three hour version (sans sound), and four short films by Watkins, all with audio commentary. Here Watkins reveals himself as quiet clear headed, even daring to call one of the "...a piece of junk."
---




DVD Menus
---
Screen Captures
---