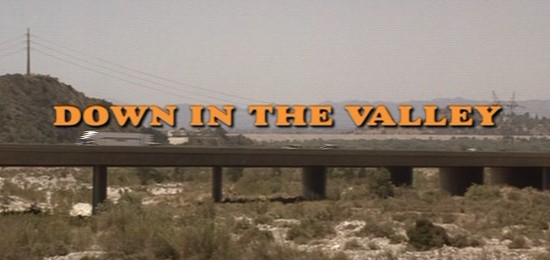 Directed by David Jacobson
USA
2005
Even while we're recognizing the brooding danger of the man, and defense mechanisms borne of past abuse, Norton gives us so much boyish charm and apparent sincerity, we're not entirely ready to condemn him. We're hooked by the potentials of the character's line. We never quite buy into it, though the actor's wiles suggest a complexity beyond what's in the script.

In writer-director Jacobsen's delineation of a warped range rider, we're mesmerized by how far his crafty anti-hero's pretenses can take us and remain plausible. Harlan's insistence on his good intentions to Wade, who is brought to ordering him off his property and away from his daughter... at gunpoint... is a gem of logic-denial and character audacity. He's a man who has fabricated a belief in his ability to convince an adversary of his fine qualities.

Yet, despite the wide scope of the land, a sincere effort to convey an archetypal feel for the myth and romance of the lone figure in the west, and the generally excellent portrayals, the film takes on as much strangeness as its erratic central figure by virtue of choices in the direction of the drama. In the end, the core idea is weighted down by too much length, strained sympathy, and a conclusion that comes with more relief than satisfaction.
Excerpt from Cinema Signals by The Familiar Cineaste review located HERE
Posters
Theatrical Release: May 13th, 2005 - Cannes Film festival
Reviews More Reviews DVD Reviews
DVD Comparison:
Thinkfilm - Region 1 - NTSC vs. SF Films - Region 0 - PAL
Thanks to Per-Olaf Strandberg for the SF Film captures!
(Thinkfilm - Region 1 - NTSC LEFT vs. SF Films - Region 0 - PAL- RIGHT)
DVD Box Cover

NOTE: Discshop.se only sells to all countries inside EU (except Spain)

We strongly suspect that the same transfer is applicable to the Danish edition found here:

Distribution
Thinkfilm - Region 1 - NTSC
SF Film - Region 0 - PAL
Runtime
1:57:12
1:47:20 (4% PAL speedup)
Video
2.35:1 Aspect Ratio
Average Bitrate: 6.33 mb/s
NTSC 720x480 29.97 f/s
2.35: Aspect Ratio
Average Bitrate: 7.48 mb/s
PAL 720x576 25.00 f/s

NOTE: The Vertical axis represents the bits transferred per second. The Horizontal is the time in minutes.

Bitrate: ThinkFilm

Bitrate: SF (Sweden)

Audio
English (Dolby Digital 5.1), English (Dolby Digital 2.0)
English (Dolby Digital 5.1), English (Dolby Digital 2.0)
Subtitles
Spanish, None
Danish, Swedish, Norwegian, None
Features

Release Information:
Studio: Thinkfilm

Aspect Ratio:
Original Aspect Ratio 2.35:1

Edition Details:

• Q + A with ed Norton and Director Jacobson (21:33)
• Theatrical trailer
• Deleted Scenes (8:54)

DVD Release Date: September 26th, 2006
Keep Case
Chapters: 16

Release Information:
Studio: SF Film

Aspect Ratio:
Original Aspect Ratio 2.35:1

Edition Details:

• none

DVD Release Date: July, 2006
Keep Case
Chapters: 18
Comments:

ADDITION: SF Films (PAL) - Oct 06' - Obviously the SF Films (Sweden) PAL edition is progressive and far better than the ThinkFilm - North American releases. We have another issue though - the times - it seems like the SF Films is 10 minutes shorter (4 minutes might be accounted for with PAL speedup - what about the rest?). We will look into it and post back here as soon as we know.

Both editions offer a 2.0 and 5.1 track. The ThinkFilm does have some decent extras (Q+A and deleted scenes).

We'll get back about the time difference as soon as we can, but I am truly disappointed in ThinkFilms for their lackluster transfer.

*****

What a shame - this transfer is non-progressive (interlaced) and is soft in sequences. I wouldn't say it is fatally poor - but could have been much better. Colors don't look bad and contrast is acceptable. There are only Spanish optional subtitles but the extras have a decent Q+A and show some deleted scenes.

The film didn't get much respect from critics but I, for one, liked it a bunch. The concept and Norton's performance are pure gold even if the film doesn't reach its potential. Unless you are quite keen - I'd probably say pass on this here DVD, partner - I believe there are some Nordic transfers that may be better.
---



DVD Menus
(Thinkfilm - Region 1 - NTSC LEFT vs. SF Films - Region 0 - PAL- RIGHT)
| | |
| --- | --- |
| | |
| | |
| | |
| | |
| | |
---
Subtitles Sample (ThinkFilm offers optional Spanish - SF Film offers optional Danish, Norwegian or Swedish)
NOTE: Not Exact Frame
(Thinkfilm - Region 1 - NTSC TOP vs. SF Films - Region 0 - PAL- BOTTOM)
---
Screen Captures
(Thinkfilm - Region 1 - NTSC TOP vs. SF Films - Region 0 - PAL- BOTTOM)
---
(Thinkfilm - Region 1 - NTSC TOP vs. SF Films - Region 0 - PAL- BOTTOM)
---
(Thinkfilm - Region 1 - NTSC TOP vs. SF Films - Region 0 - PAL- BOTTOM)
---
(Thinkfilm - Region 1 - NTSC TOP vs. SF Films - Region 0 - PAL- BOTTOM)
---
(Thinkfilm - Region 1 - NTSC TOP vs. SF Films - Region 0 - PAL- BOTTOM)
---
(Thinkfilm - Region 1 - NTSC TOP vs. SF Films - Region 0 - PAL- BOTTOM)
---
(Thinkfilm - Region 1 - NTSC TOP vs. SF Films - Region 0 - PAL- BOTTOM)
---
(Thinkfilm - Region 1 - NTSC TOP vs. SF Films - Region 0 - PAL- BOTTOM)
Report Card:
| | |
| --- | --- |
| Image: | SF Films |
| Sound: | - |
| Extras: | ThinkFilms |
| Menu: | ThinkFilms |
---
DVD Box Cover

NOTE: Discshop.se only sells to all countries inside EU (except Spain)

We strongly suspect that this is the same transfer:

Distribution
Thinkfilm - Region 1 - NTSC
SF Film - Region 0 - PAL