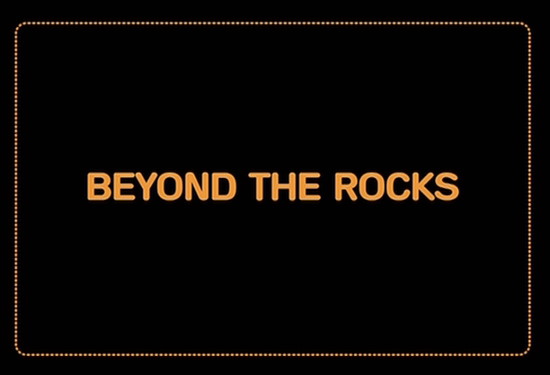 Directed by Sam Wood
USA 1922
The rediscovery and restoration of any film long believed lost is good news. Beyond the Rocks inspired still more excitement at the 2005 Cannes Film Festival because it was the only movie ever to co-star two of the silent era's highest-wattage luminaries: Gloria Swanson and Rudolph Valentino.

Cultural cliché holds that Swanson's acting was as garish as her makeup, and the legend of Valentino is awash in camp. Yet in this picture--however preposterously plotted by Elinor (It) Glyn--both deliver very natural performances of behavioral subtlety and discretion. Swanson, as the loving daughter of a retired officer (Alec B. Francis), is willing to do anything to ensure that Papa's twilight years be comfortable. That includes marrying a much older, vulgar businessman (Robert Bolder) as wealthy as he is unappealing. It's inconvenient that she's just fallen for a dashing nobleman (Valentino) who's saved her from (1) drowning and (2) falling off an Alp. Both these beautiful people struggle to behave honorably, right up through a final reel in which the unsympathetic husband takes them--and the audience--by surprise.

Now, we mustn't make overmuch of a good thing: Beyond the Rocks, ably but unexcitingly directed by Sam Wood, isn't a lost Murnau or the uncut Greed. But it's a very respectable movie, free of the excesses (except Swanson's increasingly florid costumes!) carelessly attributed to silent films in general; and as a long-delayed footnote to two legendary careers, its historical importance is considerable.
Excerpt from Richard T. Jameson's review HERE
Posters
Theatrical Release: May 7th, 1922
Reviews More Reviews DVD Reviews
DVD Review: New Yorker / Milestone - Region 0 - NTSC
DVD Box Cover

CLICK to order from:

Distribution
New Yorker / Milestone - Region 0 - NTSC
Runtime
1:20:21
Video
1.33:1 Aspect Ratio
Average Bitrate: 5.63 mb/s
NTSC 720x480 29.97 f/s

NOTE: The Vertical axis represents the bits transferred per second. The Horizontal is the time in minutes.

Bitrate:

Audio
Intertitles in English / Track (2.0 with minimal sound effects) and (5.1 Surround with Full Sound effects)
Subtitles
Dutch, French, None
Features

Release Information:
Studio: New Yorker / Milestone

Aspect Ratio:
Original Aspect Ratio 1.33:1

Edition Details:

• Introduction by Martin Scorsese
• The Delicious Little Devil (1919, 54 minutes, with Rudolph Valention and Mae Murray)
• Stills Gallery from Gloria Swanson's personal collection
• 85-minute wire recording of Gloria Swanson from 1955 - Never Before Heard!
• Featurette - Interviews, Articles, and Videos detailing the restoration process (48 minutes)
• Orchestra Score by Henny Vrienten (3 minutes)
• Alternative 5.1 Orchestral Score by Vrienten with Sound Effects

DVD Release Date: July 11th, 2006
Keep Case
Chapters: 12
Comments:

All I can say is WOW! This was quite the historical find - it was considered one of the great "lost" films from the Hollywood golden age. An astounding rediscovery by the Netherlands Filmmuseum that made some headlines last year - restored and it was also shown at Cannes later that year. Director Sam Wood (some may know from The Pride of the Yankees with Gary Cooper) shoots a real romance/epic touring viewers to the English countryside, Paris, London, the Swiss Alps and the Sahara Desert. I was immensely impressed - not only by the image but the film - but the sweeping melodrama with that recognizable performance intensity of silent films - especially this with two of the biggies - Swanson and Valentino sharing the screen.

How could we possibly fault the image quality? - but we will describe: With frame rate adjustment we often see very slight a 'combing' or 'trailing' effect and this film has it. Is it because it was not transferred progressively? I'm not 100% sure but I suspect it may not have been. The image is light sepia for most of the film, with one short scene of a dull purple. It looks remarkably good - the intertitles and credits were redone, as well as some text sequences (letters etc.), and there are optional French and Dutch subtitles. There are a couple of instances of damage - in the form of nitrate deterioration which consumes the entire frame, but it does not last too long (see sample in last large capture below).

One of the most amazing things about this restored film and DVD is the new score by Henny Vrienten - it is outstanding! OUTSTANDING! I listened to the 5.1 track was was blown away. It is brilliant - both simultaneously lilting and intense.

Extras: Martin Scorsese gives a brief introduction. Of all the extensive extra features that I enjoyed - the 3 minute featurette on the creation of the music is memorable for being both beautiful and educational. The Delicious Little Devil is a 50 minute Valentino vehicle from 1919. The story is about a poor hat-check girl (Mae Murray), who loses her job and is forced to work as a dancer at a roadhouse. There then she falls in love with the son of a rich businessman. It is a decent silent and enjoyable with some comedy and drama. Giovanna Fossati gives and amazingly detailed commentary during a featurette on the restoration of the film. Truly fascinating. There is an 85 minute recording of Swanson from 1955 and some publicity material and a still gallery.

Overall I was totally enthralled with this DVD. We give it one of our strongest recommendations! This is tons of fun and it appears almost impossible not to get swept up in the grandeur of the film or the historical significance of its incredible find and restoration.
---



DVD Menus
| | |
| --- | --- |
| | |
| | |
| | |
| | |
---
Inter
title Sample
Screen Captures