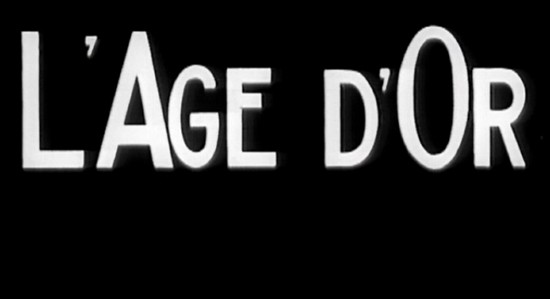 (aka "┬ge d'or" or "Age of Gold" or "The Golden Age")
directed by Luis Bu˝uel
France 1930
After the success of Un Chien Andalou with accolades from the ruling Parisian surrealists, Luis Bu˝uel and Salvador DalÝ were commissioned by Marie-Laurie and Charles de Noailles to make another experimental short film. It was expected that it would be extensively using classical music and obtuse imagery. What resulted was an alarming mediation on how to disrupt the public majority. Everyone seemed insulted... and they protested. It seems almost impossible that this film could have been made so long ago. Bu˝uel and Dali are thumbing their respective noses at every conceivable social moray and value. I wish I could think of someone to compare this to in modern day... but no one would be worthy.

Bu˝uel penned that L'Age d'Or was about "the impossible force that thrusts two people together [and] the impossibility of their ever becoming one." Amusingly enough the couple referred to were both sex-maniacs who reveled by lusting after everything including each other and inanimate objects. Eventually this breaks down as something beyond a film - something that cannot be scrutinized in a short paragraph or two. My advice is only to watch it... and enjoy.
Posters
Theatrical Release: October 28th, 1930 - Paris, France
Reviews More Reviews DVD Reviews
DVD Comparison:
BFI Video - Region 2 - PAL vs. Kino - Region 0 - NTSC
Big thanks to Pat Pilon for the Kino Screen Caps!
(BFI Video - Region 2 - PAL - LEFT vs. Kino - Region 0 - NTSC - RIGHT)
DVD Box Covers

Distribution

BFI Video

Region 2 - PAL

Kino
Region 0 - NTSC
Runtime
1:02:20 (4% PAL speedup)
1:02:30 (4% PAL speedup)
Video

1.30:1 Original Aspect Ratio
Average Bitrate: 6.19 mb/s
PAL 720x576 25.00 f/s

1.30:1 Original Aspect Ratio
Average Bitrate: 6.39 mb/s
NTSC 720x480 29.97 f/s

NOTE: The Vertical axis represents the bits transferred per second. The Horizontal is the time in minutes.

Bitrate:

BFI Video

Bitrate:

Kino

Audio
French Dolby Digital 1.0 Mono

French Dolby Digital 2.0 Mono (192 kbps)

Subtitles
English, None
English (forced)
Features
Release Information:
Studio: BFI Video

Aspect Ratio:
Original - 1.30:1

Edition Details:
• Commentary by Robert Short with optional subtitles
• 28 page booklet in case with
• Acknowledgments
• Also Available

DVD Release Date: October 25th, 2004
Handsome White Boxset with dual cardboard CD-sized case

Chapters 18

Release Information:
Studio: Kino

Aspect Ratio:
Original - 1.30:1

Edition Details:
• Commentary by author/filmmaker Robert Short
• Still Gallery
• Luis Bu˝uel Filmography


DVD Release Date: November 23rd, 2004
Amaray case

Chapters 12
Comments

ADDITION - Kino -NTSC - (June 2006) The BFI is the way to go. The extras go the BFI because of the doc (although it's on the other disc) and the booklet. The picture also seems sharper on the BFI disc and is transferred properly. The Kino disc is a PAL-NTSC port resulting in ghosting (see below) and overall softness of the picture. Another thing is that the commentaries may not be synched up. The words in the commentary subtitle sample don't match up to what Mr. Short is saying on the Kino disc at the same time. (The particular sentence about WWI happens a bit later, when the man looks back at the poster with the legs on them.

- Pat Pilon

****

This is just too much! RE: The commentary - Selecting the commentary track you see only about 26 minutes of the film with Robert Short's articulate words which are to be treasured. He divines logical interpretation where rarely would even the most ardent Bu˝uel fan observe. I found it very illuminating although wished it would spread to the entire film rather than less than half. If anyone could transform a surrealist neophyte into a devout fan - this commentary would do it !

A little damage in the film - again analog and non-interlaced (most likely taken from beta), excellent subtitles and commentary titles. This edition has become on of my most treasured DVD packages. Don't hesitate - I'm off to watch and listen to the commentary yet again.

-Gary Tooze
---




DVD Menus
(BFI Video - Region 2 - PAL -
LEFT
vs. Kino - Region 0 - NTSC -
RIGHT
)
---
Screen Captures
(BFI Video - Region 2 - PAL - TOP vs. Kino - Region 0 - NTSC - BOTTOM)
Subtitle + Title card Sample
---
(BFI Video - Region 2 - PAL - TOP vs. Kino - Region 0 - NTSC - BOTTOM)
---
(BFI Video - Region 2 - PAL - TOP vs. Kino - Region 0 - NTSC - BOTTOM)
---
(BFI Video - Region 2 - PAL - TOP vs. Kino - Region 0 - NTSC - BOTTOM)
---
(BFI Video - Region 2 - PAL - TOP vs. Kino - Region 0 - NTSC - BOTTOM)
---
(BFI Video - Region 2 - PAL - TOP vs. Kino - Region 0 - NTSC - BOTTOM)
---
(BFI Video - Region 2 - PAL - TOP vs. Kino - Region 0 - NTSC - BOTTOM)
Commentary subtitle Option sample (BFI)/ Ghosting example (Kino)
---
Recommended Reading for Bu˝uel Fans (CLICK COVERS or TITLES for more information)
---
---
Report Card: