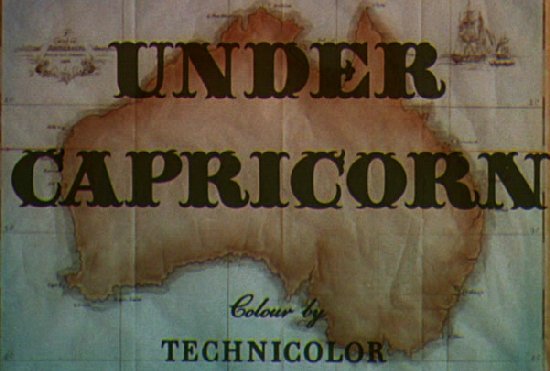 Hitchcock oddity, like a second-rate Gainsborough melodrama transplanted to Australia, in which a drunken Bergman, driven to the bottle by her husband's cruelty, is drawn to her cousin (Cotten), just off the boat from England. The two stars offer reheated versions of their performances in Gaslight - the relationship between their two characters is much the same, and despite the odd experimentally distended take, Hitch seems as glum and dissatisfied with the material as his cast. If you're trying to remember the titles of all of his films to pass a tedious journey, this is the one that nobody will remember.
Excerpt from Channel 4 located HERE
Posters
Theatrical Release: September 1949 (USA)
Reviews More Reviews DVD Reviews
DVD Comparison:
Kinowelt - Region 2- PAL vs. Image Entertainment - Region 0 - NTSC vs. SomeWax (Russia) - Region 0 - NTSC
Big thanks to Gary Tooze, Gregory Meshman and Pavel Borodin for the Screen Caps!
(Kinowelt - Region 2- PAL LEFT vs. Image Entertainment - Region 0 - NTSC - MIDDLE vs. SomeWax (Russia) - Region 0 - NTSC - RIGHT)
DVD Box Covers

Distribution

Kinowelt

Region 2 - PAL

Image Entertainment

Region 0 - NTSC

SomeWax (Russia)
Region 0 - NTSC
Runtime
1:48:04 (4% PAL speedup)
1:56:52
1:56:52
Video

1.33:1 Aspect Ratio
Average Bitrate: 6.23 mb/s

PAL 720x576 25.00 f/s

1.33:1 Original Aspect Ratio
Average Bitrate: 4.56 mb/s
NTSC 720x480 29.97 f/s

1.33:1 Original Aspect Ratio
Average Bitrate: 4.28 mb/s
NTSC 720x480 29.97 f/s

NOTE: The Vertical axis represents the bits transferred per second. The Horizontal is the time in minutes.

Bitrate:

Kinowelt

Bitrate:

Image Entertainment

Bitrate:

SomeWax (Russia)

Audio
English (Dolby Digital 2.0), DUB: German (Dolby Digital 2.0)
English (Dolby Digital 2.0)

English (Dolby Digital 2.0), Russian voice-over (Dolby Digital 2.0)

Subtitles
German, none
None
Russian, none
Features
Release Information:
Studio: Kinowelt

Aspect Ratio:
Fullscreen - 1.33:1

Edition Details:

• Claude Chabrol discusses Hitchcock (in French with German subtitles) (26:41)

• Text screen bios (in German only)

• Trailer

• Liner notes text booklet (all in German)

DVD Release Date: March 24th, 2006
Transparent Keep case

Chapters

17
Release Information:
Studio: Image Entertainment

Aspect Ratio:
Fullscreen - 1.33:1

Edition Details:

• none

DVD Release Date: June 17, 2003
Keep case

Chapters 24


Release Information:
Studio: SomeWax (Russia)

Aspect Ratio:
Fullscreen - 1.33:1

Edition Details:
• Trailers of other SomeWax releases


DVD Release Date:
Keep case

Chapters 9
Comments

NOTE: The Image Entertainment and Somewax image quality appear to be exact - same detail and same damage marks. I have no idea whether Somewax obtained the transfer legally or not. I suppose it is possible.

What were Kinowelt thinking with this release? It's a disaster! We had high hopes for this based on Kinowelt's fine track record but this is heavily contrast boosted and severely cropped. Bergman's head is cropped in large capture #3 and body is partially cropped out of the frame in capture #4. Damage is a little less but colors are all over the place. A German DUB and German subtitles options are offered and the significant extra (Chabrol) is only in French with German subtitles. I couldn't access the text screen bios. I am very disappointed in Kinowelt and this is a true black mark on their record. We suggest the Image Entertainment DVD until we are convinced the Somewax is not a bootleg.

*****

NOTE: I just wanted add to your review that the Kinowelt edition is not only visually inferior but also shortened by 4 minutes, the missing scene even ran subtitled on German TV, but Kinowelt messed up on this disc wherever it is possible. I hope they do a better job on Hitchcock's MURDER which will include the first release ever of the German version of the film which Hitchcock shot simultaneously. (thanks Armin!)

- Gary Tooze
NOTE: The Kinowelt Titles are in German: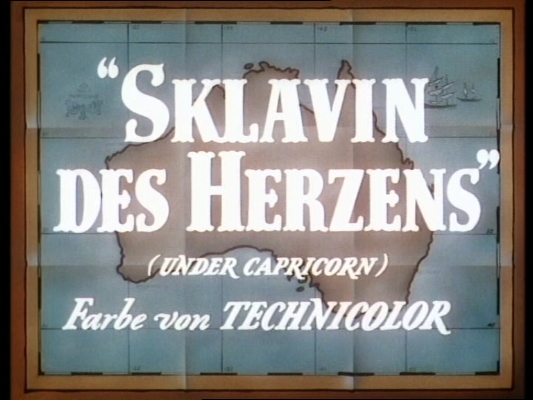 ---




DVD Menus
Kinowelt - Region 2- PAL

(Image Entertainment - Region 0 - NTSC - LEFT vs. SomeWax (Russia) - Region 0 - NTSC - RIGHT)
---
Screen Captures
(Kinowelt - Region 2- PAL TOP vs. Image Entertainment - Region 0 - NTSC - MIDDLE vs. SomeWax (Russia) - Region 0 - NTSC - BOTTOM)
---
(Kinowelt - Region 2- PAL TOP vs. Image Entertainment - Region 0 - NTSC - MIDDLE vs. SomeWax (Russia) - Region 0 - NTSC - BOTTOM)
---
(Kinowelt - Region 2- PAL TOP vs. Image Entertainment - Region 0 - NTSC - MIDDLE vs. SomeWax (Russia) - Region 0 - NTSC - BOTTOM)
---
(Kinowelt - Region 2- PAL TOP vs. Image Entertainment - Region 0 - NTSC - MIDDLE vs. SomeWax (Russia) - Region 0 - NTSC - BOTTOM)
---
(Kinowelt - Region 2- PAL TOP vs. Image Entertainment - Region 0 - NTSC - MIDDLE vs. SomeWax (Russia) - Region 0 - NTSC - BOTTOM)
---
(Kinowelt - Region 2- PAL TOP vs. Image Entertainment - Region 0 - NTSC - MIDDLE vs. SomeWax (Russia) - Region 0 - NTSC - BOTTOM)
---
(Kinowelt - Region 2- PAL TOP vs. Image Entertainment - Region 0 - NTSC - MIDDLE vs. SomeWax (Russia) - Region 0 - NTSC - BOTTOM)
NOTE: Observe how much is cropped from the Kinowelt release

---
Report Card:
| | |
| --- | --- |
| Image: | Image Entertainment / Somewax |
| Sound: | Kinowelt offers German DUB |
| Extras: | Kinowelt although none are in English |
| Menu: | Kinowelt |