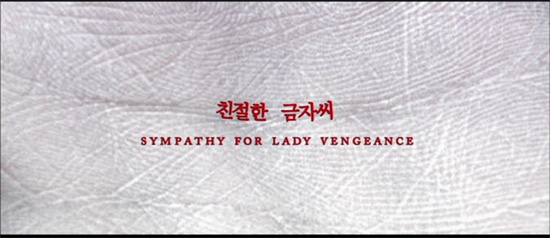 (aka "Chinjeolhan geumjassi" or "Sympathy for Lady Vengeance")
directed by Chan-wook Park
South Korea 2005
Spending 13 years in prison, for the abduction and murder of a child, Lee Geum-ja is released a model prisoner. Having been converted to Christianity, she has spend her time being an angel, helping and aiding her inmates, and is now being awaited by a congregation, dressed up as Santa Claus, as Christmas is near by. As Lee meets them, rather than accepting their welcome, she tells them to go screw themselves and embarks on her mission for vengeance.

Sympathy for Lady Vengeance is the third and last part of Chan-wook Park's trilogy of revenge, beginning with Sympathy for Mr. Vengeance and continuing with OldBoy. The western title is however misleading, as the original title Chinjeolhan geumjassi translates Kind Miss Geum-ja. To approach this final entry by the original title is far more enriching in terms of how Park handles revenge.

Where revenge was by the gut in Sympathy for Mr. Vengeance and alluding Kafka and Camus in OldBoy, revenge here is calculated and cold blooded. Geum-ja spend 13 years in prison knowing she was innocent of the crime she was convicted. The real killer forced her to do so, having abducted her daughter and threatened to kill her, if she didn't confess to his crime. Notable here is, that Geum-ja is a gentle soul, who becomes corrupted, as she begins to punish those who are evil, in lack of a better word, in prison, and continues to do so, once she is released.

There are two significant weaknesses in Sympathy for Lady Vengeance. The first is, that Park invests too much time in acts not related to the original crime, showing Geum-ja as a woman, who kills the evil sprits of her former inmates. The second is that Park distorts the central revenge motif by involving the parents of other children killed. While it is haunting and very painful to watch, one has to question Park's approach to revenge here. Is Geum-ja an abstraction of justice? Is he advocating vigilantism? Does he dilute Geum-ja's 13 year waiting for revenge by allowing others to get theirs before she does? Where Park approached revenge from an existential point of view in the two prior films, revenge here seems more to be what drives the narrative.

Park doesn't allow his audience to feel the pain of his protagonist, as he and has reduced the audience to observers only. The story moves too quickly, both forward and in too many directions, for us to pause, reflect and sympathise with Geum-ja. I don't believe in the transition of Geum-ja. One moment, she is a na´ve mother, being forced to re-enact the killing of a child in front of reporters, the next she is a calm vindictive angel. Park doesn't allow her the same "journey of the mind" as he did Oh Dae-su in OldBoy. And even if one attempts to approach Geum-ja as an political abstraction, for the collective guilt of South Korea, the abstraction has to be forced upon the narrative, and even so, if makes little sense.

Weaknesses aside, one has to view Sympathy for Lady Vengeance outside the trilogy and Park's examination of guilt and revenge, and as such, it is a stunning piece of film. The mise-en-scene by Park is far more playful than in his earlier films, far more political, far more grim. Isolated, there are moments of great pain and beauty. More so here than in his earlier films, Park creates iconographical elements – Geum-ja and her red eyeshade and black leather jacket for instance – and arranges these for maximum impact. This is his most impressive visual film to date.

Posters
Theatrical Release: July 29, 2005 (South Korea)
Reviews More Reviews DVD Reviews
DVD Review: Tartan - Region 0 - PAL
Big thanks to Henrik Sylow for the Review!
DVD Box Cover

CLICK to order from:

Distribution

Tartan

Region 0 - PAL

Runtime
1:55:13 (4% PAL speedup)
Video

2.35:1 Original Aspect Ratio

16X9 enhanced
Average Bitrate: 6.42 mb/s
PAL 720x576 25.00 f/s

NOTE: The Vertical axis represents the bits transferred per second. The Horizontal is the time in minutes.

Bitrate

Audio
2.0 Dolby Digital Korean, 5.1 Dolby Digital Korean, DTS Korean
Subtitles
English, None
Features
Release Information:
Studio: Tartan

Aspect Ratio:
Widescreen anamorphic - 2.35:1

Edition Details:
• Director interview (42:11 / 16:9)
• Original Theatrical Trailer (1:46 / 4:3)
• Tartan Trailer Reel

DVD Release Date: May 8, 2006
Keep Case

Chapters 16
Comments
A stunning transfer showing strong blacks, great details and no visible artefacts. It would have been such a beautiful transfer, hadn't it been for the fact, that this is a PALified NTSC (with 'ghosting' present). Considering, that Tartan's OldBoy transfer was about one of the best their ever released, this is sad.

The sound on the other hand is truly stunning. Especially the DTS which captures everything crystal clear, making full use of the surround funstion.

The additional material is besides the trailer, an exclusive interview with Park, where he goes into detail with various elements of the film, both thematically and production elements. A great interview.
---




DVD Menus
---
Screen Captures
Subtitle sample - Capture is resized from 1016px to 800px