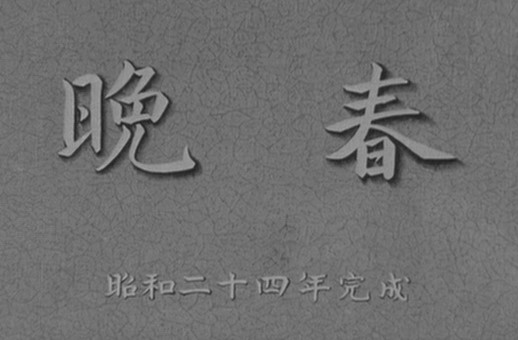 (aka "Late Spring" or "Ban Shun" )
One of the most powerful of Yasujiro Ozu's family portraits, Late Spring tells the story of a widowed father who feels compelled to marry off his only, beloved daughter. Loyal Ozu players Chishu Ryu and Setsuko Hara command this poignant tale of love and loss in postwar Japan, which remains as potent today as ever—almost by itself justifying Ozu's inclusion in the pantheon of cinema's greatest directors.
***
Noriko (Setsuko Hara) is utterly devoted to her widowed father Somiya (Chishu Ryu, like Hara she is quickly recognized as another Ozu regular). While attending a "Noh" theatrical play with him she focuses on a lady she believes that he intends to wed. He isn't in actuality but he has only told Noriko this to encourage her to get married herself and leave the nest. Father feels it is time and doesn't want to burden his daughter's future happiness. Noriko is obviously disturbed by this potential union with a combination of jealousy and anger flashing subtly across her face. Her pain is transferred to us in such a cohesive fashion that the sense of being a voyeur in these peoples lives is almost embarrassing for the viewer.

No director even comes close to expressing the essence of "mono no aware" like Yasujiro Ozu
(
that we experience the wholeness of life by encountering things (mono) and being sensitive to them (no aware)
. Feeling without verbalization is a conduit of art cinema since the silent era. Somiya's quiet 'hmms' to his daughter in regards to her direct questions about his plans to re-marry are as memorable as any emotion I have seen in film. I will never forget that scene, nor many others, in "Late Spring". Another is how perfectly beautiful and fetching Setsuko Hara looks after a bike ride with a potential suitor. They sit together and watch the ocean, the wind blows in her hair and she smiles at him - more with amusement at his pursuit of her than encouragement. She is far too content to worry about men in her life and this is also expressed in a few smiles. Noriko is so reluctant to adjust her simple and beautiful manner of living and challenging it becomes agonizing and later her mannerisms display how distraught she is.

For me "Late Spring" eclipses "Tokyo Story" as my favorite Ozu film. His continued style of the 180 degree cuts when there is conversation is so elegant, restrained and respectful. The emotion his films bring underplay the directors constant future theme of bridging of familial conflict, communication and unselfish love. One of the greatest films I have ever seen.
Poster
Theatrical Release: September 13th, 1949
Reviews More Reviews DVD Reviews
DVD Review:
Criterion (2-disc) - Region 1- NTSC
DVD Box Cover

CLICK to order from:

Distribution

Criterion Collection - Spine # 331

Region 1 - NTSC

Runtime
1:48:04
Video
1.33:1 Original Aspect Ratio
Average Bitrate: 8.4 mb/s
NTSC 720x480 29.97 f/s

NOTE: The Vertical axis represents the bits transferred per second. The Horizontal is the time in minutes.

Bitrate:

Criterion

Audio
1.0 Dolby Digital Japanese
Subtitles
English, None
Features

Release Information:
Studio:

Criterion

Aspect Ratio:
Fullscreen - 1.33:1

Edition Details:
• Commentary by Richard Pena

• Tokyo-Ga (1985, 92 mins), legendary director Wim Wenders' tribute to Yasujiro Ozu
• Audio commentary by Richard Peńa, program director of New York's Film Society of Lincoln Center
• Liner Notes essays by critic Michael Atkinson and renowned Japanese-film historian Donald Richie

DVD Release Date:

May 9th, 2006
Double Thick Keepcase

Chapters

25
Comments:

NOTE: The Criterion Late Spring DVD is compared to all existing versions HERE.

As with the Forbidden Games, The Virgin Spring, La bęte humaine and other recent 1.33 aspect ratio releases by Criterion (as well as, from the past, Nanook of the North) the image has been 'pictureboxed' to overcome 'overscan' on commercially made tube television sets (overscan can be up to a 15% loss of image... and this is significant!). Pictureboxing produces a black border around the edge of the image and most DVD players automatically zoom-in to fill the viewing screen - it limits resolution making the image slightly less detailed than it might be able to achieve. The benefit of pictureboxing is that it adds more visible viewing area so that the majority of DVD purchasers (most people own and watch through tubes) can see even more of what is on the negative - the way the film was meant to be viewed. DVDBeaver feels that equipment invariably improves at a much lower price and much faster these days and catering to people with inferior equipment can easily come back and haunt you when the hardware climate advances (it is doing so monthly). I'll wager that tube TV's are selling at at much lower rate than other viewing systems these days. We feel you will own your DVDs (especially your Criterion DVDs) much longer than you will own your current viewing system - I say this is true for myself having just purchased a plasma TV today! (I will still own my Criterion DVDs long after this brand new television is in the trashcan). The overscan problem associated with tube TVs can be corrected relatively inexpensively (incremental zoom DVD players, HTPC viewing, even some TVs now can zoom out to compensate etc.). In the early days of DVD, Criterion justified issuing non-anamorphic DVD editions feeling that player down-conversion was poor. DVDBeaver also feel this was an error on their part although this new issue has many sides - it is still up for debate and we welcome opinions. I see that a petition has been created HERE to encourage Criterion to dismiss this practice.

Criterion have done some extensive cleaning of the dirt and debris prevalent on the existing available master but some vertical scratches are still noticeable, often appearing highly visible (see bicycling capture below). The Criterion is very bright and sharp with superior black levels than we have seen to date. I believe they have meticulously manipulated both contrast and blacks by hand in certain scenes. This raises the perceived sharpness of the image and it DOES look better. Our condemnation of this practice of altering original masters, is really a form of restoration. Deepening the black levels which may have faded over time and brightening spots that are clouded with dirt and debris is acceptable as long as it is not a blanket approach. In, example, the Panorama - the image was brightened, but not in segmented areas - but through the entire film - and this is not appropriate. The trouble with digital manipulation is that it can bring to the surface some usually hidden defects (like scratches and blemishes). If the film is relatively intact the digital improvement has a valued effect - much akin to detailed restoration. The Criterion, pictureboxed and with warts and all, is still the best this film has looked for a very long time and the best image of Ozu's masterpiece on DVD.

The commentary is excellent from what I have heard so far. I will report in detail tomorrow.

The second disc is Win Wenders 90 minute Tokyo Ga. Wenders travels to Japan in search of the Tokyo seen in the films of Yasujiro Ozu. A fitting documentary for fans of Ozu and the film.
---
Recommended Reading for Japanese Film Fans (CLICK COVERS or TITLES for more information)
Check out more in "The Library"
---


DVD Menus
(Criterion - region 1- NTSC LEFT vs. Bo Ying - Region 0 - NTSC RIGHT)
Criterion - Region 1- NTSC- Disc 2
---
Subtitle Sample
Screen Captures
---
---
Personally this image looks perfectly balanced to my eye...
---
where this one may be a shade overboosted (blacks)
---
DVD Box Cover

CLICK to order from:

Distribution

Criterion Collection - Spine # 331

Region 1 - NTSC
---