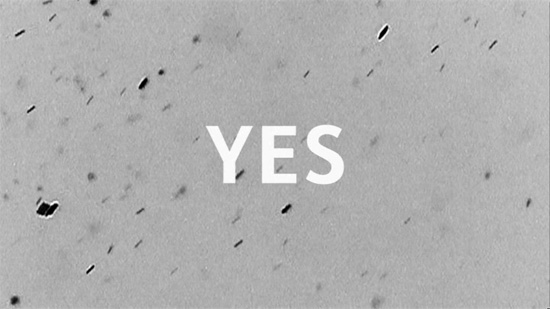 directed by Sally Potter
United Kingdom 2004
Conceived in the days following September 11, Potter wrote "Yes!" in response to the, in her words, rapid demonization of the Arabic world in the West; a West, who was more occupied in perceiving Arabs as a symbol, rather than understanding them as human beings.

Rather than creating direct politic metaphors, Potter sets up contrasts of existence, making her characters abstractions, simply naming her protagonists He and She, noting upon the universitality of her ideas.

She, played by Joan Allen, is a microbiologist, who spends her life creating logic and scientific definitions of what life is and when human life actually begins, against emotional, ideological and theosophical arguments.

Her world is sterile. Her workplace is clinically sterile, white and clean. Her home is impeccable cleaned, white and sterile. Her marriage is without emotions, as she and her husband, a disillusioned politician, played by Sam Neill, do little but avoiding each other.

It all changes, when she meets He, played by Simon Abkarian, a Lebanese surgeon, who fled his country and now works as a cook / waiter. His world is colourful, full of emotions.

Her most daring work ever, with dialogue written entirely in blank verse, one is tempted to view "Yes!" as almost Shakespearian. It even has a narrator, opening the scene and closing it. Here in the role of a cleaning woman, who points out, that cleaning is an illusion; You cannot ever clean anything, only giving it the illusion of being clean, talking about mites, microbes and viruses.

This metaphor is important, as it suggests, that we tolerate a certain level of ignorance, in order to live our lives. If people knew how many millions of mites exists in fabrics, they would never touch it again, says the narrator, that, and that they live of what is dead to us.

The same level of ignorance is dominant in the life of She, both in her marriage, and in her work. If she can find a scientific reason to base a decision on, she can ignore other arguments. The same can be said about her husband, just with political instead of scientifically. This also is true for the romance between He and She. As long as they have bliss, they ignore everything else; most directly noted by She deciding not to answer a phone call from her daughter, as she wants to be with He.

As a moral tale, the illusion of happiness breaks, when He realises, that he is perceived as a symbol of evil, which hurts him so much, that he has to hurt Her. Potter then sets up her third act, allowing She and He to come to terms with her past and her feelings.

Facing death, in form of her dying aunt, She realises, that one only has this life and one has to live it here and now. One has to stop ignoring and see things as they really are. One has to stop making arguments to say no, when yes in the end is the only word to say; here said by the narrator at the end in her soliloquy:

There's no such thing as nothing, not at all.
It may be really very, very small.
But it's still there. In fact I think I'd guess.
That "no" does not exist. There's only "yes."

More than just having a distinct Shakespearian quality to her verse dialogue, "Yes!" also alludes Ibsen. Just as Ibsen challenged the idea of the theatre of his time, that plays had to have a morally appropriate conclusion, so does Potter challenge our point of view of ethnicity. Just as Ibsen shattered the illusions of his audiences, so does Potter of her protagonists. One may even go so far as to say, that just like Nora left her life behind as her illusions were shattered, so does She.

An extraordinary work of beauty and poetry, "Yes!" is Potters most accomplished and best film to date. One never feels as if the actors are acting, even when speaking in verse. Potters sets her scene with so much tenderness and precision, that everything comes together into great art, both cinematic and literary.

More than that, Potter takes full advantages of this being cinema, creating contexts by having the protagonists thoughts be spoken out at the same time as they speak their lines, showing the differences between what one says. This simple devices is used to full effect in the break-up scene, where the thoughts of She for the first time is equal to what she says.

Perhaps a na´ve romantic, Potter has still created a work of pure poetic bliss. Her mise-en-scene is breathtaking, her words melt in the mouths of her actors, and goes straight to the heart. She allows both her actors and her audience to feel her mind and to think with their hearts.
Poster
Theatrical Release: September 4, 2004 (Telluride Film Festival)
Reviews More Reviews DVD Reviews
DVD Review: Optimum - Region 2 - PAL
Big thanks to Henrik Sylow for the Review!
DVD Box Cover

CLICK to order from:

Distribution

Optimum

Region 2 - PAL

Runtime
1:35:51 (4% PAL speedup)
Video

1.78:1 Aspect Ratio

16X9 enhanced
Average Bitrate: 6.45 mb/s
PAL 720x576 25.00 f/s

NOTE: The Vertical axis represents the bits transferred per second. The Horizontal is the time in minutes.

Bitrate

Audio
2.0 Dolby Digital English, 5.1 Dolby Digital English
Subtitles
No subtitles
Features
Release Information:
Studio: Optimum

Aspect Ratio:
Widescreen anamorphic - 1.78:1

Edition Details:
• Finding Scene 54 (29:07 / 4x3)
• The End (22:22 / 4x3)
• Trailer (2:07 / 16x9)

DVD Release Date: January 9, 2005
Keep Case

Chapters 17
Comments
A flawless presentation. Not even when zooming in does any compression artifacts appear. Details are strong, color scheme is strong.

Sound comes as 2.0 Dolby Digital and 5.1 Dolby Digital, and the latter is preferable, as it allows the score space.

The featurette "Finding Scene 54" is of great quality, showing with what care and time, Potter creates an important scene.
---




DVD Menus

---
Screen Captures