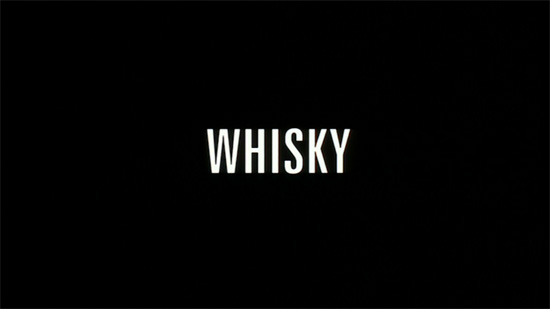 directed by Juan Pablo Rebella and Pablo Stoll
Uruguay / Argentina / Germany / Spain 2004
Everything about Jacobo is dull. He leads a boring life, running a dull dark run-down sock factory, and his life consists of the same dull routines. When his brother, who leads an interesting successful life, comes to visit, Jacobo asks his assistant Martha to pose as his wife, wanting to impress his brother. Herman, the brother, is impressed and invites them both to go to a seaside resort with him.

"Whisky" is one very charming and funny film, with a mise-en-scene and acting very close to the films of Aki Kaurismaki. Everything is understated. The characters are emotionless most of the time and everything has an absurd quality, especially how dull everything is.

The strength of the film is the tension from the lie of Jacobo versus the rivalry between the two brothers, and the pace by which it is build up. To say Whisky is similar to our way of saying cheese. To put on a smile. Here a smile of pretence, a running theme, as everything is pretence. The home made dinner is a precooked chicken, the seaside resort pretends its entertaining, but is in fact as boring as the factory. But removed from their daily monotonous routines, the characters find moments where they live.

It is nearly impossible not to be charmed by "Whisky". One very beautiful and touching film.
Posters
Theatrical Release: May 19th, 2004 (Cannes Film Festival)
Reviews More Reviews DVD Reviews
DVD Review: Artificial Eye - Region 2 - PAL
Big thanks to Henrik Sylow for the Review!
DVD Box Cover

CLICK to order from:

Distribution

Artificial Eye

Region 2 - PAL

Runtime
1:34:46 (4% PAL speedup)
Video

1.75:1 Aspect Ratio

16X9 enhanced
Average Bitrate: 6.50 mb/s
PAL 720x576 25.00 f/s

NOTE: The Vertical axis represents the bits transferred per second. The Horizontal is the time in minutes.

Bitrate

Audio
2.0 Dolby Digital Spanish
Subtitles
English, None
Features
Release Information:
Studio: Artificial Eye

Aspect Ratio:
Widescreen anamorphic - 1.75:1

Edition Details:
• Trailer (1:54 / 4:3)
• Making of 'Whisky' (27:03 / 4:3)
• Deleted Scenes (10:24 / 4:3)
• Director's biography

DVD Release Date: December 5, 2005
Amarey

Chapters 12
Comments
While the film has an OAR of 1.85:1, the transfer is presented in 1.75:1. Having black bars left and right, one can assume this is a masking of the 35mm format, but I'm guessing here.

The image is not up to par. It displays visible artifacts, it looks like it has been given a contrast boost, it is grainy and resolution is low. Already at 300%, images are mosaic. On the other hand, it has strong saturated colors and excellent blacks.

Of additional material there is a good making of featurette and several deleted scenes.
---




DVD Menus

---
Screen Captures
Subtitle sample - Capture is resized from 1016px to 800px














DONATIONS Keep DVDBeaver alive:
Mail cheques, money orders, cash to: or CLICK PayPal logo to donate!
Thank You!
Juan Pablo + Rebella Pablo Stoll's - Whisky - DVD Review Juan Pablo Rebella Pablo Stoll Whisky DVD Review Juan Pablo Rebella Pablo Stoll Whisky DVD Review Juan Pablo Rebella Pablo Stoll Whisky DVD Review Juan Pablo Rebella Pablo Stoll Whisky DVD Review Juan Pablo Rebella Pablo Stoll Whisky DVD Review Juan Pablo Rebella Pablo Stoll Whisky DVD Review Juan Pablo Rebella Pablo Stoll Whisky DVD Review Juan Pablo + Rebella Pablo Stoll's - Whisky - DVD Review Juan Pablo Rebella Pablo Stoll Whisky DVD Review Juan Pablo Rebella Pablo Stoll Whisky DVD Review Juan Pablo Rebella Pablo Stoll Whisky DVD Review Juan Pablo Rebella Pablo Stoll Whisky DVD Review Juan Pablo Rebella Pablo Stoll Whisky DVD Review Juan Pablo Rebella Pablo Stoll Whisky DVD Review Juan Pablo Rebella Pablo Stoll Whisky DVD Review Juan Pablo + Rebella Pablo Stoll's - Whisky - DVD Review Juan Pablo Rebella Pablo Stoll Whisky DVD Review Juan Pablo Rebella Pablo Stoll Whisky DVD Review Juan Pablo Rebella Pablo Stoll Whisky DVD Review Juan Pablo Rebella Pablo Stoll Whisky DVD Review Juan Pablo Rebella Pablo Stoll Whisky DVD Review Juan Pablo Rebella Pablo Stoll Whisky DVD Review Juan Pablo Rebella Pablo Stoll Whisky DVD Review Juan Pablo + Rebella Pablo Stoll's - Whisky - DVD Review Juan Pablo Rebella Pablo Stoll Whisky DVD Review Juan Pablo Rebella Pablo Stoll Whisky DVD Review Juan Pablo Rebella Pablo Stoll Whisky DVD Review Juan Pablo Rebella Pablo Stoll Whisky DVD Review Juan Pablo Rebella Pablo Stoll Whisky DVD Review Juan Pablo Rebella Pablo Stoll Whisky DVD Review Juan Pablo Rebella Pablo Stoll Whisky DVD Review Juan Pablo + Rebella Pablo Stoll's - Whisky - DVD Review Juan Pablo Rebella Pablo Stoll Whisky DVD Review Juan Pablo Rebella Pablo Stoll Whisky DVD Review Juan Pablo Rebella Pablo Stoll Whisky DVD Review Juan Pablo Rebella Pablo Stoll Whisky DVD Review Juan Pablo Rebella Pablo Stoll Whisky DVD Review Juan Pablo Rebella Pablo Stoll Whisky DVD Review Juan Pablo Rebella Pablo Stoll Whisky DVD Review Juan Pablo + Rebella Pablo Stoll's - Whisky - DVD Review Juan Pablo Rebella Pablo Stoll Whisky DVD Review Juan Pablo Rebella Pablo Stoll Whisky DVD Review Juan Pablo Rebella Pablo Stoll Whisky DVD Review Juan Pablo Rebella Pablo Stoll Whisky DVD Review Juan Pablo Rebella Pablo Stoll Whisky DVD Review Juan Pablo Rebella Pablo Stoll Whisky DVD Review Juan Pablo Rebella Pablo Stoll Whisky DVD Review Juan Pablo + Rebella Pablo Stoll's - Whisky - DVD Review Juan Pablo Rebella Pablo Stoll Whisky DVD Review Juan Pablo Rebella Pablo Stoll Whisky DVD Review Juan Pablo Rebella Pablo Stoll Whisky DVD Review Juan Pablo Rebella Pablo Stoll Whisky DVD Review Juan Pablo Rebella Pablo Stoll Whisky DVD Review Juan Pablo Rebella Pablo Stoll Whisky DVD Review Juan Pablo Rebella Pablo Stoll Whisky DVD Review Juan Pablo + Rebella Pablo Stoll's - Whisky - DVD Review Juan Pablo Rebella Pablo Stoll Whisky DVD Review Juan Pablo Rebella Pablo Stoll Whisky DVD Review Juan Pablo Rebella Pablo Stoll Whisky DVD Review Juan Pablo Rebella Pablo Stoll Whisky DVD Review Juan Pablo Rebella Pablo Stoll Whisky DVD Review Juan Pablo Rebella Pablo Stoll Whisky DVD Review Juan Pablo Rebella Pablo Stoll Whisky DVD Review Juan Pablo + Rebella Pablo Stoll's - Whisky - DVD Review Juan Pablo Rebella Pablo Stoll Whisky DVD Review Juan Pablo Rebella Pablo Stoll Whisky DVD Review Juan Pablo Rebella Pablo Stoll Whisky DVD Review Juan Pablo Rebella Pablo Stoll Whisky DVD Review Juan Pablo Rebella Pablo Stoll Whisky DVD Review Juan Pablo Rebella Pablo Stoll Whisky DVD Review Juan Pablo Rebella Pablo Stoll Whisky DVD Review Juan Pablo + Rebella Pablo Stoll's - Whisky - DVD Review Juan Pablo Rebella Pablo Stoll Whisky DVD Review Juan Pablo Rebella Pablo Stoll Whisky DVD Review Juan Pablo Rebella Pablo Stoll Whisky DVD Review Juan Pablo Rebella Pablo Stoll Whisky DVD Review Juan Pablo Rebella Pablo Stoll Whisky DVD Review Juan Pablo Rebella Pablo Stoll Whisky DVD Review Juan Pablo Rebella Pablo Stoll Whisky DVD Review Juan Pablo + Rebella Pablo Stoll's - Whisky - DVD Review Juan Pablo Rebella Pablo Stoll Whisky DVD Review Juan Pablo Rebella Pablo Stoll Whisky DVD Review Juan Pablo Rebella Pablo Stoll Whisky DVD Review Juan Pablo Rebella Pablo Stoll Whisky DVD Review Juan Pablo Rebella Pablo Stoll Whisky DVD Review Juan Pablo Rebella Pablo Stoll Whisky DVD Review Juan Pablo Rebella Pablo Stoll Whisky DVD Review Juan Pablo + Rebella Pablo Stoll's - Whisky - DVD Review Juan Pablo Rebella Pablo Stoll Whisky DVD Review Juan Pablo Rebella Pablo Stoll Whisky DVD Review Juan Pablo Rebella Pablo Stoll Whisky DVD Review Juan Pablo Rebella Pablo Stoll Whisky DVD Review Juan Pablo Rebella Pablo Stoll Whisky DVD Review Juan Pablo Rebella Pablo Stoll Whisky DVD Review Juan Pablo Rebella Pablo Stoll Whisky DVD Review Juan Pablo + Rebella Pablo Stoll's - Whisky - DVD Review Juan Pablo Rebella Pablo Stoll Whisky DVD Review Juan Pablo Rebella Pablo Stoll Whisky DVD Review Juan Pablo Rebella Pablo Stoll Whisky DVD Review Juan Pablo Rebella Pablo Stoll Whisky DVD Review Juan Pablo Rebella Pablo Stoll Whisky DVD Review Juan Pablo Rebella Pablo Stoll Whisky DVD Review Juan Pablo Rebella Pablo Stoll Whisky DVD Review Juan Pablo + Rebella Pablo Stoll's - Whisky - DVD Review Juan Pablo Rebella Pablo Stoll Whisky DVD Review Juan Pablo Rebella Pablo Stoll Whisky DVD Review Juan Pablo Rebella Pablo Stoll Whisky DVD Review Juan Pablo Rebella Pablo Stoll Whisky DVD Review Juan Pablo Rebella Pablo Stoll Whisky DVD Review Juan Pablo Rebella Pablo Stoll Whisky DVD Review Juan Pablo Rebella Pablo Stoll Whisky DVD Review Juan Pablo + Rebella Pablo Stoll's - Whisky - DVD Review Juan Pablo Rebella Pablo Stoll Whisky DVD Review Juan Pablo Rebella Pablo Stoll Whisky DVD Review Juan Pablo Rebella Pablo Stoll Whisky DVD Review Juan Pablo Rebella Pablo Stoll Whisky DVD Review Juan Pablo Rebella Pablo Stoll Whisky DVD Review Juan Pablo Rebella Pablo Stoll Whisky DVD Review Juan Pablo Rebella Pablo Stoll Whisky DVD Review Juan Pablo + Rebella Pablo Stoll's - Whisky - DVD Review Juan Pablo Rebella Pablo Stoll Whisky DVD Review Juan Pablo Rebella Pablo Stoll Whisky DVD Review Juan Pablo Rebella Pablo Stoll Whisky DVD Review Juan Pablo Rebella Pablo Stoll Whisky DVD Review Juan Pablo Rebella Pablo Stoll Whisky DVD Review Juan Pablo Rebella Pablo Stoll Whisky DVD Review Juan Pablo Rebella Pablo Stoll Whisky DVD Review Juan Pablo + Rebella Pablo Stoll's - Whisky - DVD Review Juan Pablo Rebella Pablo Stoll Whisky DVD Review Juan Pablo Rebella Pablo Stoll Whisky DVD Review Juan Pablo Rebella Pablo Stoll Whisky DVD Review Juan Pablo Rebella Pablo Stoll Whisky DVD Review Juan Pablo Rebella Pablo Stoll Whisky DVD Review Juan Pablo Rebella Pablo Stoll Whisky DVD Review Juan Pablo Rebella Pablo Stoll Whisky DVD Review